Today I want to share with you a simple blog on just one way of taking your Mazdaspeed to 400WHP. After checking out this blog, If you would like more in-depth information on upgrading your Mazdaspeed with more horsepower then check out 500 WHP post for Mazdaspeed 3.
Let's Get Started
The MZR DISI engine in the Mazdaspeed platform has been around for just over 10 years now. CorkSport along with the community of racers, shops, and enthusiasts alike have learned quite a bit about these engines. We have learned what they like and what they don't. How they react to certain mods, how to maintain them, and also some of their weak points. We also learned how to take this platform well over 400 WHP.
We recently hit 684 whp with the CST6 Mazdaspeed Turbo — Check it out here.
Among the many things we have learned, we have developed a great understanding of what is needed to get these engines to make power. More specifically, with the right set of bolt-on parts and tuning one can easily and safely make 400WHP on a stock bottom end of your Mazdaspeed 3 or Mazdaspeed 6. The torque will just need to be kept under control.
It's not a secret or rocket science on how to achieve this power level in a Mazdaspeed3 or Mazdaspeed6, and it is very much doable.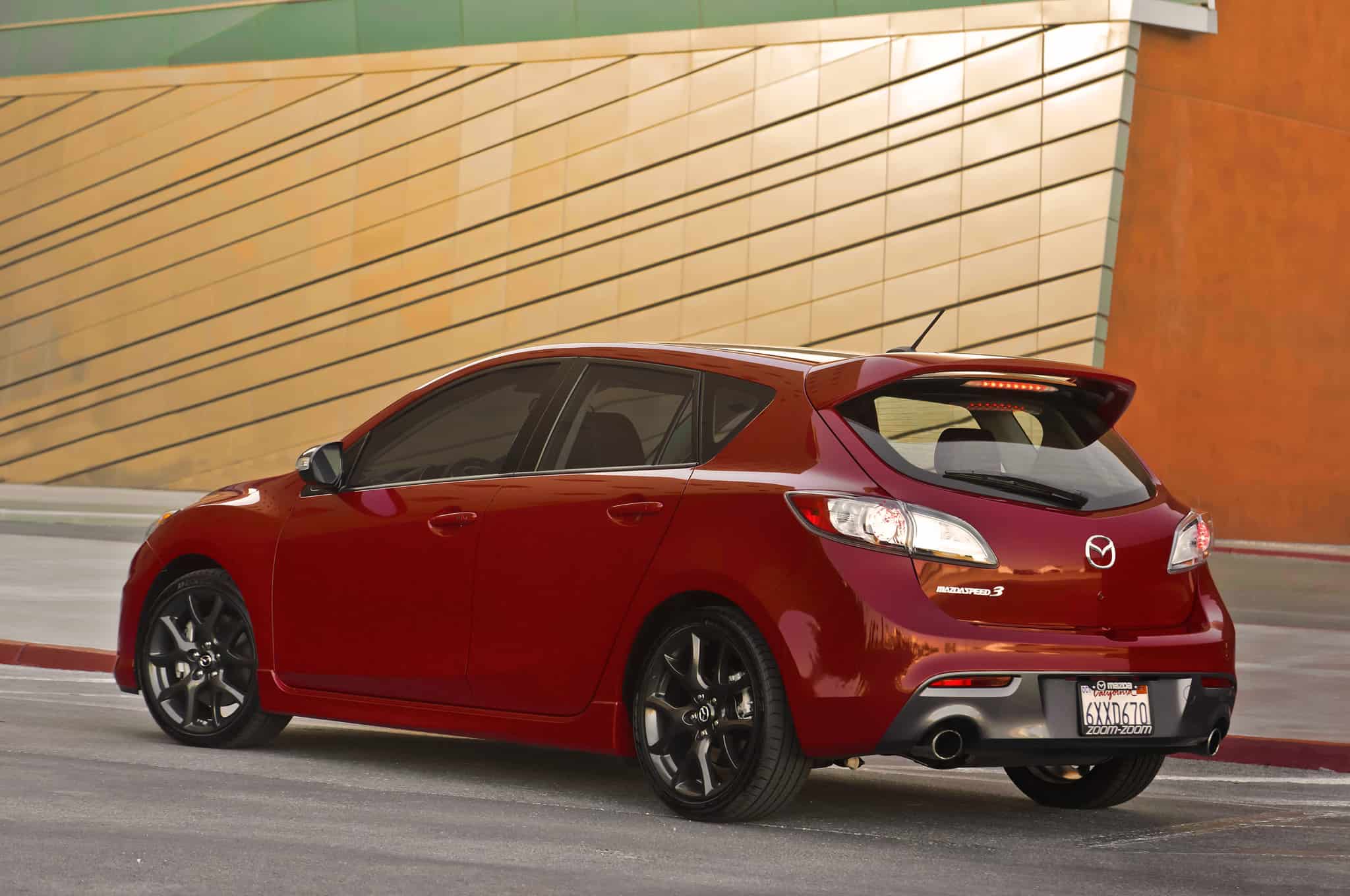 Disclaimer:
There are certainly many variables that can come into play when trying to achieve 400WHP safely, such as the health of your engine, quality of engine tune, octane rating of fuel, engine management software and more. This is by no means an all-inclusive guide and the only way of making this level of power. However, this is a tried and tested method of making high power safely and reliably. We come from years of experience doing it ourselves and helping the community with their Mazdas as well. We have spent years and years developing this platform and continue to do so on a daily basis. What I aim to do is educate you on how you can make the most out of your MZR engine.
Necessary Upgrades To Make 400WHP
Now before we get too ahead of ourselves, there are two modifications that are a must before going down the 400whp quest. Those are high-pressure fuel pump internals and a tuning solution such as those provided by COBB or VersaTuner. These parts do not inherently increase hp and tq levels, but they are 100% necessary to give you most out of your hard part modifications and do so with safe and reliable power. A high-quality tune is worth every penny, and when paired with things such as an intake or exhaust, you can capitalize even more so your parts and net more horsepower.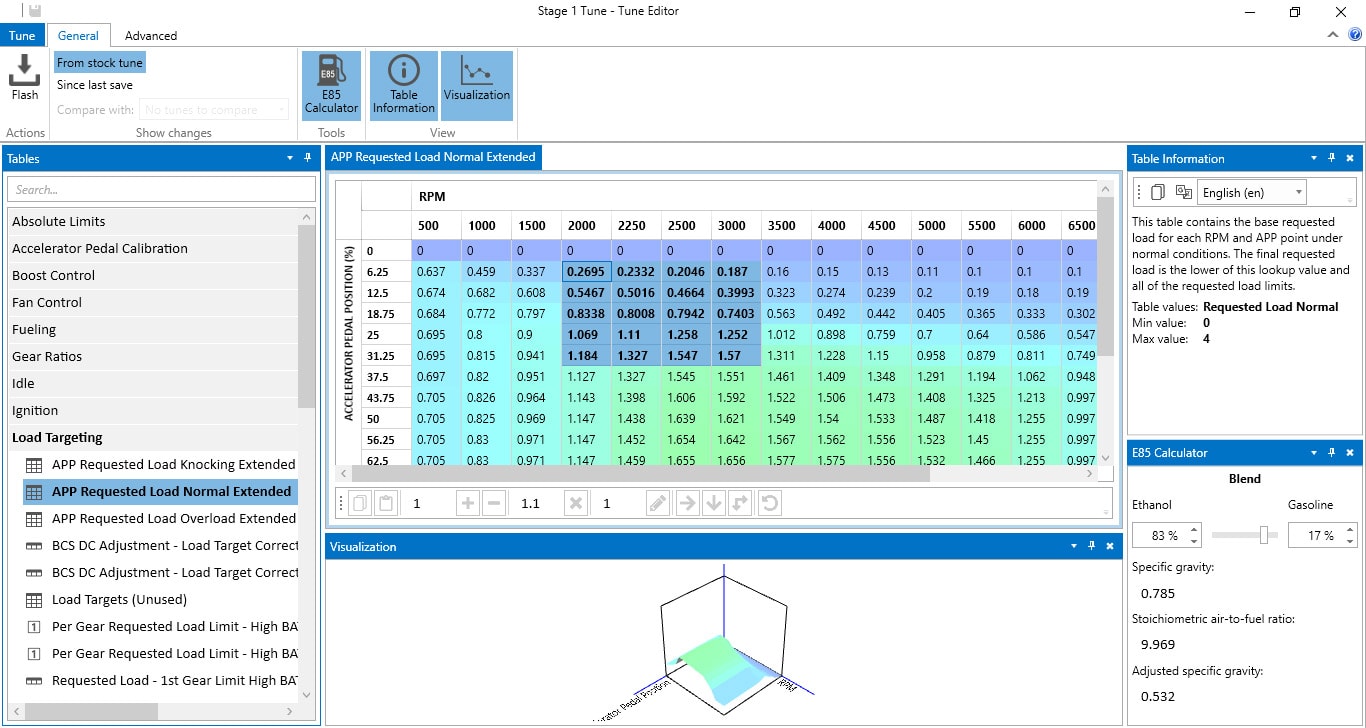 Understanding the DISI MZR 2.3T
The DISI MZR 2.3T is not much different than any other gasoline direct injected engine that you would find on any modern automobile. Here is how it operates:
Air goes into your Mazdaspeed.
Air is combined with the correct ratio of fuel.
The air/fuel mixture gets compressed.
A spark event occurs that ignites a controlled burn.
This event forces the piston downwards.
Exhaust gases then leave the Mazda.
The cycle repeats.
So in an oversimplified matter, that is all an internal combustion engine is – a glorified air pump with more bells and whistles. One of the best ways to make a really effective air pump is to optimize the movement of air into and out of the cylinders. For that reason, it's best to start at the front and back of our car to help give it a little breathing room.
Intake & Exhaust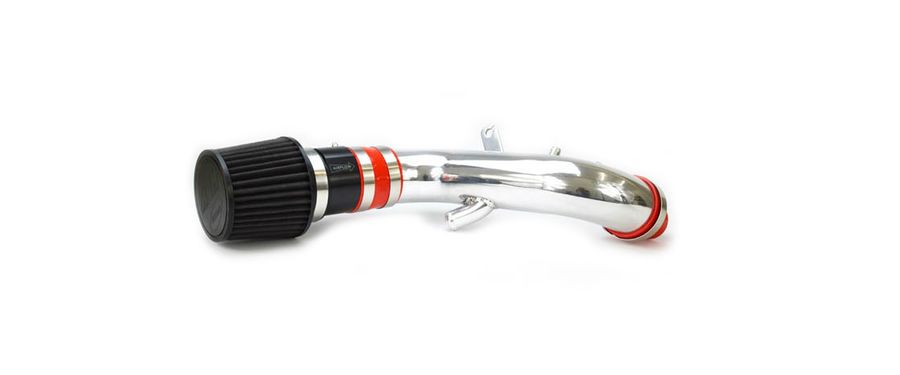 It's no secret that an intake and exhaust system are among the most popular first upgrades for any vehicle, and it's for a good reason. Letting air in and out of the engine as easily as we can is a great first step to create more power. Doing this will free up restrictions with the manufacturer parts, especially on a factory turbocharged vehicle. OEM parts are by and large designed with emissions regulations and pricing priorities, rather than performance.
Upgrading your Mazdaspeed to a 3" or 3.5" intake and pairing it with a turbo-back exhaust will create the airflow efficiency that we need to reach 400 WHP. We're able to do this by increasing the exhaust pipe diameter and either eliminating our catalytic converter or replacing it with a high-flow race cat. By increasing the efficiency of airflow from entry through the exit, the engine is effectively working less to produce the same amount of power.
By adding an intake and exhaust to your Mazdaspeed, you can net an easy 50+ whp when paired with the proper tune. As you continue down the modification road, you'll find that this is the most effective dollars spent to horsepower ratio. Now that we are able to take more of the power stroke, we can focus on getting more power to the wheels, rather than letting it be consumed by byproducts such as waste heat, noise, and vibration.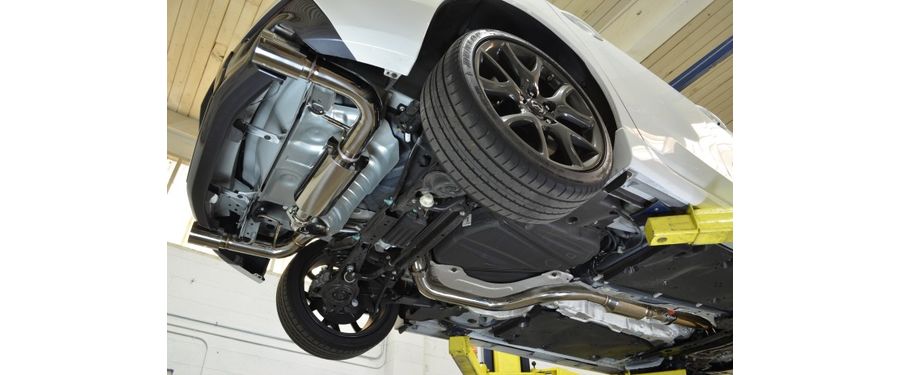 Intercooler & Turbo
Another great way to make more power with your Mazdaspeed, and to get closer to 400whp, is to increase the level of boost pressure running through the engine. OEM boost levels are around the 14-15 PSI. But once we have our intake and exhaust installed on our Mazdaspeed, our tuning solution can allow us to start increasing that level into the 19-21 range.
A natural byproduct of increasing the pressure within the system is a corresponding rise in air temperature. To be able to make the most of the increased boost levels, it's important to keep the temperature at a lower level. To do this, you'll want to upgrade to a larger top mount intercooler (TMIC), or even go a step further and upgrade to a large front mount intercooler (FMIC) core.
The intercoolers primary function is to act as a heat exchanger, and we know that heat is the #1 roadblock for any engine to make more power. The more efficiently we can remove heat from the system, the more power we can create safely and reliably. We should also note that the stock TMIC in the Mazdaspeed platform is a terrible bottleneck in the system so this will free up extra flow.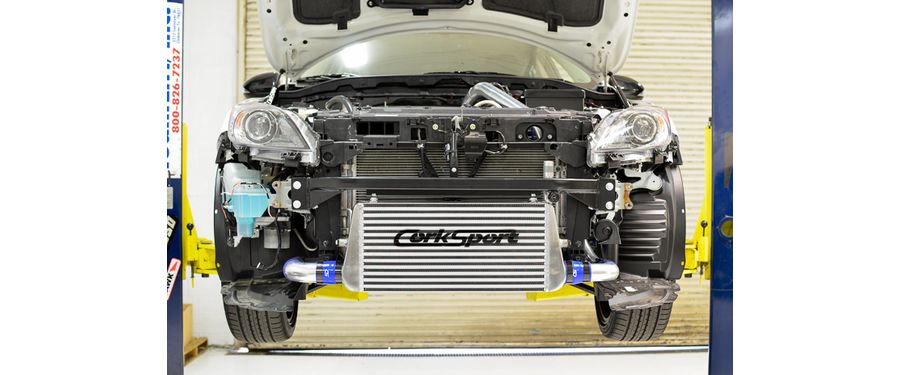 Now that we have a good way of getting air into, out of, and keeping it cool at the same time, we want to increase the total volume. An easy way to do this is by upgrading the turbocharger in your Mazdaspeed. This is an easy process that replaces your factory k04 and creates the potential to throw down some serious power. When you reach this point in your build, you open up options on how to proceed:
Make the same power on less boost
Make more power on the same boost
Make way more power on WAY more boost!!!
If we are shooting for 400whp on our Mazdaspeed, then we generally like to choose door #3.
Side note: We highly suggest / possibly need a 3.5 bar MAP sensor and an electronic boost control solenoid (or EBCS). Once we start to increase our boost pressures north of 21psi, the OEM electronics begin to lose resolution and can negatively affect our tuning if not addressed.
By upgrading our MAP sensor we are allowing the powertrain control module (PCM) to recognize and look up higher boost targets than those equipped from the OEM unit. With this upgrade, the computer can now accurately record and look up these values. We also upgrade our electronic boost control solenoid (EBCS) to allow more fine-tuning of our maps and boost targets. An OEM EBCS just won't allow us as fine of control of our boost pressure, which can result in some headaches as we approach higher horsepower levels.
Stay Up-to-date with CorkSport
---
The Finishing Touches To Reach 400 WHP
With the above combination of mods and proper tuning on a healthy engine, a medium frame turbo on pump gas can get you into the 330-340whp range. If we go another step further, we will open up more 'breathing' mods such as the intake manifold, taller lift camshafts, or a larger throttle body. This will stretch us into the 350-360 whp range.
That being said without the help of e85 or aux fueling we can't go any closer to our 400whp mark. We simply hit the limits of the Mazdaspeed factory fuel system and need to look into upgrading that system as well.
Making the switch over to e85 allows us to get in the 380 range, but we soon run out of fuel injector headroom in the Mazdaspeed at this point and max out our injector duty cycle. We then have to look at aux fueling (Meth or Port Injection) as a solution to get us to our 400whp mark safely. What's unfortunate is that at this point we are also looking at upgrading our hard parts such as our in-tank fuel pump to keep up with demand if you plan to run PI. There are quite a few options for AUX fueling which are beyond the scope of this blog.
Now, as mentioned this is not the only way of making these power levels, but it could be said that it is one of the easiest and most popular. It's important to remember that along the way we supplement the engine with other supporting mods to ensure we are safe and can make full use of our power. Things like lower heat range spark plugs and a stage 2 rear engine mount can go a long way.
Thanks for following along and feel free to leave us a comment if you have any questions or want some more specific information on a product.
You May Also Like:
Summary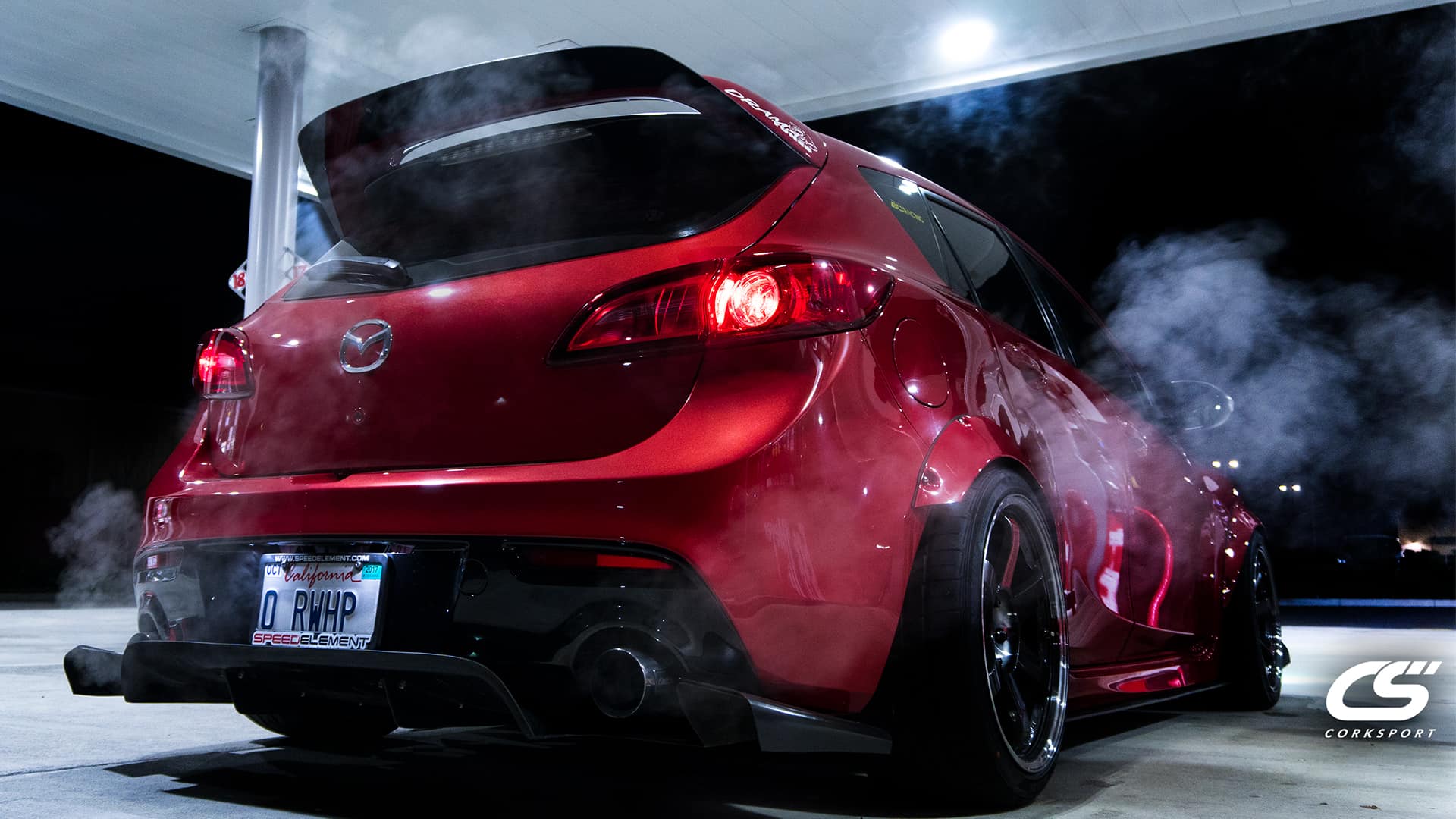 Article Name
How to make 400 WHP in a Mazdaspeed 3
Description
Why do you need 400WHP in your Mazdaspeed 3? How do I get to 400HP with a Mazdaspeed 3? The right recipe for 400 wheel horsepower involves CorkSport Mazdaspeed Performance products, installation time, and a good tune. The short list of ingredients in this formula are the high pressure pump internals, a way to tune the speed, bigger intake, exhaust, and Mazdaspeed intercooler upgrade.
Author
Publisher Name
Publisher Logo