Have you ever felt like you try and try and try, but just can't get the traction to make forward progress on your Mazdaspeed 3 car build? Ya, it happens to the best of us and the 2022 season was my time…both in literal traction and life.
If you haven't seen my build yet, the @halfmilespeed3, go check it out. It's an awesome combo of DIY, Teamwork, Innovations, and CorkSport goodies you all love.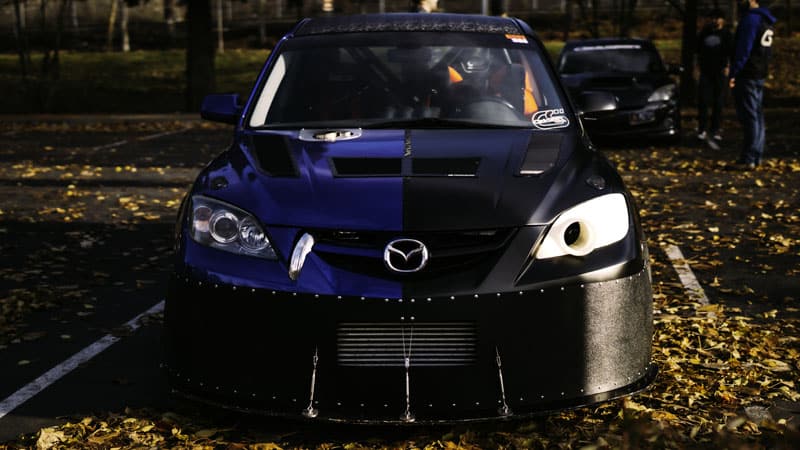 Back to this traction conundrum. Racing an 800+hp FWD Mazdaspeed 3 on small airport airstrips with no prep and plenty of dust has proven to be challenging. There have been many successes and many challenges, but ultimately it comes down to those two tiny patches of rubber that meet the road.
LITERALLY NO TRACTION
Yes, Motec helped substantially with traction control and Justin's ramp-up in power delivery also helps, but really…I just didn't have any damn traction. Sticky tires with meaty sidewalls also help, but again traction was such an issue! There had to be a better way!
Wheel & Tire Setup:
Front: Toyo TQ 255/50 on 16×8+38
Rear: Toyo R888R 255/40 on 17×9+45
And there was and I had been talking about the idea for a year or so already. Then life happened.
As you can see with the racecar; I like to go fast. I carried that enthusiasm into my love of mountain biking one day in June 2022 and well…I got a lesson in physics let me tell you.
Five broken ribs, a double punctured lung, level 3 AC separation, and a fractured collar bone and scapula. Resulting in weeks of hospital stays and three surgeries; then months of recovery and physical therapy. Let's just say the 2022 season did not go as planned.
But it did get me focused on solving my traction problems…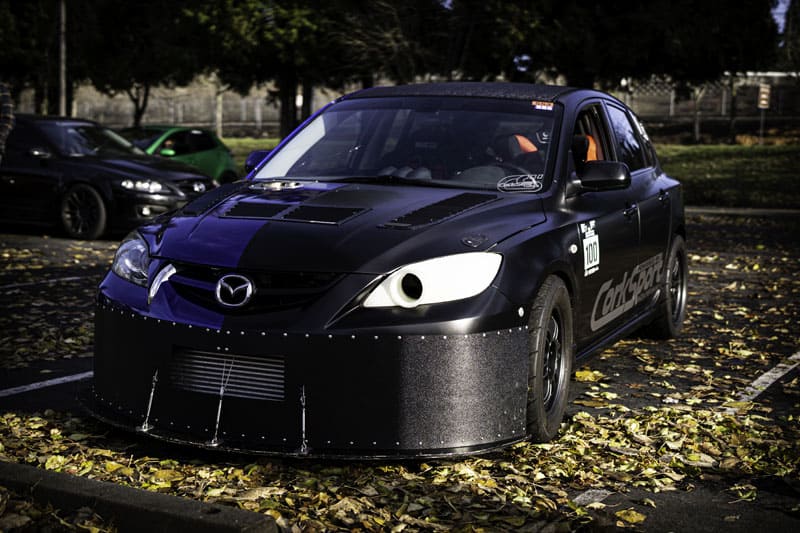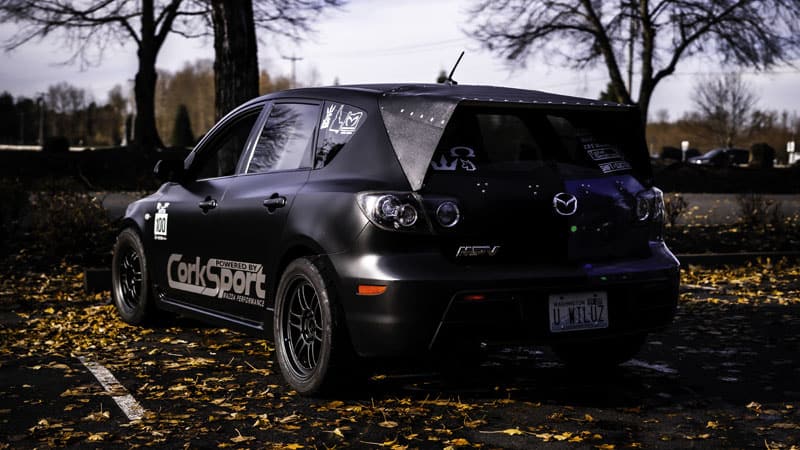 The Goal…Mazdaspeed 3 AWD Swap
So I decided it was time to stop talking about it and actually take action (well as soon as I physically could that is). I made a plan and figured out the details and order of operations to finally get my traction back.
It was time to AWD Swap the Halfmilespeed3.
While I am not the first to do a Mazdaspeed AWD swap. I did have a goal to make my build unique in the sense that the AWD swap is catered to racing performance. Meaning the strength of custom parts and the rear suspension design and the new fuel system are capable of handling the 4-digit horsepower goal I have and the abuse of racing.
Talking horsepower…what does the car make right now?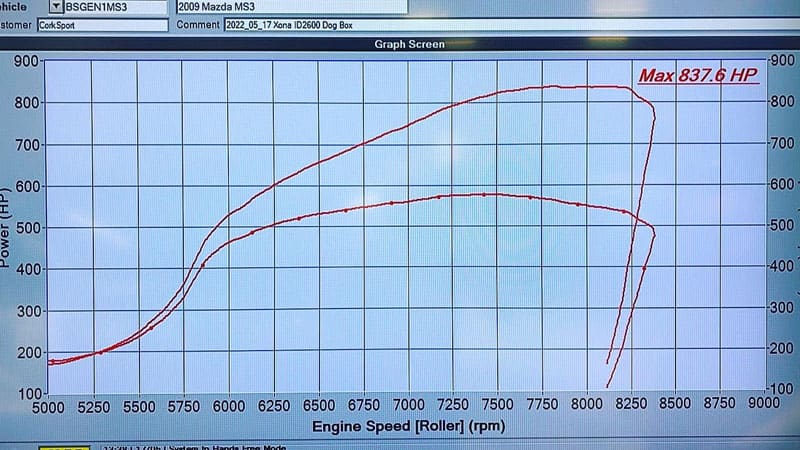 This is at a modest 40-41psi using a Xona Rotor 9569s with the X3C compressor housing and 1.03A/R turbine housing. Later Justin @freektune and I turned it up a bit more to see how close we can get to the 600wtq threshold and hold it. Clipping off an 881whp run…damn! This was supported by the many CorkSport Mazda performance parts you can get for your Mazdaspeed as well. From engine mounts to manifolds, anything that isn't a one-off custom is CS.
Anyways…I have since updated the compressor wheel to a 99 lb/min design compared to the above 95 lb/min design and a larger compressor housing which is more efficient. This setup has not been dyno tested yet, but talking to the engineers at Xona…2023 is going to be spicy!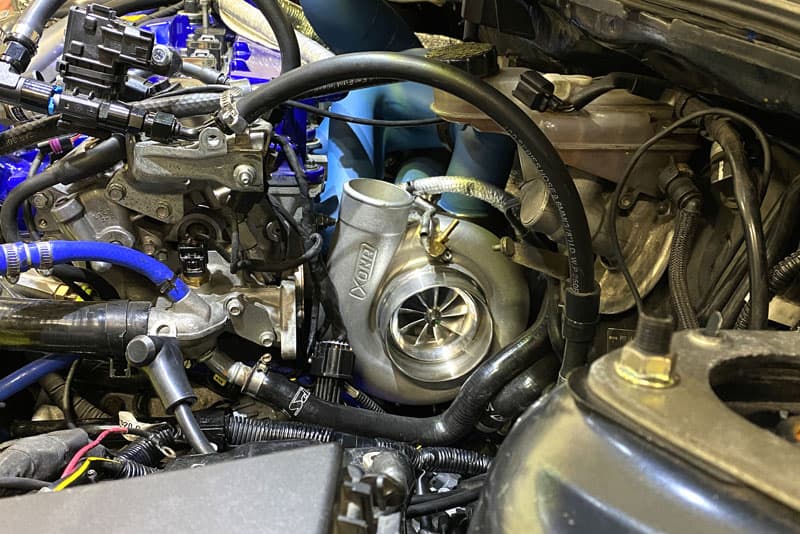 Close up because who doesn't like billet turbo shots!?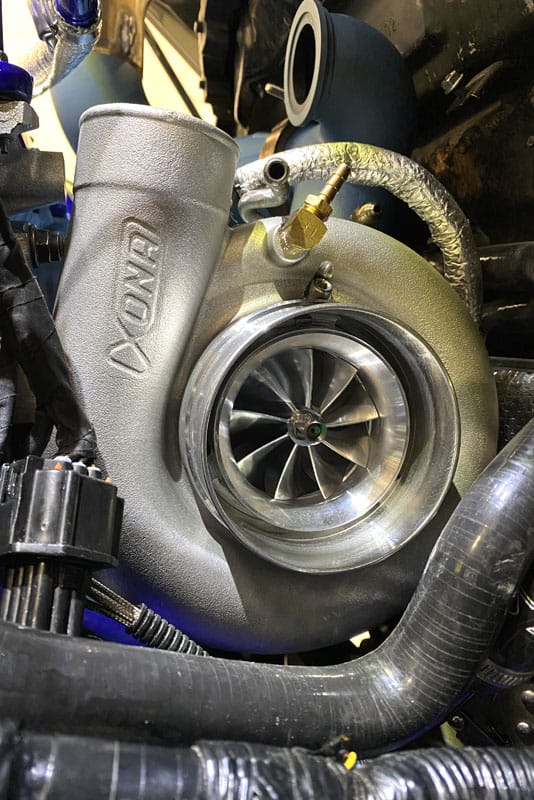 Dare I say this is the largest turbo in the stock location ever on a Mazdaspeed? Go ahead…prove me wrong. To compare, this competes with a Precision 6870.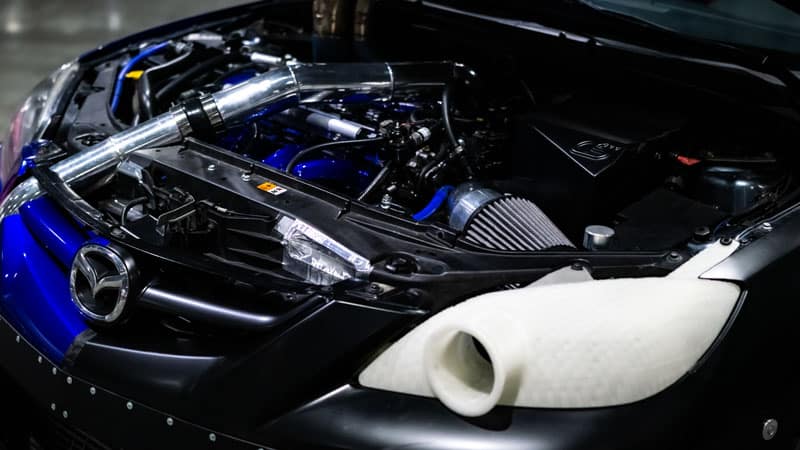 The Start of the Mazdaspeed 3 AWD Swap
Anyways, this is the introduction to my Mazdaspeed 3 AWD swap here at CorkSport HQ. I actually started the swap in October 2022 and have been making big steps each month. We are going to be sharing blog updates rapidly as I wrap up the swap over the next couple of months.
There will be much more technical info and images coming up so grab a drink and enjoy!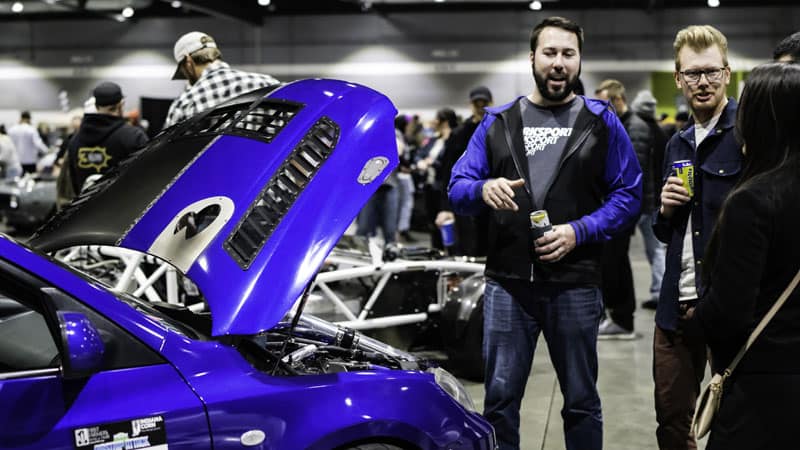 You can also find updates on my IG @halfmilespeed3, the CorkSport 7th Gear Membership, and on mazdaspeeds.org.
https://mazdaspeeds.org/index.php?threads/awd-speed-3-project-halfmilespeed3.15154/
Thanks for tuning in!
-Barett @ CS
Connect with us:
You may also like: