Hey everyone, this is Daniel, one of the engineers at CS. In case you don't know me (I'm quiet on socials, but I'm working on that!) I've been with CorkSport since the middle of 2017, so I've probably had my hands on any product released in the last five years. For example, the exhaust manifold for the Mazdaspeeds was my baby for a while, and I'm still super proud of how it turned out. In this blog I'll be going through my Speed 6 build. It has been a long time coming, but it is finally getting close to how I want it!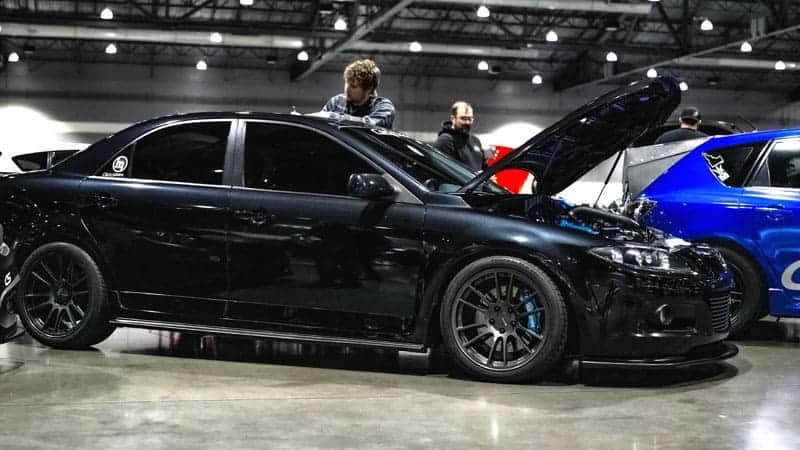 I got my MS6 back in January of 2018. It was a bone stock 2007 Sport with ~68k miles, but I got a decent deal due to some scratches/dings from the previous owner's kids. I was familiar with the Speed6 because a high school buddy bought one shortly after we graduated, so I had been looking off and on since I started at CS. Since we didn't have one in the fleet at CS then, and I wanted the AWD, it was an excellent fit for me. In typical speed fashion, I got a check engine light on the ~2-hour drive home from where I bought it! Clearing the CEL would require an EGR cleaning before I could register it, but I was still in love, despite the stock wheels & monster truck ride height.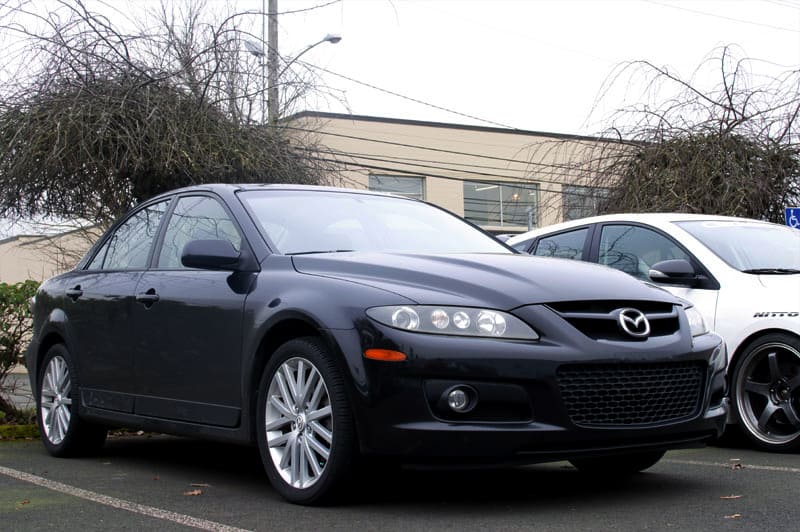 From humble beginnings, the modifications started slowly. The first six months were the "basics"; HPFP internals, downpipe, exhaust, lowering springs, upgraded TMIC, and plasti-dipped stock wheels. I was still surviving on the stock intake and using the OTS tunes on the Cobb Accessport – standard new Mazdaspeed owner things. I completed a VVT replacement at around 70K miles as the chain started hitting the valve cover, but then things started getting interesting.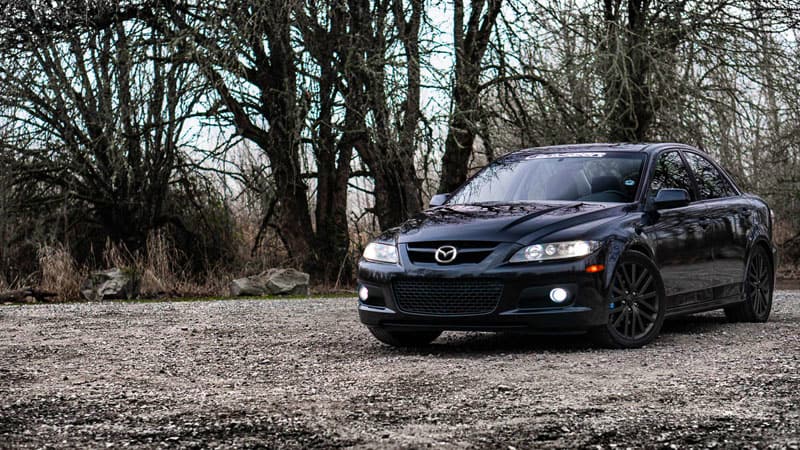 Just before the 1-year of ownership, my stock K04 turbo began smoking as expected. Being the only Mazdaspeed 6 at CS meant my car was in the shop off and on for R&D, so I took advantage of one of the early exhaust manifold test fits to throw in a CST4 Mazdaspeed Turbo (still known as the "CS 18G turbo" back then), a 3.5" intake (with a custom & very early prototype of the Mazdaspeed 51R battery box), a few other supporting mods, and some special sauce from Erik @ Dramatuned. So just before my car's birthday, it was FBO minus manifolds. Somewhere in there, I was also the guinea pig for the CorkSport 330mm Big Brake Kit on the MS6 (still one of my favorite mods to date) and some wheel spacers to clear.
Image: CorkSport-MS6-BBK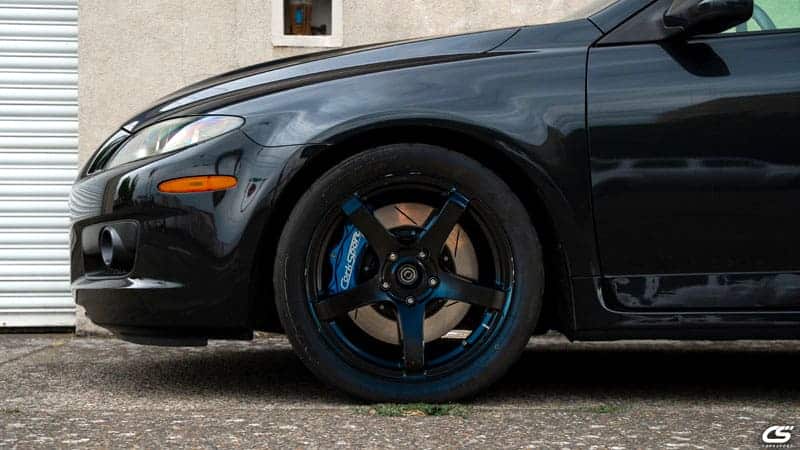 2019 was a bunch more R&D for the Mazdaspeed 6 platform. I spent a few months driving around without a front bumper during the MS6 Front Mount Intercooler development! Then came some even more fun stuff. I was able to snag some early production run intake manifold and exhaust manifold along with an EWG setup (Exhaust Manifold, Tial, and Dumptube). Finally, I was "full bolt-on" and completed tuning. While its v-dyno was a little overestimated, here's an idea of power to expect for a similar setup on pump gas (red line) and on a couple of E mixes (the blue line was E30, green was E25). Ethanol is worth it!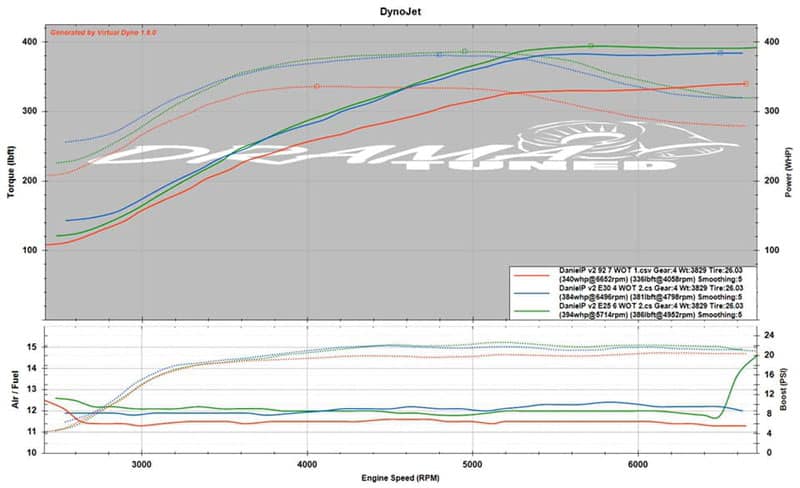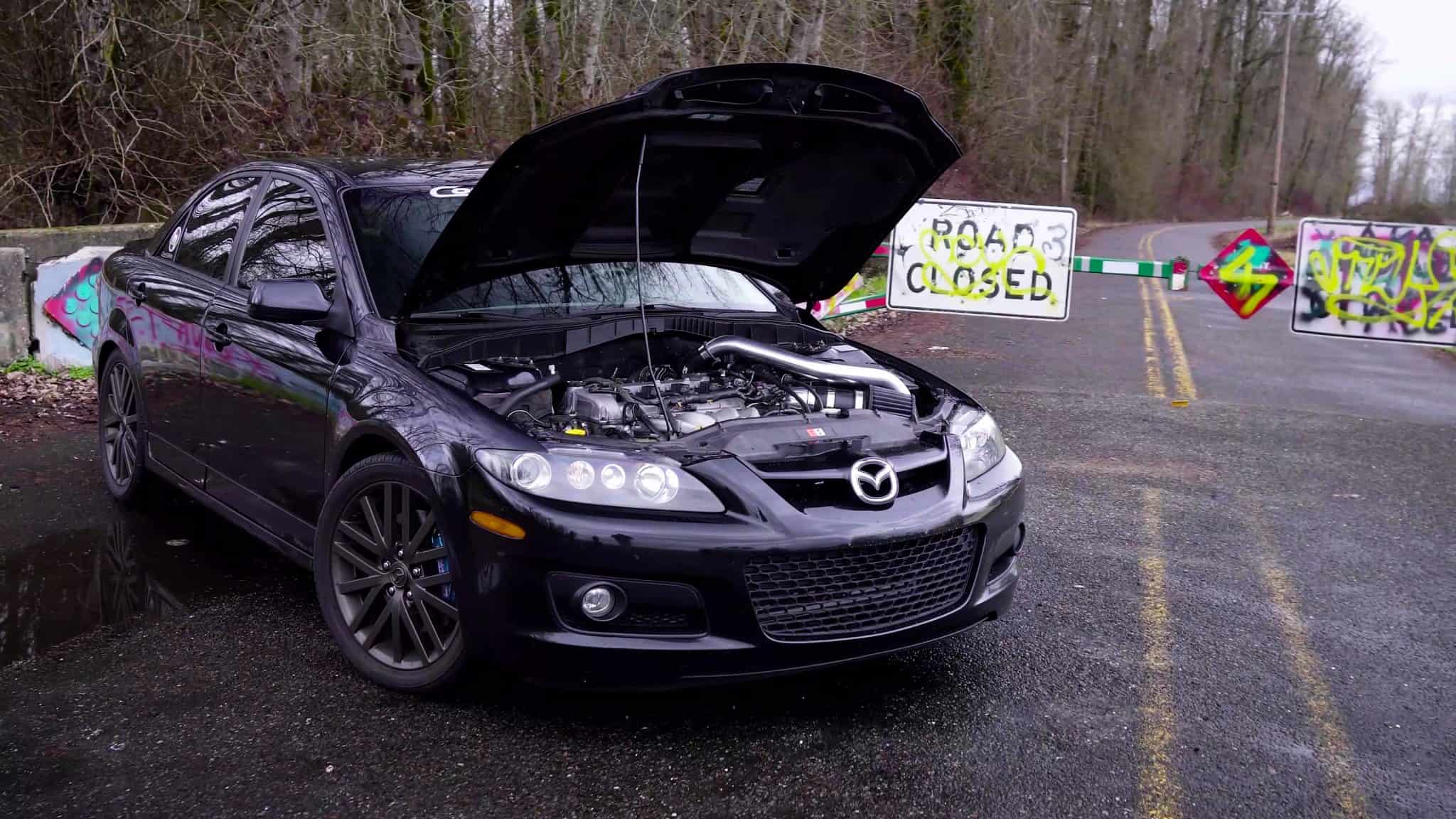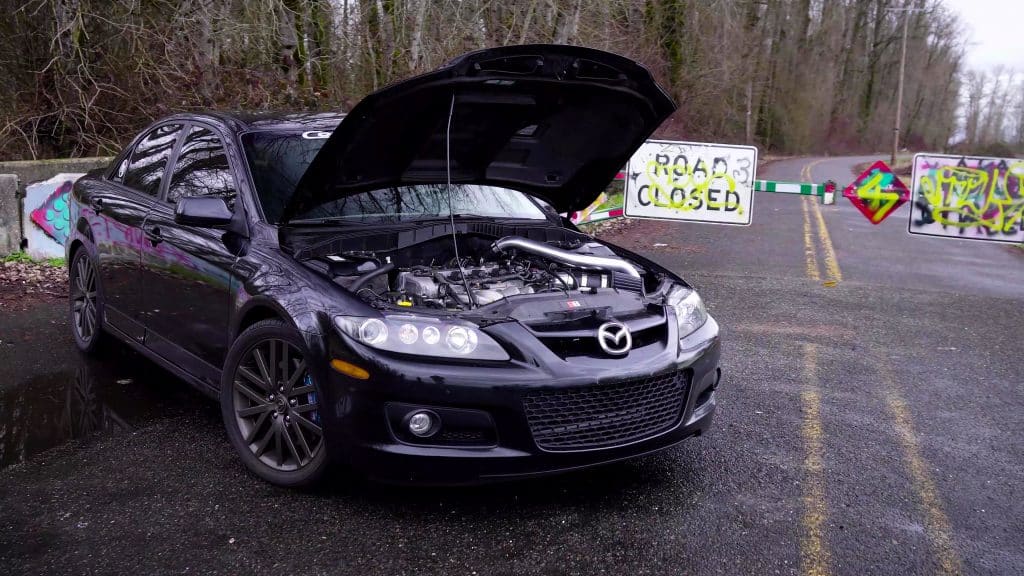 After having gone through most of the CorkSport catalog for power mods, I began to do a few aesthetic mods, which is where the "SPDBOAT" plate came in, a simple play on Mazdaspeed and how heavy and "boaty" the cars can feel at times. It's dumb, but I love it! Also came some miscellaneous mods. An upgraded rear sway bar, diff mount, as well as the transfer case, and rebuild with billet bearing caps all were added.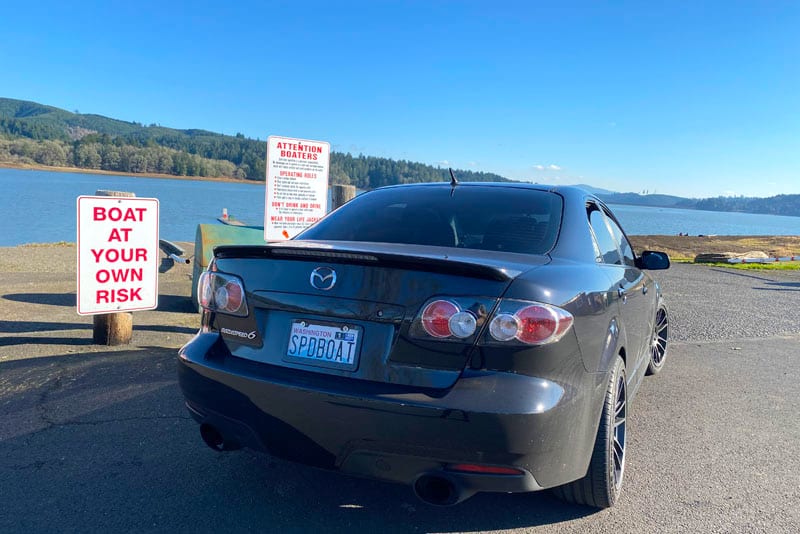 By birthday number two, a long-awaited wheel setup was introduced. Initially, I ordered a set of Gram Lights that would've fit without too much effort. However, after many issues and shipping delays, I canceled that order and went something much more aggressive. I settled on 18×9.5 Enkei GTC01RR wheels on a 255/40 tire. I was going for meaty with this setup, and it looks great. After a fender roll all around, camber, and spacers in the front to clear brakes, final offsets are +35 front, +42 rear with ~2.5 degrees of negative camber. There's only so much wheel and tire you can fit without more intense modifications, but the handling boost was amazing!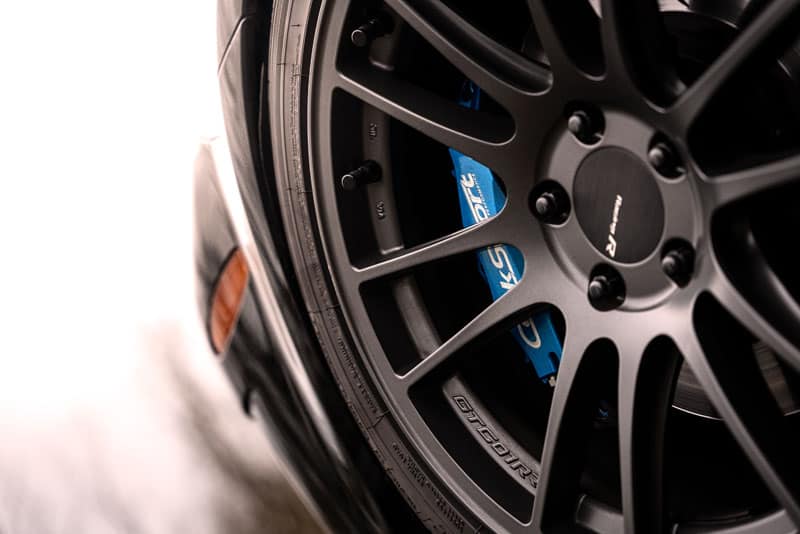 I ran the car on this setup for another year. This configuration was a great "all-rounder," and I loved it. Not perfect at any specific thing, but a great daily that's fun in the corners, decent enough to go to a show, and with enough power to do well on the occasional trip to "Mexico." But then, it started consuming oil. Just after my third year with the car (early 2021 for those keeping track), I found cylinder four down about 40psi of compression and cylinder 1 with about 20% leak down. Still working fine, but eating about of quart of oil every ~600 miles meant it was time for a rebuild.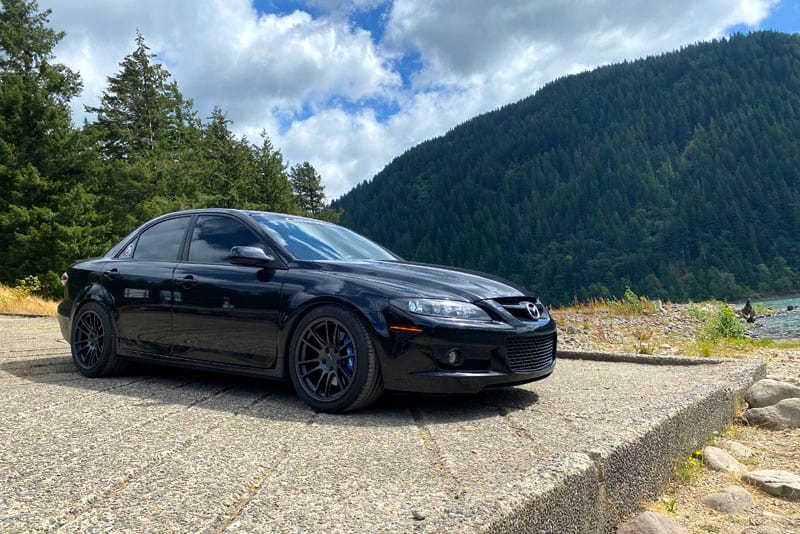 While I hate to leave on a cliffhanger, that's the end of part 1. Stay tuned for part 2, where things get spicy, including a built motor, a bigger turbo, and a broken bone…?
I hope you enjoyed my tale, and please let me know if you have any questions. By now, I know more than I need to about the MazdaSpeed 6!
-Daniel
Connect with us