Every time you drive your Mazda you directly interface with four critical controls; seat, pedals, shifter, and the steering wheel. These control interfaces give you tactile feedback of your driving experience, so why not get the best feedback possible?
Take your driving experience to the next level
We introduce to you the racing inspired and genuine leather clad performance steering wheel from CorkSport Mazda Performance. We are so excited to bring this option to the community, to give you the opportunity to take your driving experience to the next level.
This performance steering wheel is designed for the facelift 2017 – 2018 Mazda 3, 2017+ Mazda CX-5 and 2018+ Mazda CX-3.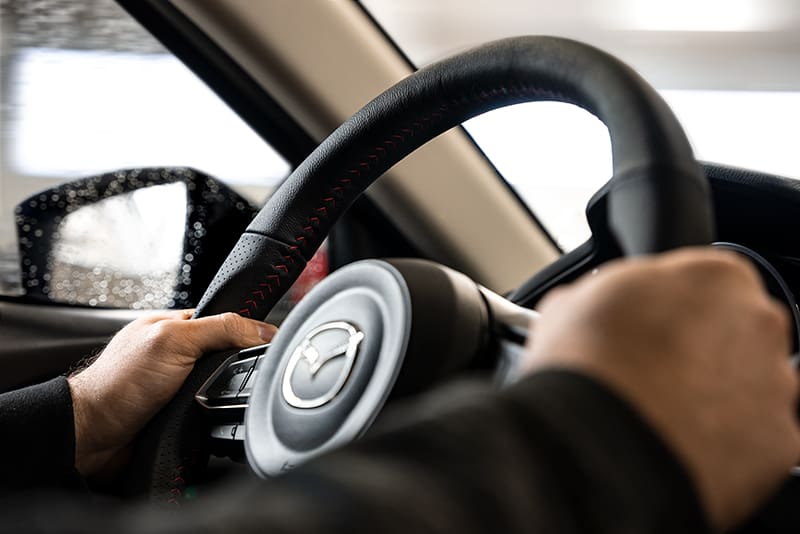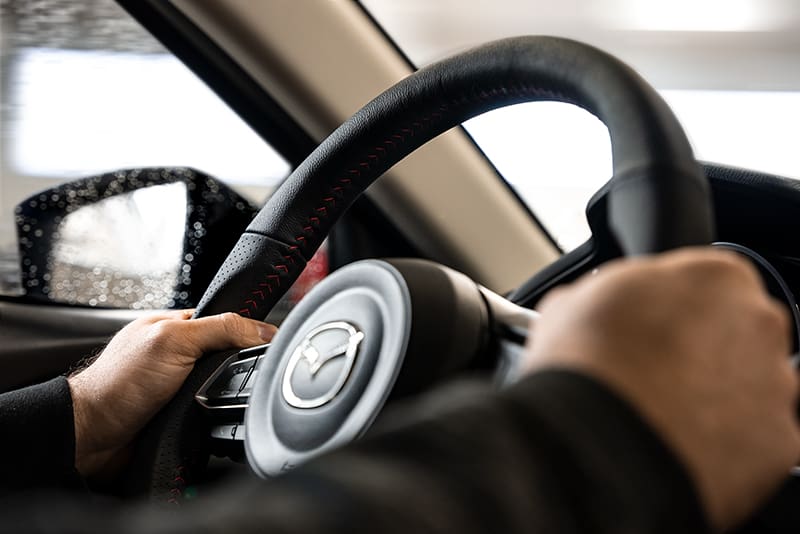 When we set out to develop a performance steering wheel for the facelift 3rd GEN Mazda 3 we had to define the major attributes needed: Performance, Style, Fitment. Without these what is the point?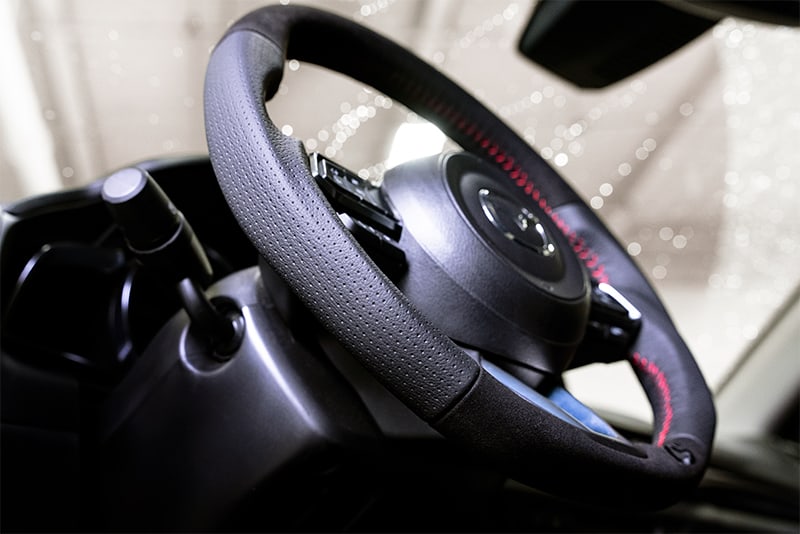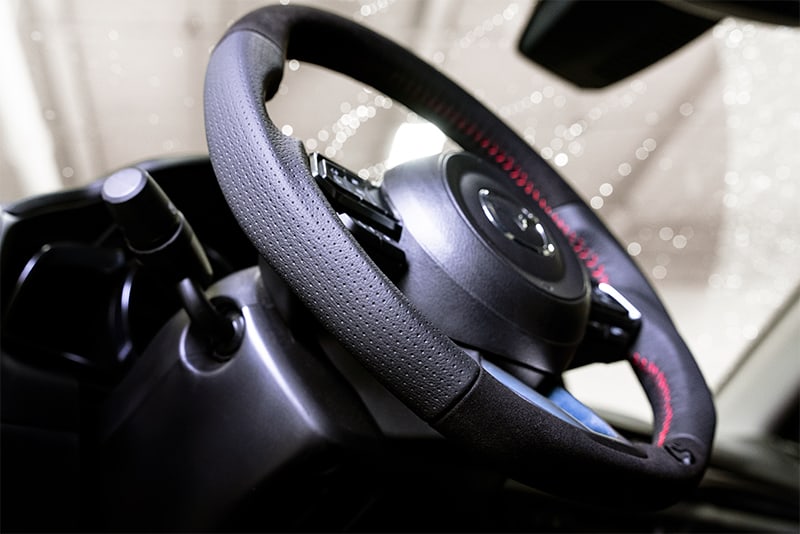 Performance: While the OEM Mazda wheel has a nice shape to it we wanted to push this further with a more aggressive racing inspired style, deep thumb grooves, and the option for genuine leather or alcantara inserts.  This gives you the choice to fit your style and the confidence on the track, autoX, or back roads.  Sweaty palms? Don't worry, the high contact area uses perforated genuine leather to help your hands breathe…we got you Fam.
Stay Up-to-date with CorkSport
---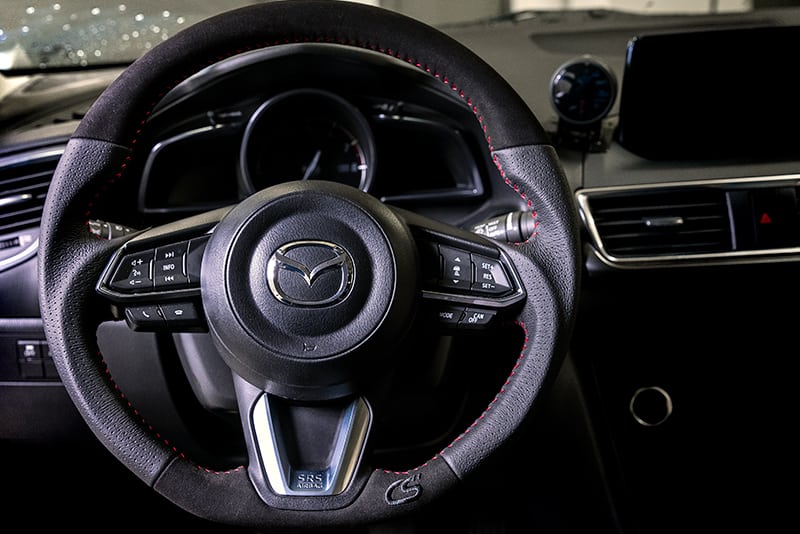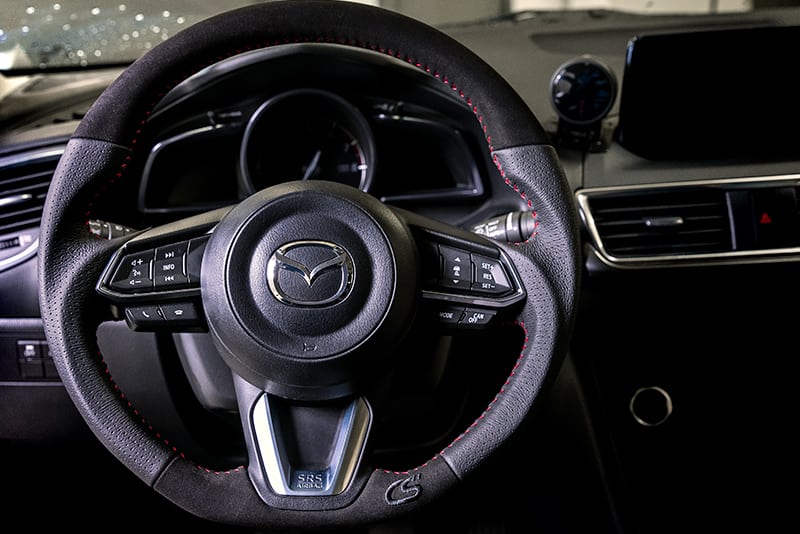 Style: We'll say this again, Mazda did a pretty good job on the higher trim level wheels, but if you have a lower trim level with the vinyl/plastic wheel it just looks MEH. You know what we mean. Step up your game with the CorkSport Leather Steering Wheel. It looks so good through the window, even better right in your face, and feels fantastic in your hands.
Genuine leather and/or alcantara, aggressive thumb grooves, and red stitching just bring the whole interior together and to the next level.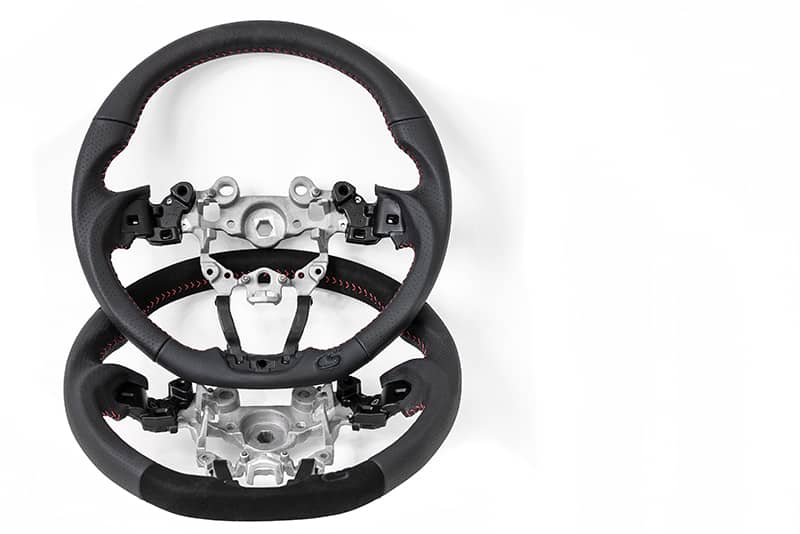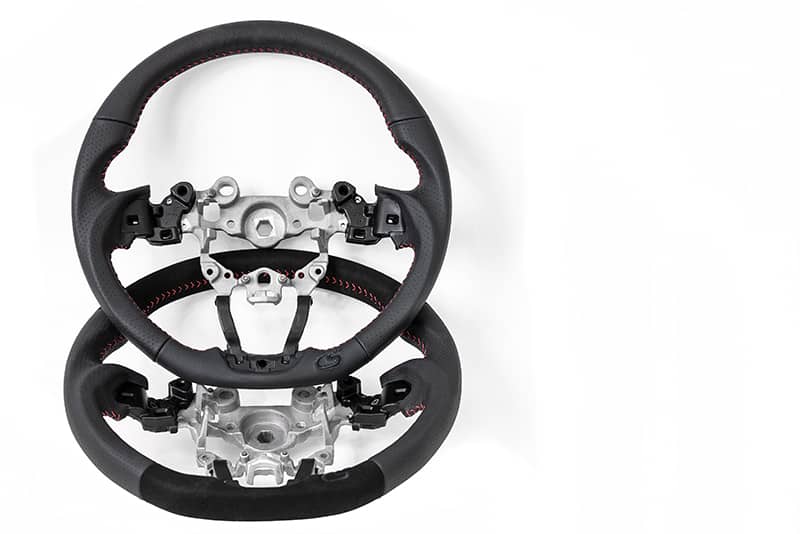 Fitment: This one is a BIG DEAL for two reasons.
EASY
When a part fits correctly it installs easily. We don't want you to fight with the install or have to come up with some disconnecting hub or whatnot like other "racing" wheels. This is a 100% new casting that retains all the OEM connections and fitment.
SAFETY
While we do use true racing steering wheels with the quick disconnect hubs; these are only on our dedicated track cars with tons of other safety equipment. Your car is your daily and your weekend toy. We will not compromise your safety so we designed a performance steering wheel that retains all the controls and airbag like the OEM steering wheel.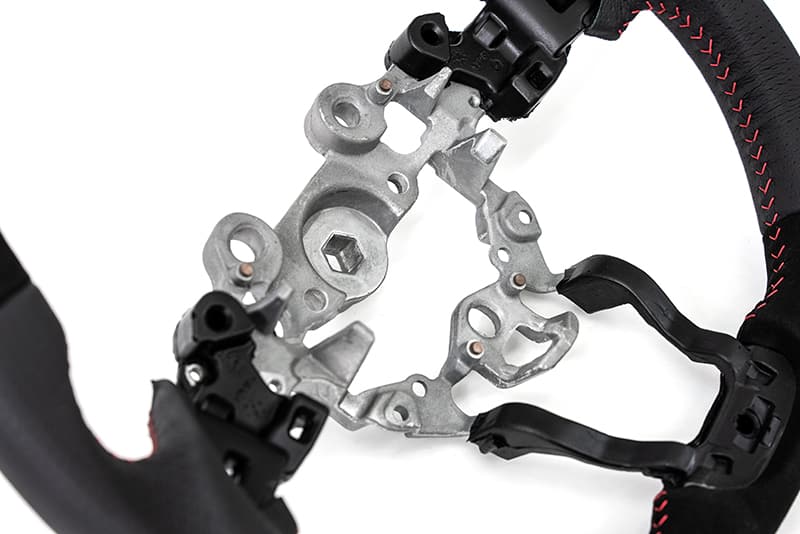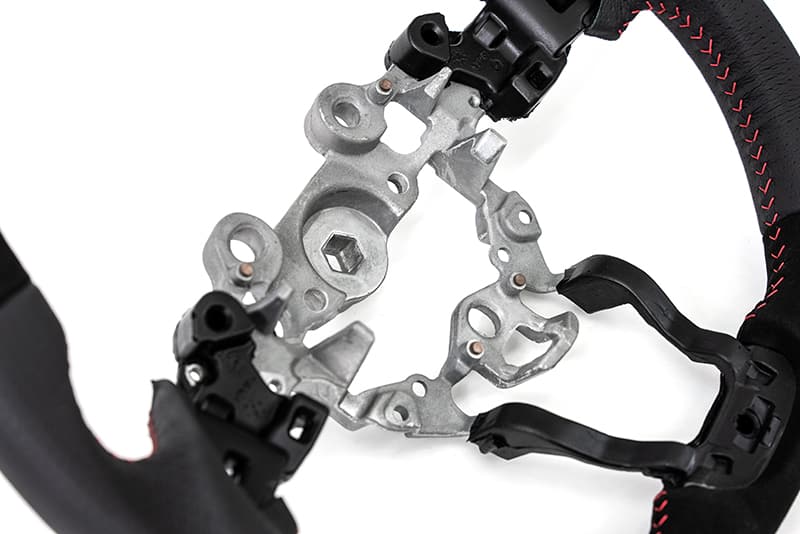 Alright, let's pull these three back together. Racing inspired performance steering wheel that uses genuine leather and gives you the option for alcantara inserts, form follows function because it looks great from the driver's point of view or any point of view, and you get this without compromising your safety or losing your quick access features on the steering wheel.
Hold on…there is one thing…
If you have a heated steering wheel from the factory you will lose that feature. We investigated adding this feature (and we still can if there is enough demand), but damn it is really expensive. Let us know in the comments and drop us some info in this link if you really want a heated option. I WANT A HEATED STEERING WHEEL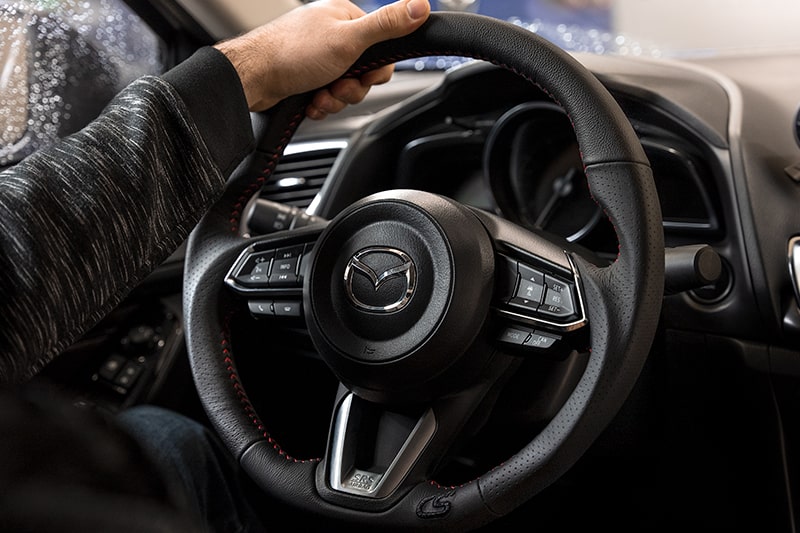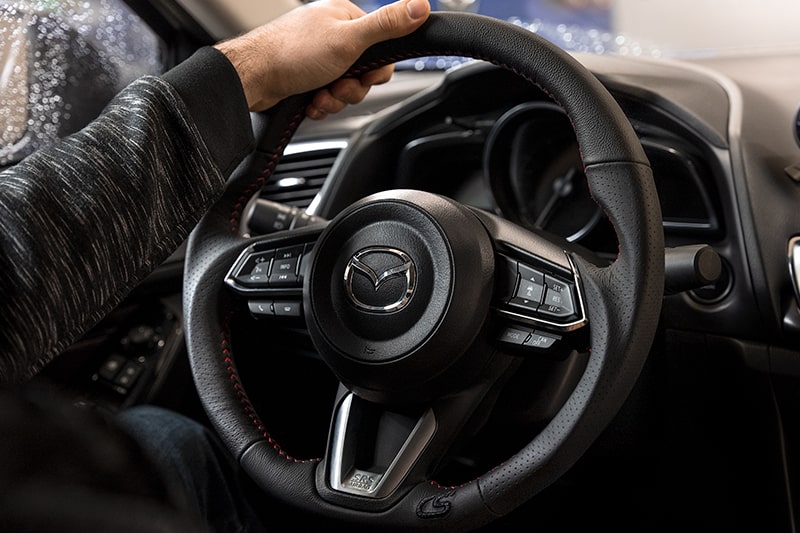 Lastly, we want to mention this; this is can be a tuff performance modification to justify trust me, but once you lay your hands on the wheel and take your first apex you will be sold and wished your Mazda came with it from the factory. It's such a visceral feeling that it's hard to explain.
With that we will leave you with the obvious decision to make. Do the right thing for you and your Mazda.
2017-18 Mazda 3, 2017+ CX-5, 2018+ CX-3 Leather/Alcantara Steering Wheel
-CorkSport