Today we are going to lay it all out; we are going to tell you about what we are working on for your Mazda 3 and WE ARE EXCITED! Who are we? If you don't know already, we are CorkSport Mazda Performance based out of Vancouver, Washington. We are the number one Performance Aftermarket Mazda Parts Company and we have set our sights on the 4th Generation Mazda 3.
Below are the first projects we are developing for the 4th Gen Mazda 3 and CX30. Engine performance, suspension performance, and styling are all covered here and we are closer to launch than you may realize. Sit back and enjoy, there's a lot here and we want you to see it all.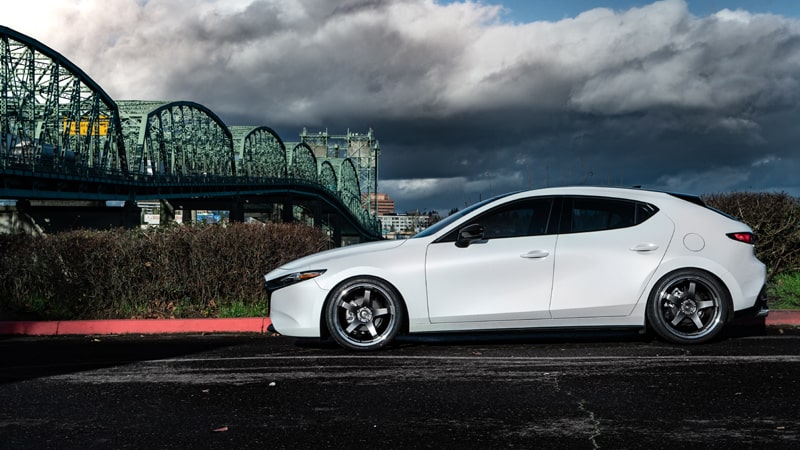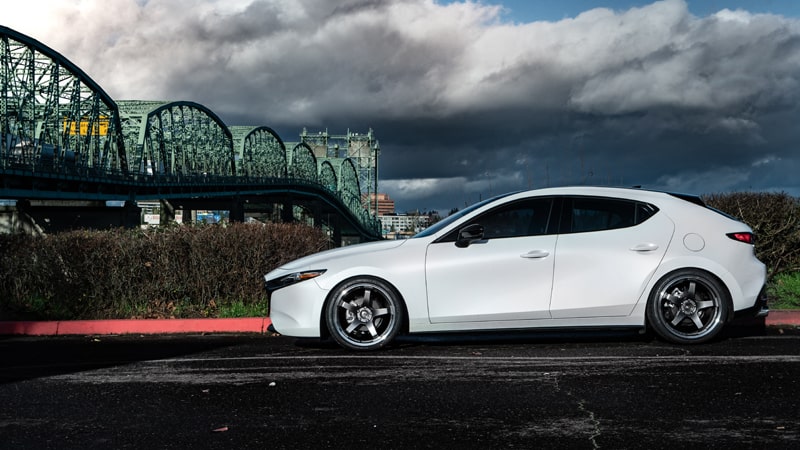 One of the most sought-after and anticipated performance items for the 2019+ Mazda 3 are the CorkSport Lowering Springs. The CS springs provide the most aggressive drop on the market today while providing a sporty and comfortable ride for daily driver use. With that, we have confirmed fitment on FWD manual transmission hatch and AWD automatic transmission sedan. We found that the Auto AWD Sedan rides just slightly lower, but is still within proper ride height for suspension function.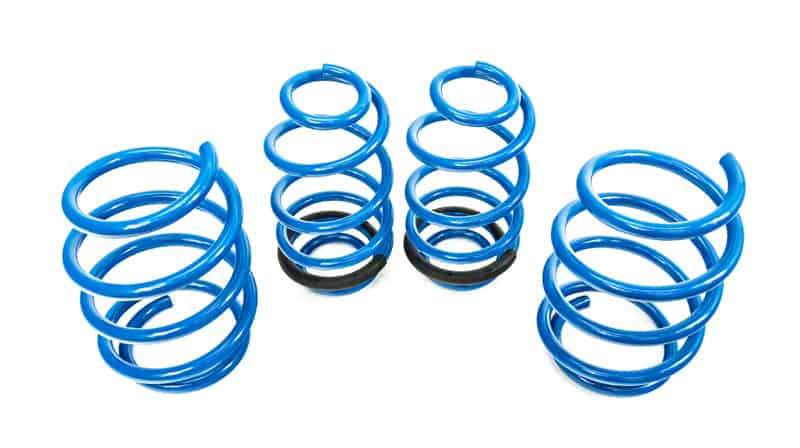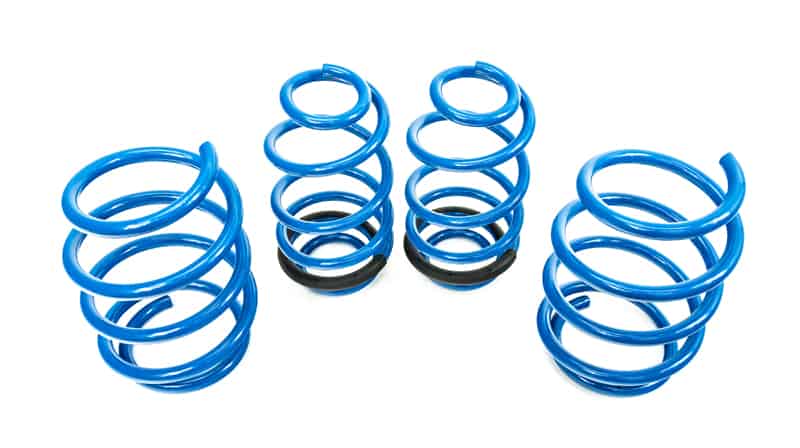 We design our springs with more than just looks in mind (but they do look great). Spring rates and suspension frequency are critical to performance and comfort. With that being said we increased the front spring rate 52% and rear rate 40% based on the OEM 2019 FWD Hatch MT springs.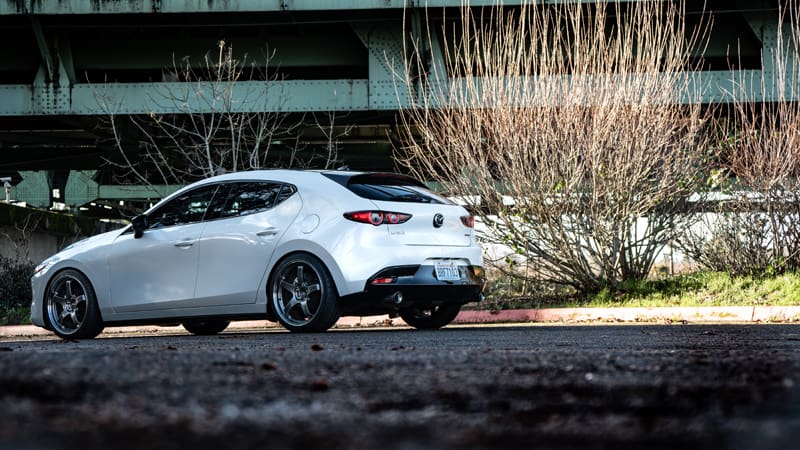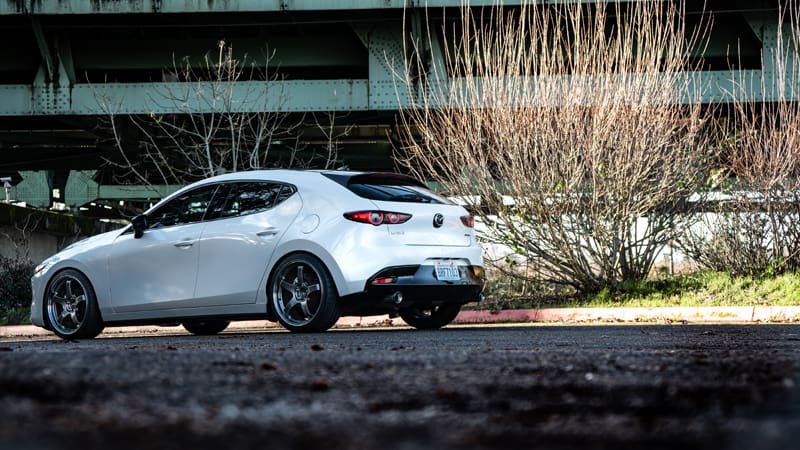 Now if you're looking at the images and thinking "Damn those wheels look good" then you are correct and we agree; they look amazing and fit the car and CorkSport springs perfectly.
Here are the specs: Advan RS 19×8.5 +38 with 235/35 Kumhos. We have just the slightest rub on the inner fender on large bumps. Besides that they are perfect and you can have this setup too!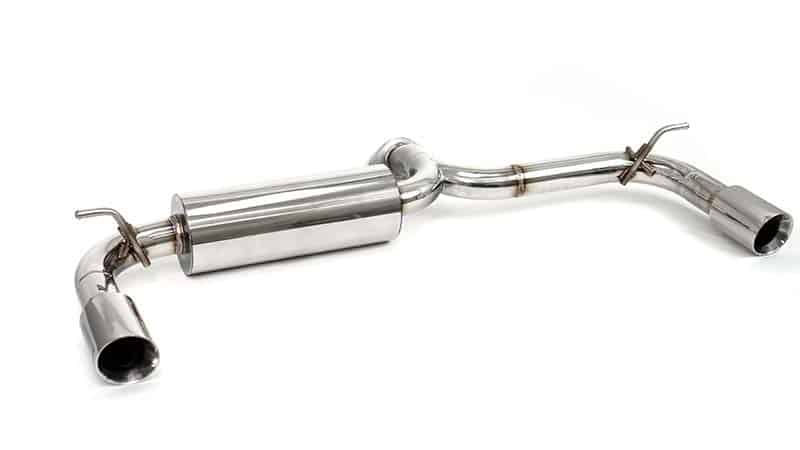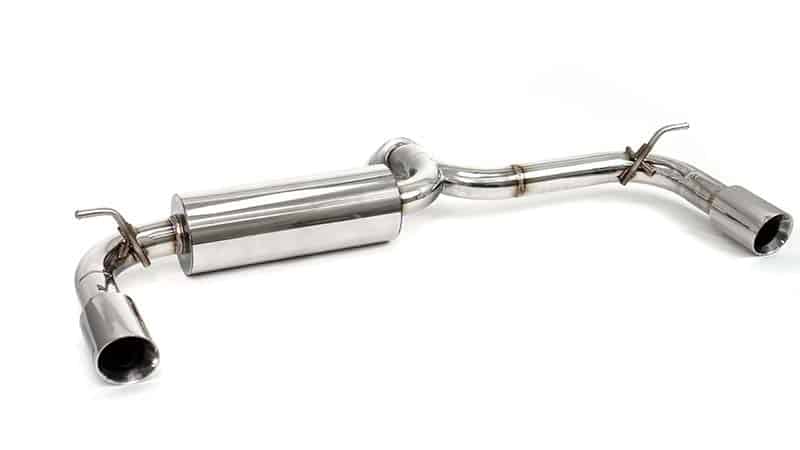 Next up is the CorkSport Axle-Back Exhaust. Off the showroom floor, the Mazda 3 is ghostly quiet which is pretty disappointing. Our goal with the Performance Axle-Back Exhaust is a noticeable but mellow tone that you can enjoy every single day; gents this is Wife/Girlfriend approved.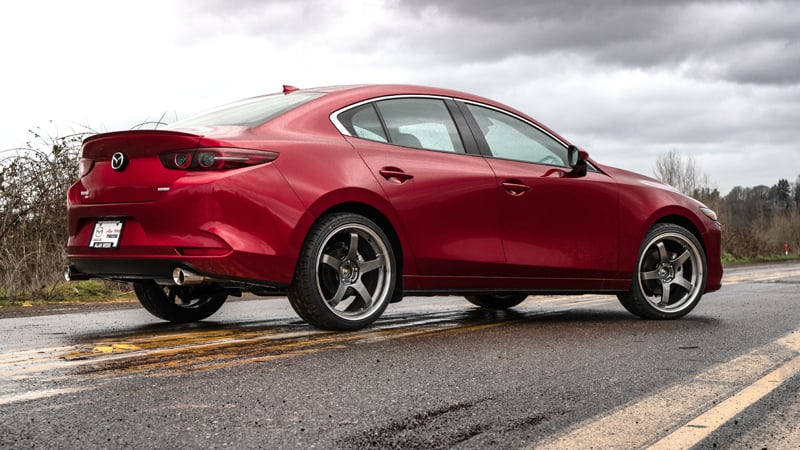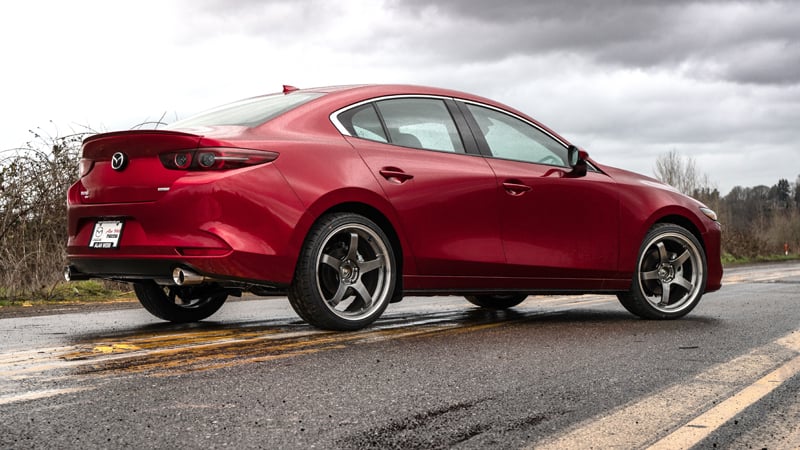 We are proud to announce that will we be supporting multiple models on launch. We have confirmed the Sedan, Hatch, Hatch w/Aero Package, and the CX-30. Along with that we have confirmed fitment for both FWD and AWD models for all cars listed.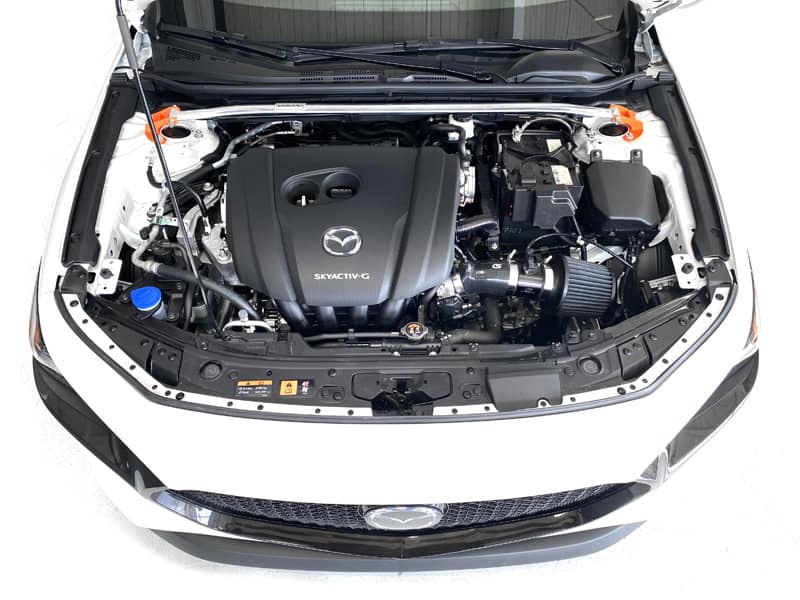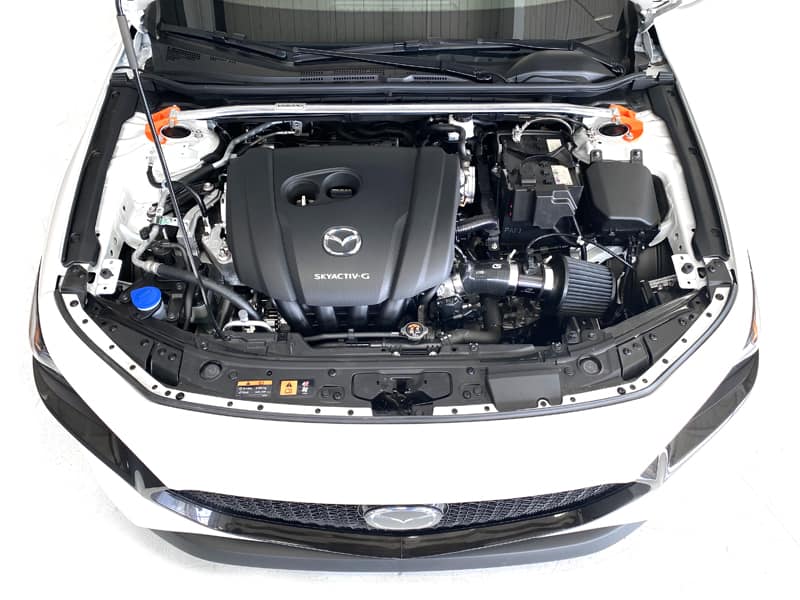 Look closely, there are a couple new products in this engine bay…long in development is the Short Ram Intake System which replaces the OEM airbox with a high flow dry element filter, billet aluminum MAF housing, 4-ply silicone coupler, and stainless steel T-bolt clamps.
Upon launch we will be offering various color combinations between Black, Red, and Blue. You can see them below.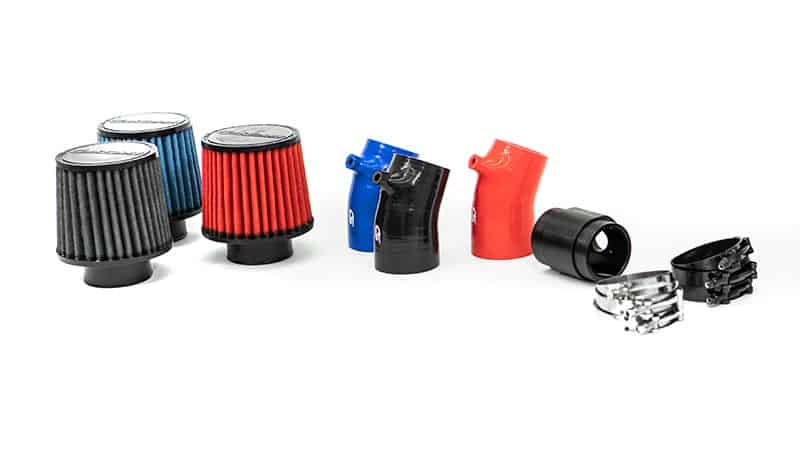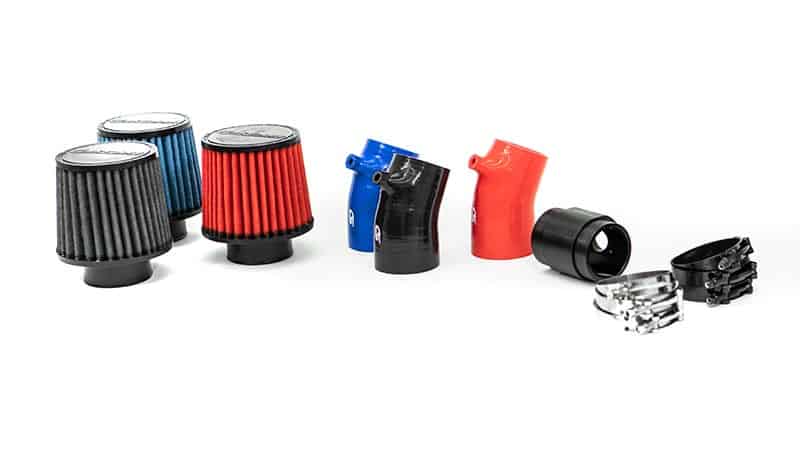 In our testing we have seen repeatable 5whp gains at peak with a nice increase across the RPM range. Street driving our butt dyno agrees with crisp throttle response and a lovely intake induction noise. The combination of induction noises, exhaust note, and sporty feedback from the sport springs really turns the Mazda 3 from an A-to-B car to a great enthusiast hot hatch.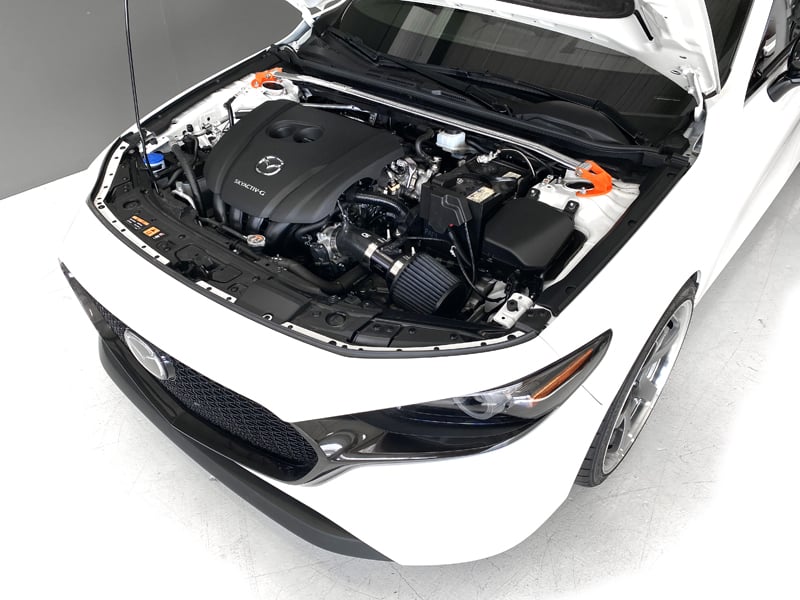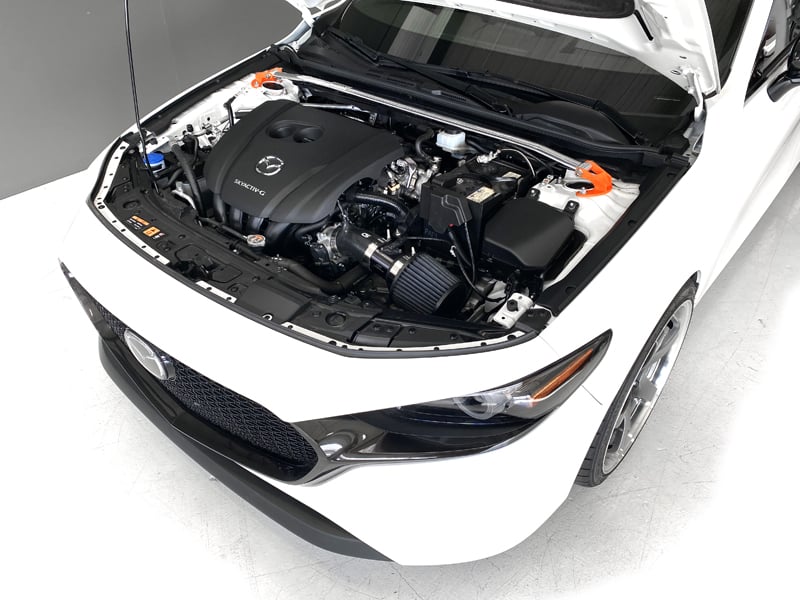 The other project sitting in the engine bay is the CorkSport Front Strut Brace. Bracing the strut towers to each other improves chassis stiffness and reduces suspension complicity. This results in increased driver feedback and thus a better driving experience. The powder coated steel brackets and polished aluminum cross bar add a nice loot to the engine bay.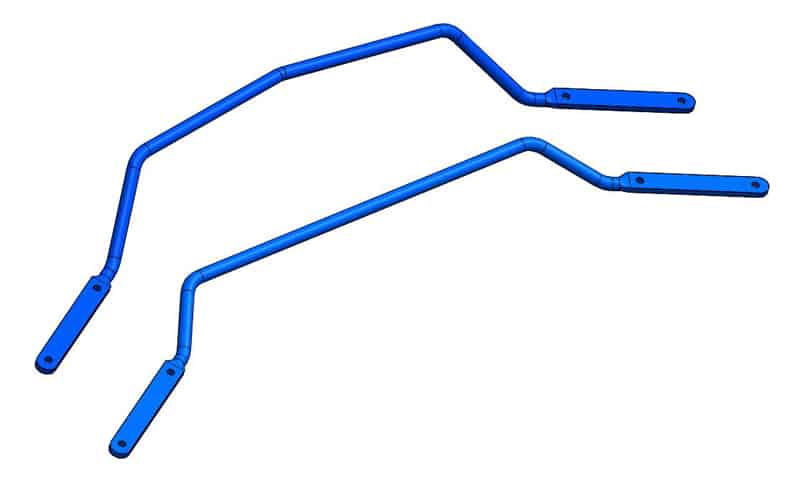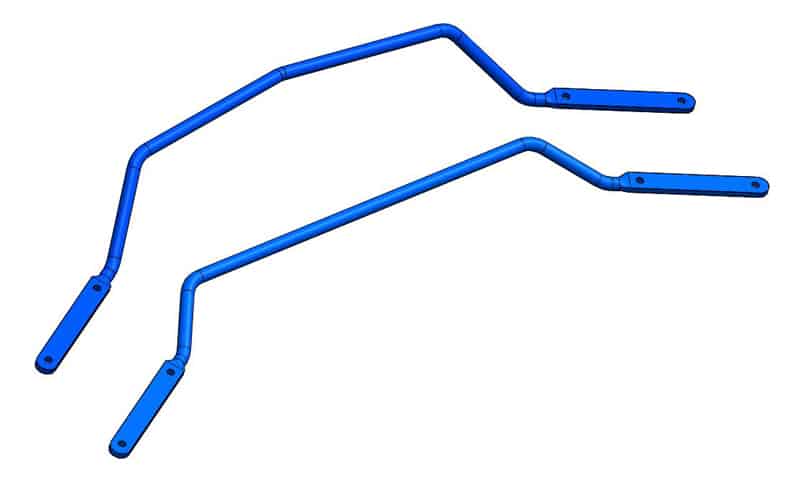 Lastly, and still in development, are the rear sway bars for the FWD and AWD 4th Gen Mazda 3. This project has been interesting because of the new torsion beam rear suspension found on the 4th Gen Mazda 3. It's interesting because there is no factory equipped sway bar. Instead of just developing a larger rear sway bar, we are developing a sway bar from scratch along with the attachment methods.
You also notice that there are two different bars in the image. This is because the AWD and FWD torsion beams are different due to the AWD drivetrain. Long story short, we are developing a RSB for each drivetrain specifically because that's the correct way to do it.
Wow, that was a lot, and trust me there is more we are investigating, but we can't let ALL the secrets out yet. We would love to know what products you would like CorkSport to develop for the 2019+ Mazda 3 platform, you can do so right here by Submitting a Product Idea.
Also, we love sharing with the community directly and have been doing so in these groups. If you don't know about them then check them out and join for more info.




Thanks for tuning in with CorkSport. We hope you are as excited about the 4th Gen Mazda platform as we are!
-Barett @ CS