With more and more information circulating about the new Rotary and MX-5 Miata, we've compiled everything you need to know about these two beauties.
Rotary 2017
Mazda has been pretty tight-lipped about the next Rotary. In fact, just a few months ago, we heard a few sources claim that the Rotary wasn't in development at all, or at least was no longer being focused on. Well, hope has been renewed! This news is thrilling, and it honestly lines up perfectly with what we published back in August: What Mazda Said That Will Have You Saying, "Take My Money!"
So what's the excitement? Well, according to an article posted here, Mazda Kiyoshi Fijiwara (Managing Executive Officer) recently was referenced stating that they should be coming out with a new Rotary in 2017 at the Tokyo Motor show. Mazda is pretty big into anniversaries, and this just reaffirms our hunch they'll use the 50-year anniversary of their first commercially available Rotary to release a new one. They did it with the 25th anniversary of the Miata MX-5, so why not the Rotary?
This is exciting news, and the best part is, they say it should have close to 300hp!
In case you can't read Japanese, see the (slightly modified) Google Translation below:
Kiyoshi Fujiwara, the Mazda Managing Executive Officer, at the event in Spain was saying that the company is thought to publish a new car equipped with a rotary engine at the Tokyo Motor Show in 2017.
2017: It's a memorable year. The world's first commercially-available car equipped with a rotary engine "Cosmo Sports" appeared 50 years earlier. The name of the new car is unknown. As specs become realities, it is clear the "RX-7" engine should come near the order of 300hp.
2016 MX-5 Miata Only Gets 155hp
In other news, the engine is officially confirmed at 155hp and 148 ft/lbs of torque for the next generation MX-5. Though this might seem underwhelming, we still have high hopes. The three reasons for these hope are as follows:
 Reason 1:
2015 Miata: 2,619 lbs, divided by 167 hp = 15.68 lbs per Horsepower
2016 Miata: 2,200 (estimated) lbs, divided by 155hp = 14.19 lbs per Horsepower
It's only an estimate, but the next Gen MX-5 would have to weigh over 2,400 lbs in order to have a worse power-to-weight ratio than the current model.
Reason 2:
Mazda knows more than ever that everyone wants a faster and higher horsepower car.  This knowledge, and the fact that they don't currently produce, and have not announced, plans to introduce a single Mazdaspeed variant of any of their cars, gives us hope. You might think that makes no sense, but consider it: Doesn't all their silence about the next Mazdaspeed seem strange? How can a company that has the most vehicles racing in the World on any given weekend NOT have a Mazdaspeed? Secrets.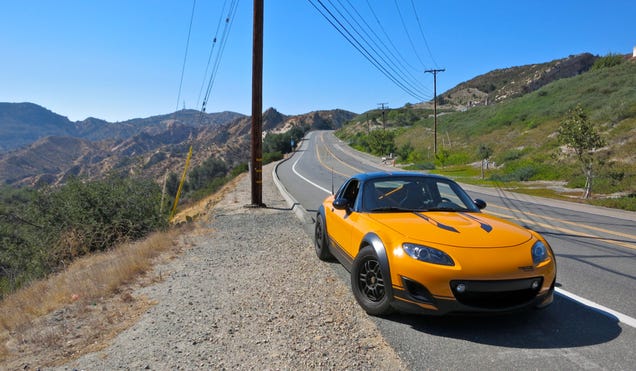 Mazda has been parading around their Super20 Miata since 2012—a roughly 250 horsepower supercharged Miata that's received incredible press and reviews. Of course, it isn't available for public sale. So why does Mazda continue to tease us? Why produce these totally reachable cars that people want without actually producing them for sale? It could just be for publicity, but our bet is also that Mazda has secretly been working on the next Mazdaspeed, and it will be an Mx-5. If we're right…. we would guess everyone will receive a good confirmation of the next Mazdaspeed MX-5 soon.
Reason 3:
The MX-5 is the pinnacle of Mazdas to modify. More people are modifying their Miata/MX-5 than probably all other Mazdas combined. What does this mean? Turbos, Intakes, Exhausts, Suspension, Bodykits, Lighting: There are so many mods!! Mazda knows people love to modify their cars. If they don't do it themselves, they know their customers will, which is why we have a feeling that with a few small tweaks, we'll have this next MX-5 purring and putting out an extra 20-40 horsepower in no time.
Check out The Jalopnik article on the Miata and it's 155HP: HERE.