Last Saturday at our CorkSport Swap Meet, we had a great turnout for the Dyno Testing. With 16 people signing up ahead of time and 5 signing up on site, we got some great runs in from a diverse group of participants. We even felt sorry for a handful of non-Mazdas and let them participate as well!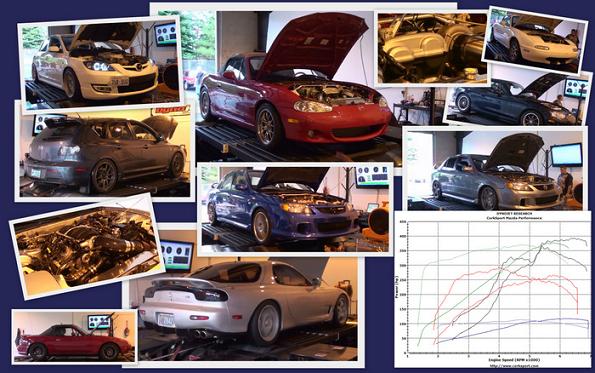 High horsepower of the day was Jason O'Neill with his '01 Miata. Jay's car made 393hp to the rear wheels with a brutal 368 ft lb of torque. A week earlier he had the motor out to diagnose some issues with the variable valve timing as well as try to get the head into the shop for new valve guides and seals and couldn't make it in time so he threw it back in just to drive down to the event on a set of beefy drag radials. Later in the evening he ran an 11.51 at 124mph out at Portland International Raceway. Brutal. I'll say this much, when a lightweight little Miata pushing 400+hp (it was uncharacteristically chilly out Saturday night) on a cold track makes a 1.6 second reaction time, it's driver has had some practice. Hats off to Jay for his awesome car and sticky launch skills.
Close behind was an LS2 powered FD RX-7 that was unbelievably clean. The install was gorgeous, with little over 1000 miles on the clock since the swap, and the powerband was equally beautiful. Dropping an Earth shaking 300ft lb of torque at 1600RPM and following that up with a 45 degree horsepower curve topping out at 376hp, this car would be more adrenaline pumping fun than a barrel of monkeys in an AK-47 factory. And the owner's passion for Mazdas goes way back…he bought an FD off the lot new in '93 as well. While purists will wince at the addition of Chevy Power to one of the crown jewels of Mazda's Rotary history, I would guess anyone who saw the meticulous install and the owners passion for making this an all around amazing car would give it a thumbs up. The drivetrain wasn't the only amazing thing about the car – the suspension and bodywork were phenomenal as well.
We had a pair of Speed3's and a Speed6 on the dyno as well, with high HP numbers in the high 260's and high torque numbers in the high 290's. The dyno runs on these cars are all over the map, preferencing torque on one run, horsepower on the next. One car ran 257HP w/ 296ft lb followed by a run of 269HP w/ 282ft lb. And I always thought the less the driver could effect the run the more consistent the output would be – not so with the MZR 2.3 DISI powered sedans.
The rest of the pool consisted of two FS Powered Mazdaspeed Protégés, a BP Turbo Powered Protégé, Four Miata's and two eardrum scalding FB RX-7's that both gave the LS2 a run for its money for smoothest powerband.
Whole playlist – wraps up with the RX-7 and the miata.
All in all it was a great day, and we had some good opportunities to talk shop and discuss opportunities for more power. The Seattle area group from MazdasNW.com came down and were able to meet up with more of the folks on the forum who are from the Portland Area. All in all, it became clear that a lot of these Mazda enthusiasts are hungry for opportunities to spend time discussing their wrenching projects and spending time with like minded people. I look forward to future opportunities like this. Thanks again for everyone who came out to the event…without such great participation, none of us would have had as much fun as we did.
P.S. If you have video of your car on our Dyno during the CorkSport Dyno Day and it's not included in the above video playlist, fire over a copy for me and we'll add it! Sorry for not getting all of the cars on video, I had a few different hats I was wearing and wasn't able to get them all.
– Jason