For years, you've asked for them, and they're finally here!
Introducing the CorkSport Aluminum Coolant and Power Steering Fluid Tank for the First Generation Mazdaspeed3 (2007-2009). Although we've had a 2010-2013 Mazdaspeed 3 coolant tank, it's about time we added these tanks to line up.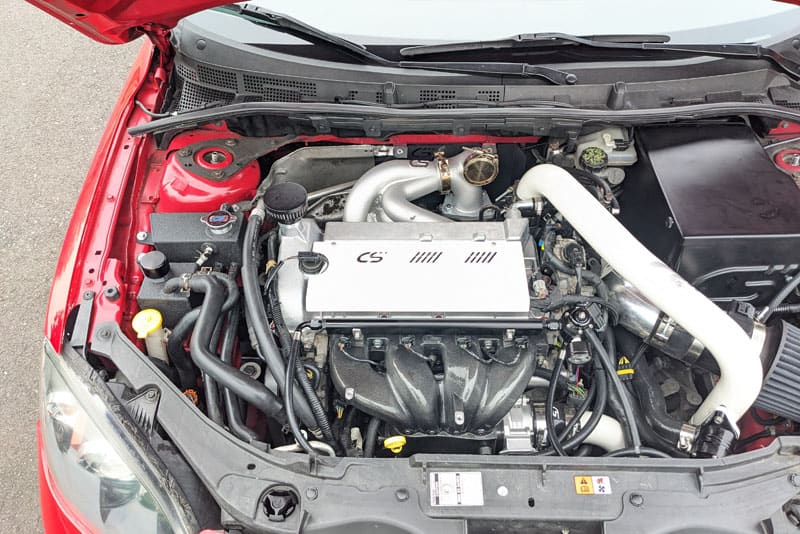 Let's face it, the first-gen Mazdaspeed3 platform is aging, and with that age comes ugly, yellow plastic tanks. We've even seen tanks crack and fail, causing coolant leaks, headaches, and eye sores for owners. It's time we changed that.
CorkSport has developed a solution in the form of an aluminum replacement for these tired plastic tanks that fit and function just like OEM! Our tanks also come coated in a beautiful black powder coat that will look right at home with any color in any engine bay. Our tanks are robust and will stand the test of time for years to come.
But why aluminum? Why do we even have a tank, to begin with? What does it do?Let's start by going over how a cooling system works.
TW: It's about to get a little nerdy!
Understanding Heat Transfer in Cooling Systems
Think about a hot summer's day. You're sweating from a hard day of wrenching on the Mazda in the garage and desperately need a cool down, so you place a cold, wet, refreshing towel around your neck. Initially, when you place that cool towel around your neck, you only feel the cold in one place: around your neck. But pretty soon, you feel the cold spread throughout your body and begin cooling down.
This feeling, however, is misleading as there is no such thing as "cold." There is only heat and a lack of heat. What's happening is the heat that you feel on your body is being transferred into the cool towel, and the blood that passes through your neck is cooled as a result. As this blood with less heat (i.e., "cooled") circulates around your body, you feel the effect of that towel all throughout until all of your blood is cooled, and you begin to feel better! You'll notice after some time that the towel is no longer cool because it has absorbed the heat from your body and the surrounding air. Remember: heat moves from hot to cold and wants to spread until an equilibrium is met.

How Automotive Cooling Systems Work
Automotive cooling systems work on the same principle. Replace that towel with a radiator, your blood with automotive coolant, and the engine as a heat source, and now you have an automotive cooling system! As the cold coolant passes through the engine, it absorbs the heat generated by the combustion cycle and friction in the cylinders. Some of this hot coolant is then passed through your HVAC system, where some of this heat can be used to heat the cabin (this is how your heater works), and the rest is passed to the radiator for cooling. Once cooled by moving air, it is then passed again into the engine, where it works to cool it down. Then the cycle continues. This is the same basis of how Turbo front mount intercoolers operate. For more information on these systems, check out our Front Mount Intercoolers.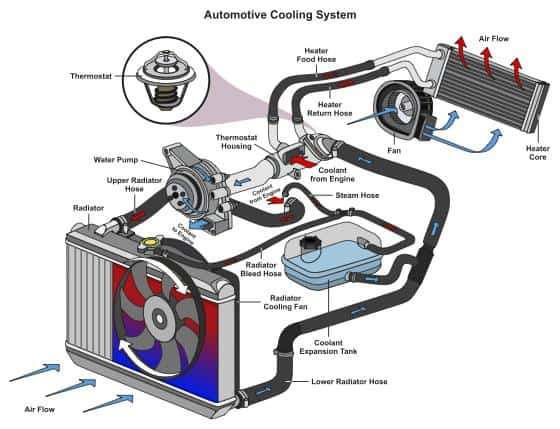 So where does the tank come in?
Naturally, as things heat up, they expand. Coolant is no exception to this rule, and this is usually combated with an expansion tank to capture any excess volume. What makes the MazdaSpeed 3 cooling system unique is that the expansion tank is incorporated into the main flow path of the coolant, with the expansion volume built into the reservoir design. This design of combining the expansion tank with a reservoir simplifies the system without the need for additional tanks or hoses. This can also be compared visually with the fill point of the cooling system. On most vehicles, it is located on top of the radiator, but on the Speed3, it is located on the tank directly. This means that the tank itself is pressurized when the system is hot, which introduces a challenge with material selection.
Mazdaspeed's Need For A Better Tank
Since the OEM tank is made of plastic, it is more vulnerable to degradation over time. Once the tank has deteriorated enough, it cannot withstand the pressure changes and high-temperature cycles of the coolant system. It will eventually fail, leading to cracks and leaks that many owners complain of. The TIG welded aluminum construction and powder coating of our tanks mean that they are substantially more resilient than the OEM tanks and will last for years to come.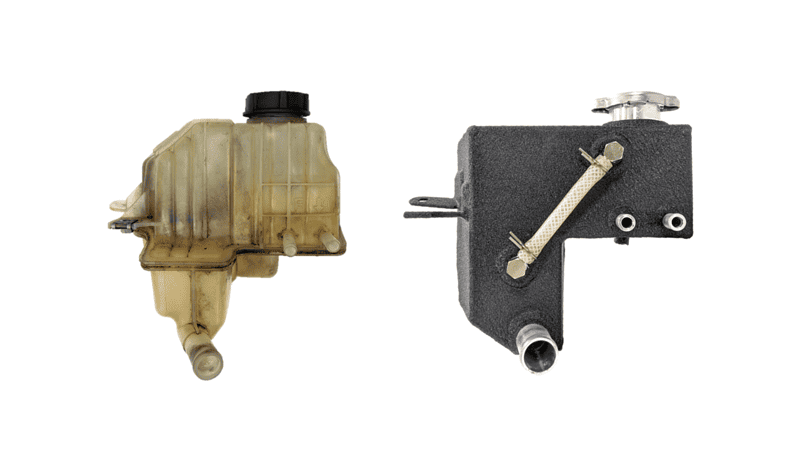 Power Steering Tank
The 2007-2009 Mazdaspeed 3 power steering tank is much simpler as its only function is to hold fluid, and the system is only slightly pressurized, meaning no expansion volume has to be built into the tank design and the temperatures are much lower. However, the OEM tank is still made of the same ugly plastic as the coolant tank and has the same disadvantages. While this tank does not see the same failure rate as the coolant tank, we decided to take the opportunity anyway to fully complete the look of the engine bay and provide our customers with a comprehensive solution to replace all of the aging plastic tanks to vastly improve the appearance of the engine bay.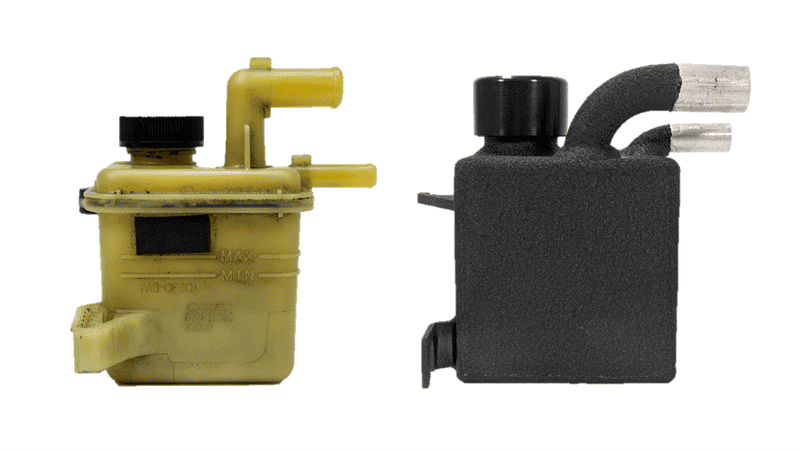 Fitment and Design
We understand that universal tanks are such a pain. We have experienced this with some of our cars and have had to design and fabricate custom brackets to make them fit. This is a headache, not to mention having to cut or move OEM hoses or custom-make our own. Retaining OEM fit and function is the easiest and most effective design for installation, and that is exactly what we have done for our tanks!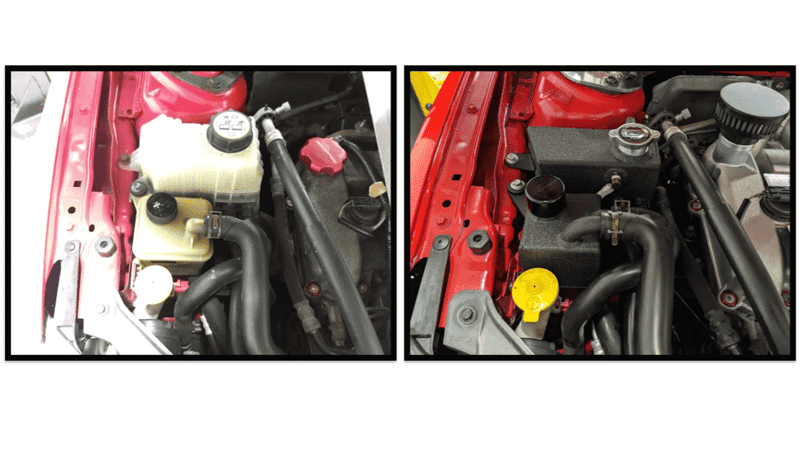 If you are interested in purchasing one (or both) of our Aluminum Tanks for your Mazdaspeed 3, today is the day!
Thanks
-Quintin, CS engineering
Connect with us
You may also like: