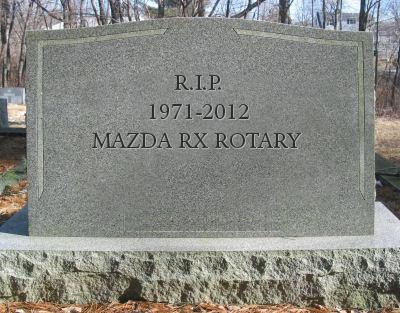 R.I.P Mazda RX Rotary
We received some sad news a few days ago about the much loved Rotary RX-7, RX-8 and other RX series. The official word according to the Mazda CEO Masamichi Kogai is that "we don't have that kind of vehicle in our future product plan."  when asked about a future RX. 
Honestly I'd love to pontificate about this more, but there isn't much to say. It sounds like the final word from the current CEO. When pushed further he gave some reasoning that honestly makes perfect sense, "If you increase the number of segments, then the resources we can allocate to each will decline and that will prevent us from developing truly good products." Also stated was the fact that "It's difficult for us at present to further expand our lineup. The company is still in the process of improving its financial structure. We want to focus our limited resources on the Skyactiv products that we have today" 
Though this probably makes the most sense from a stability standpoint, it certainly doesn't make us excited or want to say "Zoom-Zoom". What happened to the Mazda passion? All that racing knowledge and development? Did they just give up on pushing the bar? Honestly, I don't think so, I just think they are changing focus. The Rotary is off the board in the foreseeable future, but that doesn't mean their current lineup won't see some improvements…. after all, what about that Mazdaspeed 3 and MX-5?
Nonetheless, let us all take a moment of silence and mourn the passing of the RX series, for now.
Cheers
Spencer@CorkSport

Written by Spencer Carson. Spencer is a car enthusiast and Mazda fan at heart. Whether enjoying the power of a modified Mazdaspeed 3, or driving top down in his 1992 MX5, he always enjoys getting behind the wheel. As much as Spencer loves driving, he loves helping out other Mazda owners even more. Whether helping at a local install day or heading to a car meet across the country, he loves chatting about Mazda and giving advice on how to get more Zoom-Zoom out of any car.