Mazda 3 TCR
An interesting article popped up a few days ago in which a John Dagy a journalist with Sportscar365 was discussing the TCR class of car with John Doonan who is the head of Mazda Motorsports program.
I have been following the TCR series for a while now with some interest in it as the car Mazda offers which fits best is the Mazda 3, and I enjoy the time I have had racing CorkSport's Gen3 Mazda3.
What is nice about the series it is meant to race four-door saloons, all with a 2.0 turbo motor and a price capped ceiling of 135,000.  Most people would freak out a bit with that price but what you are getting is a fully developed car with a spec sheet.  Each manufacturer designates a builder whether it be themselves or a shop to assemble the cars and provide support.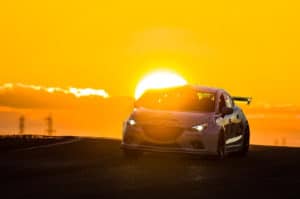 Mazda is in an interesting spot, they have their successful Global MX5 cup series and the IMSA Prototypes with Joest, but there is a middle ground hole that has been filled with the older NC Miatas.  With the NCs not being a current production model, it makes sense to get something in there to fill in the blanks.
 In the past, Mazda had used the Mazdaspeed 3 as the basis, and it did well capturing the championships in PWC and IMSA ST class, but the lack of a turbo model makes this a challenge.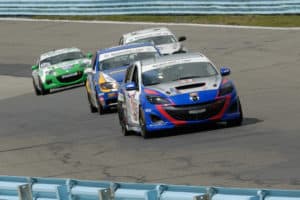 One option out there would be to use one of our upcoming 2.5 Skyactiv Mazda 3 turbo kits and bridge the gap so to speak to have a powerplant.  Granted the turbo kit is for the 2.5 but with enough encouragement and feedback from people, the 2.0 kit is looking likely.
Work on some aero and really good suspension, and you would be set.  Maybe I am just daydreaming too much at work again….
-Derrick