CorkSport Garage
How about something a little different from the usual CS blog? I thought I would give you all a little insight into all the different Mazdas that are owned by employees. Some are daily drivers, some are full racecars, and some are…different (more on that later). So grab a cold refreshment, we've got quite a few cars to go through.
The Mazdaspeeds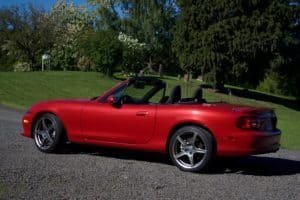 Owner
: Corey
Year/Model
: 2004 Mazdaspeed Miata
Mileage
: 28,800
Modifications: Full Flyin' Miata CAI, polished stainless piping, Turbosmart recirculating bypass valve, manual boost controller, O2 signal modifier, boost gauge. Recent Mustang Dyno showed a consistent 189.9WHP.
Corey's Comments: Purchased new to me at 17,000 miles in 2012 for my 40
th
birthday. The MSP Miata had been stored for 4 years-everything was original, even the tires. This Miata came from California and had never seen rain. I keep it in the garage and it's mainly a fair weather/weekend car except during the summer. I enjoy taking a ride in the MSM with each of my kids, but love honking the horn at people and making my son wave back…like he knows them.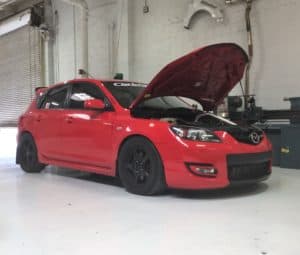 Owner
: Luke
Year/Model
: 2009 Mazdaspeed 3 GT
Mileage
: 124,000
Modifications: Full bolted, built engine, CS prototype turbo, methanol injection. Too many CorkSport Par
Luke's Comments: Car has been through stock turbo/stock block,

CS turbo
/stock block,
CS turbo
/built block, 35r/built block, and now CS prototype turbo/built block.  Fun fact: my girlfriend went faster in my car than I did when I first bought it.  Stock turbo went 12.8 @ 110mph in the  1320.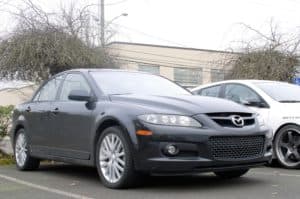 Owner
: Daniel
Year/Model
: 2007 Mazdaspeed 6
Mileage
: 68,000
Modifications: Custom front license plate delete, CS Interior LED Kit, daily driver dirt.
Daniel's Comments: Just bought the MS6 a few weeks ago, doing a ton of maintenance before mods. This Mazdaspeed6 started out as a dealer fleet vehicle (whatever that means). Bought it from a guy who owned it the past ~9 years. Hoping to sneak some new Mazdaspeed 6 parts into the CS catalog and feed the zoom-zoom obsession!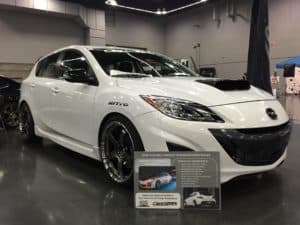 Owner
: CorkSport (shop car)
Year/Model
: 2013 Mazdaspeed 3
Mileage
: 14,000
Modifications: Virtually everything in the CS catalog for MS3. Plus a few prototype parts that never made their way to the market.
Comments:  Affectionately called "Whitey". On its 2
nd
built engine (we use and abuse this thing). This was one of Vincent's first projects when he arrived at CS: rebuild Whitey's engine. He just got done rebuilding it for the second time and is now breaking it in.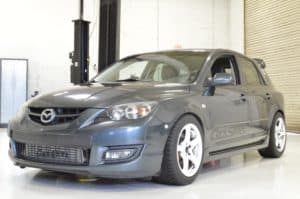 Owner
: Barett
Year/Model
: 2009 Mazdaspeed 3
Mileage
: ~135,000
Modifications: Manley internals, L19 head studs, CS cams, bowl work & porting, all the bolt-ons, 28gph methanol injection, prototype CS turbo, 330mm BBK, other suspension bits.
Barett's Comments: More info on the engine build

here

. Made ~465whp at the 2017 CS dyno day. My car hates me and is a constant work in progress.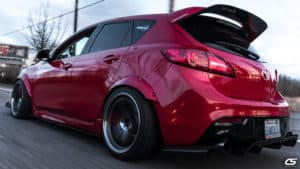 Owner
: Brett
Year/Model
: 2013 Mazdaspeed
Mileage
: 37,000
Modifications: Full CS bolt-ons, big turbo, meth injection, making 430whp 385ft-lbs. BC coilovers w/ custom rated Swift springs, BMSPEC front splitter, Varis rear diffuser, custom side skirt extensions, Volk TE37SL: front 18×11 rear 18×10, paint matched 240Z flares, 330mm BBK.
Brett's Comments:  I've had the Mazdaspeed3 for about 4 years now. It has every CS bolt on in the catalog. Helps that I work here now. This MS3 makes ~430 WHP, and is a stock block for now; built block soon to come. I take more pictures of this car than I do anything else. 
The GEN 3's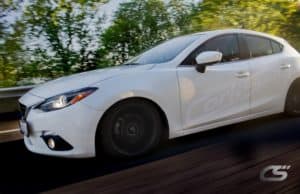 Owner
: Jennifer
Year/Model
: 2014 Mazda 3 2.5L Hatch
Mileage
: 100,000
Modifications: Most of the CS catalog for GEN3: Intake, exhaust, lowering springs, adjustable struts, rear sway bar, aluminum skid tray, etc., GEN2 MS3 wheels, big CS livery.
Jennifer's Comments: The car has been used for the majority of the Mazda3 research and design at CS. This Mazda 3 is daily driven ~80miles each day to torture test CorkSport parts, it helps that the commute to my house is that far round trip. Basically, my daily drive is a perfect example of "running up a hill both ways" for this Mazda 3.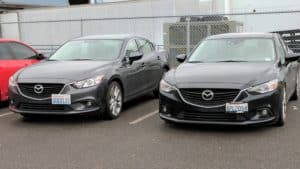 (Left)
Owner
: Collin
Year/Model
: 2016 Mazda 6
Mileage
: 40,000
Modifications: CS RSB, prototype CS FSB, CS RMM, prototype CS performance header, CS license plate kit.
Collin's Comments: Aside from the performance parts available at CS, I chose this car due to the extra ~30HP compared to most commuter cars. I still get 42MPG on my freeway commute. This is my first New Car I bought myself and I have loved learning how to modify on it.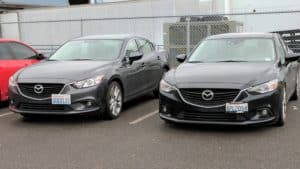 (Right)
Owner
: Rich
Year/Model
: 2014 Mazda 6 GT
Modifications: CS lowering springs/struts, CS front camber plates, CS rear camber arms, CS SRI, CS catback, CS radio control knob, CS license plate kit, 25mm wheel spacers
Rich's Comments: I drove around the same B2300 for many years while we built CorkSport from the ground up. I finally decided to treat myself and picked this Mazda6 up in 2014. Big shift, and I've loved having the luxuries of this Mazda 6.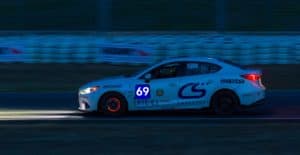 Owner
: Derrick
Year/Model
: 2014 Mazda 3 2.5L Sedan
Modifications: Caged, stripped, CS SRI, straight pipe to CS axleback, bunch of custom adjustable suspension, BBK (sometimes), custom racetrack-modified bodywork.
Derrick's Comments: This Mazda3 could not be sold as a road legal car, so I don't drive it on the road. There are a TON of track hours on this Mazda 3 and all of it's modifications. We basically TRY to break our test parts before we let them hit the market, which is good for me because I love to go fast.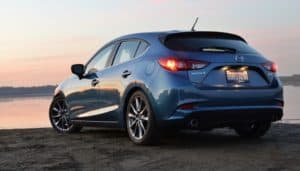 Owner
: CorkSport (shop car)
Year/Model
: 2018 Mazda 3 2.5L Hatch
Mileage
: 2900
Modifications: CS struts, CS lowering springs, CS camber plates, CS RMM.
Comments: Mainly stock so far, big things to come to the "CBR" (CorkSport Branded Ride). Brett, who has been dailying the CBR, somehow only is getting 23mpg. Expect more parts for facelifted GEN3's with the CBR's arrival.
The Others
Just because you may not have seen much about them and they don't get their own category does not mean they're not special. For me, some of the most interesting cars are down below.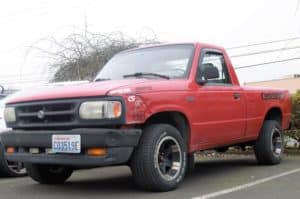 Owner
: CorkSport (shop truck)
Year/Model
: 1995 Mazda B2300
Mileage
: 160,000
Modifications: Sweet stickers for extra HP, tire shop wheels, custom faded paint
Comments: Vincent used to own this truck before selling it to be the "new" CS shop truck. He notes that it was involved in 3 accidents, each time the insurance company did not total the truck, leaving Vincent with more money than he spent to buy the truck. No power steering provides an arm workout for those lucky enough to drive this beast.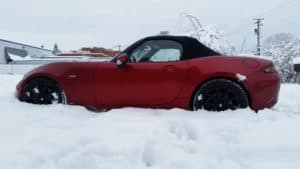 Owner
: Derrick
Year/Model
: 2016 Miata Launch Edition.
Mileage:
24,000
Modifications: Full CorkSport ND Miata catalog – CS cold air intake, CS catback exhaust, CS front and rear swaybars, CS lowering springs, CS adjustable front end links, VersaTune CS parts tune, CS short shifter – Sparco Drift wheels, Bridgestone Blizzak run flats
Derrick's Comments: The ND is an interesting car for me as being a lifelong Mazda enthusiast I had never owned a Miata before.  When the ND was announced I had already converted the Mazda 2 into a B-Spec car so I stopped street driving it and went back to my Rx7 turbo as my daily driver so I had gotten used to driving a car with "issues" again.  When I got into the ND for the first time and drove it home it was very surreal expecting some weird sound or smelling hydrocarbons (the Rx7 is old and catless) and the car handled incredible right out of the box.  Of course that lasted all of 3 months until we have Kenton Koch behind the wheel helping us out with the suspension development.  It is one of those cars that I warn people, if you drive it you will want to buy one.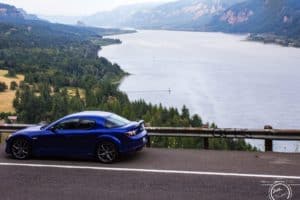 Owner
: Vincent
Year/Model
: 2010 Mazda RX-8 R3
Mileage
: 60,000 (original engine, no issues)
Modifications: Turbo XS exhaust, K&N high flow filter, custom VersaTune tune, DBA club spec rotors, Hawk Street/Race pads, Goodridge stainless steel lines.
Vincent's Comments: I had been wanting a 2
nd
gen RX-8 since high school. This thing revs out to 9400RPM and is super fun to drive. Just recently sold (hi Aaron) but too good to not include in this blog.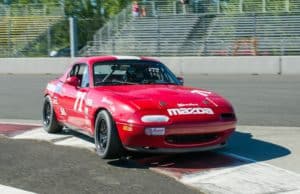 Owner
: Derrick
Year/Model
: 1993 Spec Miata
Mileage
: "Lots and lots" (this car has run 25hours of Thunderhill a few times on top of all its other racing)
Modifications: Spec Miata Bilstein shock package, Eibach swaybars, illegal plunge cut cylinder head (lookup spec Miata plunge gate 2014), GLoc brakes, 949 6ul Spec Miata wheels, AIM dash & datalog system, ESR drive side drop floor, Really big radiator.
Derrick's Comments: I took the advice of all the spec miata people and bought a built car so I didn't have to spend 6 months building one myself.  The local car was raced for a long time in the northwest and was a front running car before it was parked for a few years.  I picked it up for ~6k with some extra spares and was immediately able to get on the track and go racing after the installation of the drop floor and new seatbelts.  The big question I have people ask me is why did you get a SM?  The real answer is the level of drivers in the class.  At any sanctioned race event weekend there are always SM and someone to race against and I have personally known several drivers go into SM a novice and come out the other side in pro racing.  To win at SM you have to have your shit together.  To be the best you need to compete against and beat the best so here I am.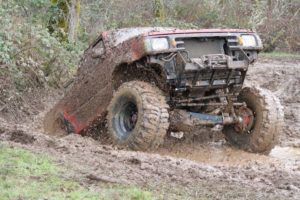 Owner
: Barett
Model
: Mazda B2600i
Mileage
: ?
Modifications: Solid axle swap with Toyota running gear, 4.88:1 axle gears, rear locker, 3 feet of articulation, 8000lb winch, high bolstered seats, 35×14.5R15 Super Swamper Bogger Tires, "lots of f*ckery fabrication."
Barett's Comments: This was my first real vehicle, and it taught me lots about owning a vehicle, modifying a vehicle and I have more memories with this beast than I can come up with right now. I beat the SH*T out of this truck and it's always put away wet.
Owner
: Rich
Model
: 1988 Mazda Rx- CONVERTIBLE
Modifications: Turbo engine swap, Apexi Power FC, CS Border Style body kit, CS front mount intercooler, CS turbo back exhaust, many other mods.
Rich's Comments: The Rx-7 is kept in the garage and it's mainly a fair weather/weekend car except during the summer. I take it out for special occasions or to just show off every once in a while. It's a nostalgia piece for me. 
Not Pictured:
2016 Mazda 3 Sedan. Derrick's 2nd racecar. Caged, stripped, 2.0L AT converted to 2.5L MT.
Mazda RX-7 FC. Owned by Derrick.
NA Mazda Miata. Parts car for Derrick's Spec Miata
Mazda 5. Derrick's wife's car.
Mazda CX7. Kelly's daily driver.
For those keeping score, that's 22 Mazdas in the CorkSport garage. The cars have come and gone over the years but one thing will always stay true: our cars will be fun to drive because they are Mazdas. Here's to more Mazdas finding their way into the CS (and your) garage.
Oh and if you have any questions on the above cars, please let us know down below, we'll be sure to pass on your question to the car's owner.
-Daniel
Summary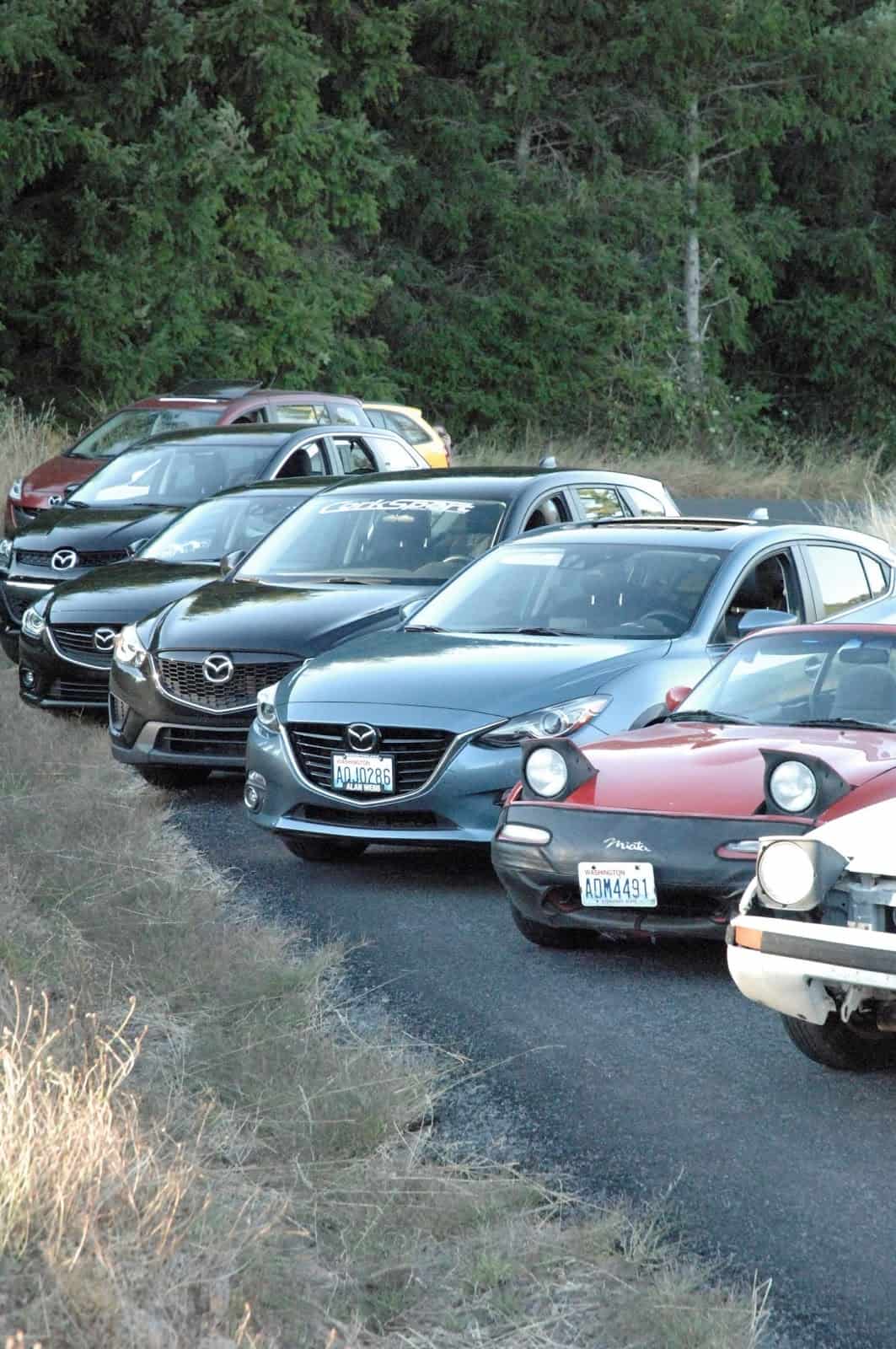 Article Name
CorkSport's Garage Vehicles
Description
What Mazda's do CorkSport and their employees drive? What shop cars does CorkSport keep on hand? How does CorkSport test their parts? In this article, Daniel walks you through the cars, parts, and modifications that have been made to CorkSport's personal and shop cars. You can learn about each Mazda or Mazdaspeed and who drives it. We have a TON of info on the Models Mazda has to offer.
Author
Publisher Name
Publisher Logo