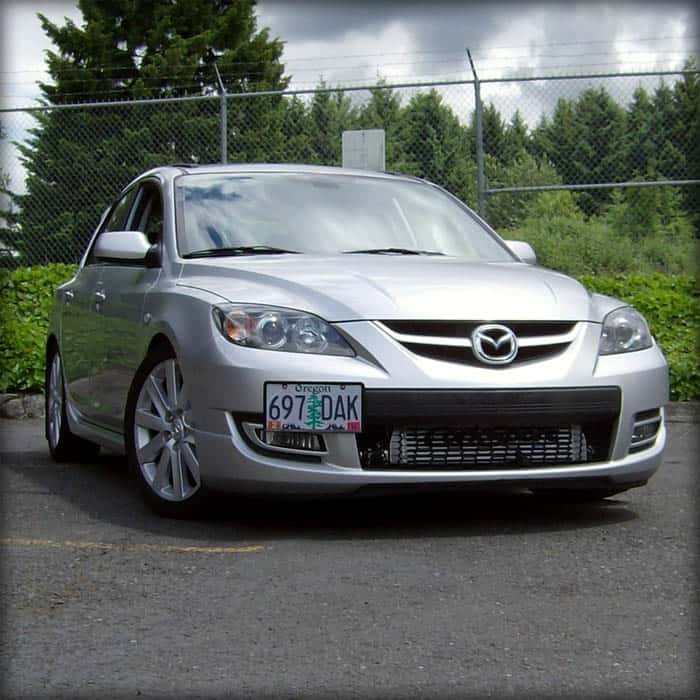 CorkSport's license plate relocation bracket offers 2004-09 Mazda 3 and 2007-09 MazdaSpeed 3 owners the option of mounting their front license plate offset towards the passenger's side of the vehicle.
The license plate relocation bracket uses the stock tow hook threads on the front bumper and creates a mounting bracket for your front license plate. There is no drilling or cutting required.
Features:
The license plate relocation bracket comes with a smoked lexan plate frame with our new CS logo milled into the front. The lexan plate offers the strength and impact resistance of our previous generation aluminum plate, with the flexibility of plastic. It also comes with all necessary mounting hardware including 4 tamper resistant cap screws with locking bit to resist theft of your plate and relocation bracket. Also, relocating the front license plate to the side allows for better airflow to your engine, radiator and front mount intercooler (if applicable). The new location does not block the fog lights and requires no drilling or cutting. The kit is also compatible with our CorkSport license plate frame when you inevitably want to install one.
Testing:
As with all of our products at CorkSport, we'd prefer to invest our time into testing and validation of design rather than requiring our customers to do so. Our License plate relocation kit has been installed and thoroughly tested on several of our personal vehicles to ensure correct fitment and functionality.