I'm Dave or piggy as my mates call me (Long story). My fiancé, Caroline and our two year old son Jason are my life, modding is my obsession.
I've always loved cars beginning with an apprenticeship as a mechanic for Peugeot for a couple of years then later in life a year in commercial mechanics, followed by 18 months as an assistant manager at a car modifying superstore. I most recently spent eight years as a parts specialist for Mercedes Benz.
I own a Gen 2 Mica Black Mazda 3 MPS (Mazdaspeed). I was originally going to buy an RX8 (a very popular car here and are cheap) but the parts that are available are generally body kits and wheels and I loved the look of the Gen 2 Mazdaspeed 3, mainly because of the bonnet scoop (although I'd love to get my hands on a raised scoop! hint hint CS).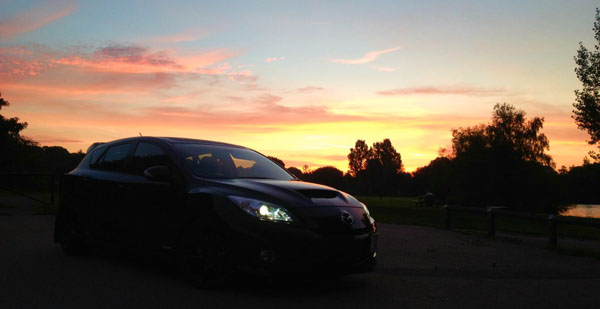 There are literally about 5 companies in the UK that have any clue how to tune Gen 1 or Gen 2 Mazdaspeed 3's and even fewer companies that sell parts for them. This is actually the second time I've modified this car. The first time the company that did the map messed it up and we couldn't figure out what was wrong so I took it back to standard and started again at great cost because I sold all the parts. Now I have a full CorkSport build and could not be happier with the result.
For power, I started by adding the CorkSport Cat Back Exhaust, CorkSport Downpipe, CorkSport Racepipe, CorkSport FMIC for Ram Air Kit, BBR star tune & HPFP internals, and HKS4 BOV. I also added the CorkSport DISI Silicone Bypass Valve Hose, and CorkSport Mazdaspeed 3 Silicone Radiator Hose Set.
The power gains are very noticeable even without the re-map. The tuner even said it's a very good setup. The ram air intake breaths really well and the tubo spool packs a harder punch once the boost comes in. I've not had a dyno run yet, but 320hp is roughly what it has with the set-up.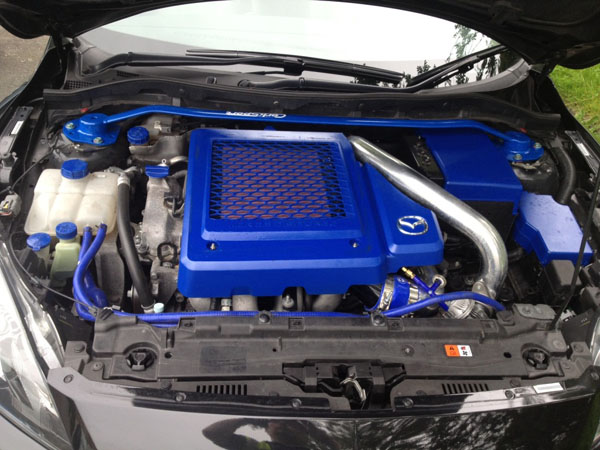 For handling I went with eibach with a 30mm drop, Bridgestone RE050A, CorkSport Short Shift Plate and Shifter Bushings, CorkSport Mid Brace, CorkSport Front and Rear Sway Bars,CorkSport Sway Bar End Links, CorkSport Front Upper Brace Bar and CorkSport Lower Front Brace Bar, CorkSport 4-Way Brace Bar, CorkSport Front Camber Plates, and CorkSport motor mount inserts.
Usually a steering wheel will have some play, allowing you to move the steering wheel an inch left and right while driving and nothing happens but that's gone giving me a much sharper response. Now I can feel the car taking a corner so much better and I have a much greater idea of what the car is doing when I corner. The ride is much firmer so not for the faint hearted. The mods take away the factory smooth and comfortable ride and give you a sharp responsive car with much more grip.
Then of course there is the styling which I decided to go with a red and black theme on the outside and a blue theme under the hood.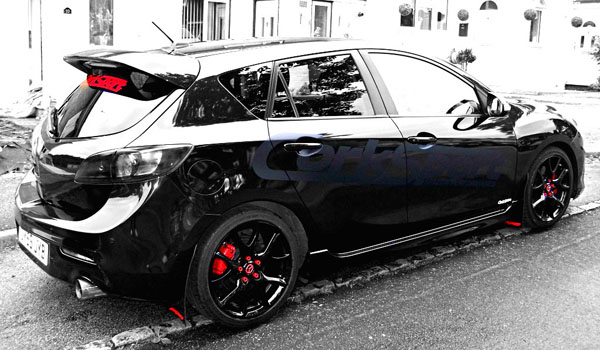 I got Rarerims red wheel nuts, Wheelworx gloss black powder coated wheels, CorkSport Rear Smoked Led Reflectors, CorkSport Interior LED light kit, CorkSport Number Plate relocation, black mud flaps, red calipers, and rp boost gauge.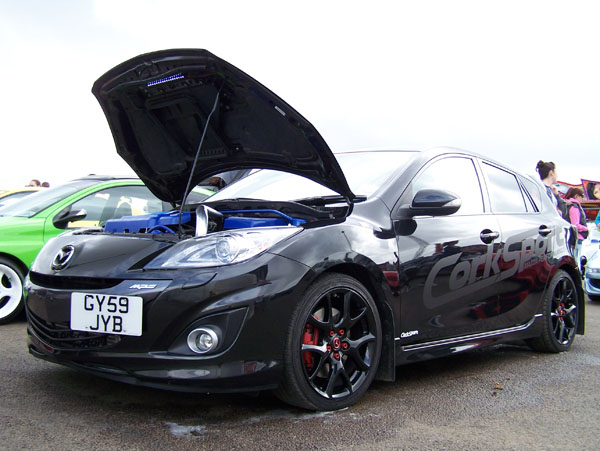 Just placed 3rd in the ultimate street cars online voting and 4th at the main show @ Santa pod raceway losing out by one point to 3rd. 1st was a tuned RS focus with massive ice install and dripping with carbon fibre. My next event will be the 2nd of September, Trax at Silver Stone.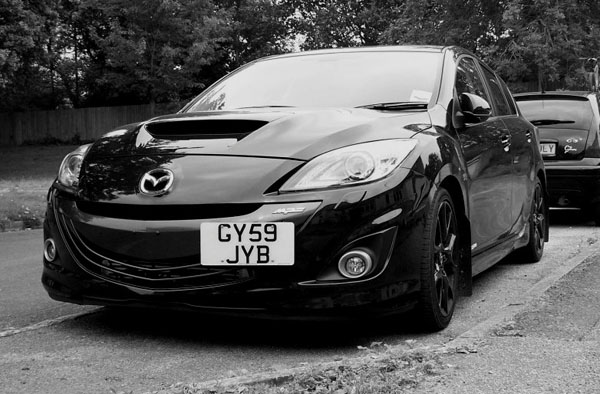 My next mods will be CS Oil Catch Can, CorkSport Eyelids, and CorkSport Rear Camber Arms. I am planning an ice install already have vibe space twin 12″ subs are 3000 watt a piece. Carbon dipped alloys 8.5J (if they'll fit) so I can plant the power and I'm also looking to upgrade the discs and pads all round.
I have had a lot of different cars including a jdm Subaru sti 6 but once I saw the gen2 speed3 i was hooked and for price, you can't beat them. I am an active member on mpsowners.co.uk and my car club is freshadditions.co.uk. If you wanna chat about parts I've fitted then add me on Facebook, Dave Corksport Higson or ask CorkSport for my email address.
Dave-