The Journey to CorkSport
Ever wonder what it was like to win the lottery. You ever let your mind wander and think what it would be like to actually "Live the dream." I know I have, well, until I joined CorkSport! My name is Zach Sprague, and I wanted to share with you my experience of joining, what I believe to be, the best well known and respected company in the Mazda Community. Let's take a look at my journey.
I've always been into cars and have had a pretty big obsession with FWD Hatchbacks. My passion for this platform started back in 2014. I sold cars for Toyota in Southwest Washington for about four years. During my tenure, I drove some pretty amazing vehicles, one of them being a 2013 VRM MS3 Tech pack. I knew what a Mazdaspeed was, a Turbo FWD Hatchback, and at that time that was more than enough to pique my interest in the platform. It was temporarily sitting on my lot, and I had to drive it back down to Portland to our sister store.
Before jumping into the seat, I didn't know any horsepower or torque figures. I didn't know what kind of emotion it was going to spark when I drove it. I had NO idea that it would become the screen saver on my computer. I slid in and pushed the button. (You know those Cold Starts) This car's exhaust made my heart drop and gave me goosebumps. I honestly felt like an 8-year-old on Christmas Morning.
Once on the ramp, I slowly shift into third at about three and a half grand on the tach and just sent it. Torque steer was prevalent as I was gently pushed back into my seat. I slammed 4th, and I hear this intoxicating PSSHHHHHH. I was done, I was hooked, addicted and didn't know what to do with myself. I was so intrigued I stopped at every rest stop on the way down so that I could feel this car accelerate back onto the freeway. <insert uncontrolled giggling here>.
Flash forward a couple of years, and a guy I worked with, now one of my best friends, went out and bought a VRM Speed6. Everything on that car from top to bottom was stock down to the wheels. I slowly watched his build progress over the year and transform into one of the most inspiring builds I have ever seen. In that time he was kind enough to let me pick his brain about these cars and what they like, what they don't like.
In 2018 this is when things got interesting! After a few months of looking and 100 YouTube videos later, I was finally ready to pull the trigger on one of my bucket list cars. I snagged a 2013 MazdaSpeed3 in liquid Silver. I drove almost 4 hours and paid an arm and a leg for sales tax, but it was worth it.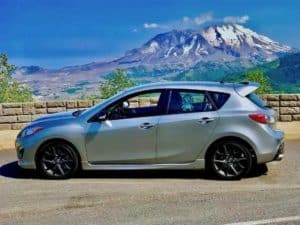 Miles of Smiles
I was grinning ear to ear the entire way home; 4th gear dumps on the freeway, testing the grip of the tires out at a few stoplights, full-on shenanigans. I tell you what; I made it home a lot quicker than the drive up.
I had the car for 3 weeks before I added my first mod. I already had a vision for the car, but first things first, I had to take care of those sloppy shifts. My shifter bushings and short shift plate showed up from CorkSport. At that time I knew they made great parts and were one of the very few places that even made parts for this car. What a difference that made! It felt robust and more responsive.
The Opportunity of a Lifetime
I always joked with my friends about working for a company like CorkSport. I just thought it was this elusive dream that I'd be sitting behind a desk helping other people build their dream cars. I never thought in my life that an opportunity like this would come into fruition. 
My buddy, who helped me get into Mazdaspeeds, sent me a message on FB, letting me know that CS was hiring. I thought to myself; this is no lie. "There is no way on god's green earth I'd ever get that lucky." However, I applied. What's the worst thing that could happen, right?
CorkSport isn't a revolving door, and the team is made up of a close-knit group of professionals that also happen to be car nuts. They carefully consider who's going to be a good fit with their existing team and identify candidates that are going to get the right shit done well. I knew this was a different company, and their standards were high because they didn't just accept my resume; there was a pre-test.
A funny little story. I got a message from CorkSport saying they wanted to set up a phone interview! I couldn't believe it! That Friday, I called to set up a meeting for Monday. This is where the humor known as my life kicked in; I BROKE MY PHONE ON SUNDAY! *RED ALERT* My dream job was calling me on Monday, and I didn't have a phone, so I went out and bought a little prepaid flip phone. 
Although I almost missed this opportunity, it went well enough for CorkSport to schedule a second interview over Skype. I must add, this occurred over two weeks. I was losing my mind; I couldn't believe it was happening. All my buddies knew I had the job, they knew how obsessed I am with cars, especially my speed 3. I still was in shock couldn't believe I had my second interview.
When CorkSport called me to let me know, I had a final interview with the Company's President, Corey – Hello nervousness, glad to see you again! I can't put into words how excited I was; it was pure bliss and absolute disbelief. "IS THIS REALLY HAPPENING!" I screamed at the top of my lungs when I got off the phone. I showed up a half-hour early. It was cool; I got to meet someone I've stalked on Instagram for a while and who has been a significant influence on me since I got into the Mazda community – Brett White.
It's so surreal when you get an interview for a job you've always wanted. Above all, I remember from the interview is telling Corey, "Even if I don't get the job, knowing I made it this far and am sitting here with you having this interview is honestly a dream come true." It's unreal to think that one mistake, such as breaking my phone the day before my first interview, could have kept me from writing this blog for a company I've looked up to since I've been into Mazda's.
I cannot believe I've been here a little over a year already! It's a fun environment where everyone is looking out for one another. I've been able to FLY in the fastest thing I've ever been in (Barett's monster Gen Juan), and had the chance to drive a car I've drooled over on social media (Brett's Baby) for years.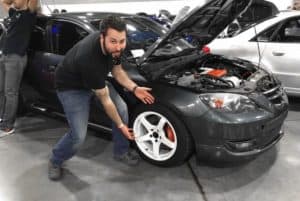 Looking back, it wasn't even four days after joining the company before the guys a CS put lowering springs on my car. It took a little over a week for me to buy an AccessPort and a Dual VTA Bypass Valve, and that was just the start! You don't want to be an employee driving a stock Speed with a CorkSport Sticker on it.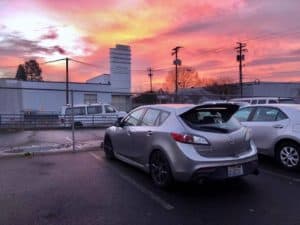 Stay tuned to see where CorkSport and I go with my car. I'll catch you on the flipside and, thanks for reading my first blog!
Summary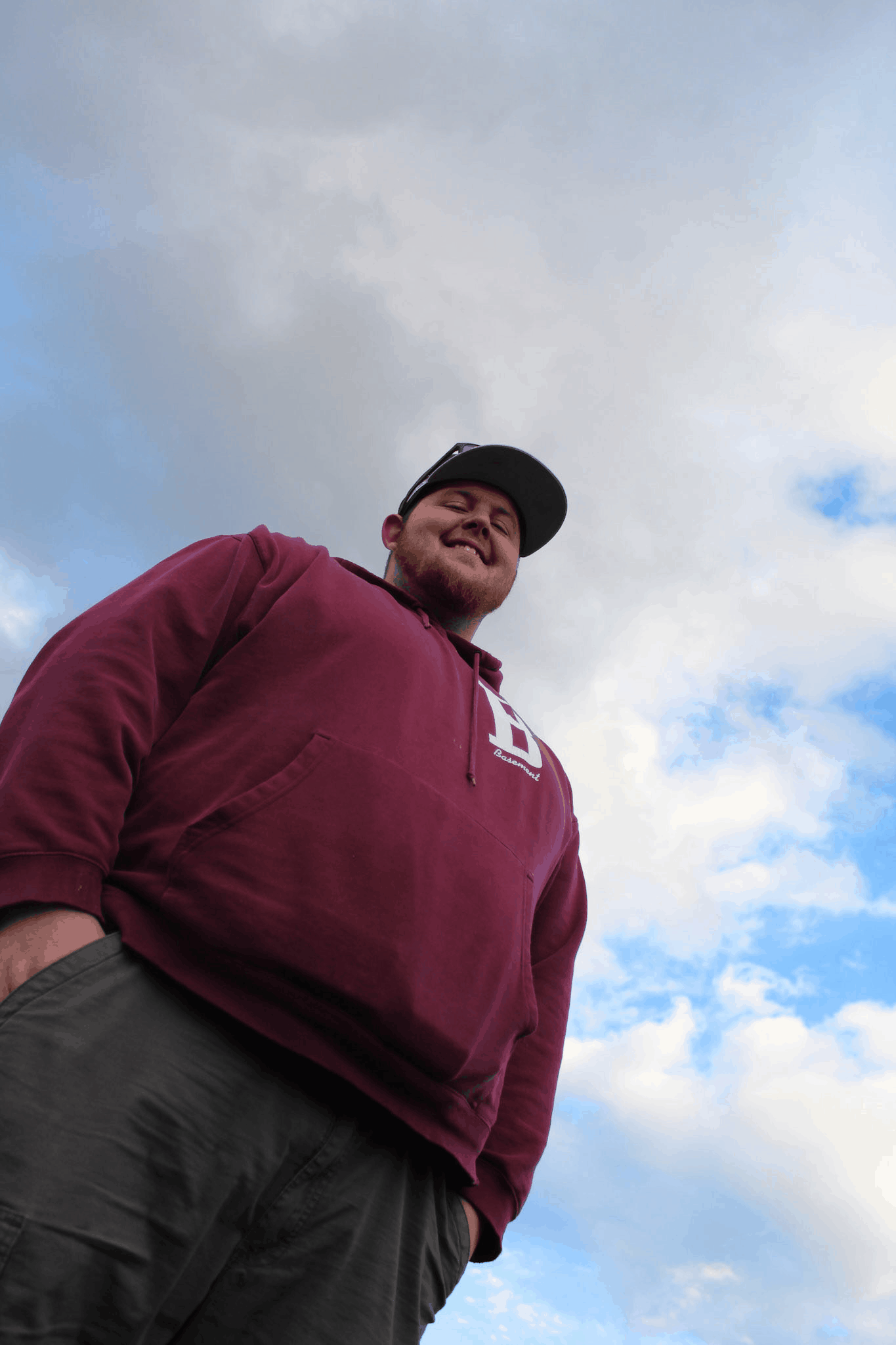 Name
Website
Job Title
Address
910 West 11th Street, Unit B

,


Vancouver, WA

,

98660