Evan McIntyre used to stop by and visit us regularly at CorkSport (he lived just down the road at the time) and keep us company in the showroom while getting some mods added to his car. He has since moved to Honolulu, HI to pursue Biology at the University of Hawaii at Manoa.
We miss his company here at CorkSport, but don't blame him for trading the dreary rain of the northwest for sunshine and paradise.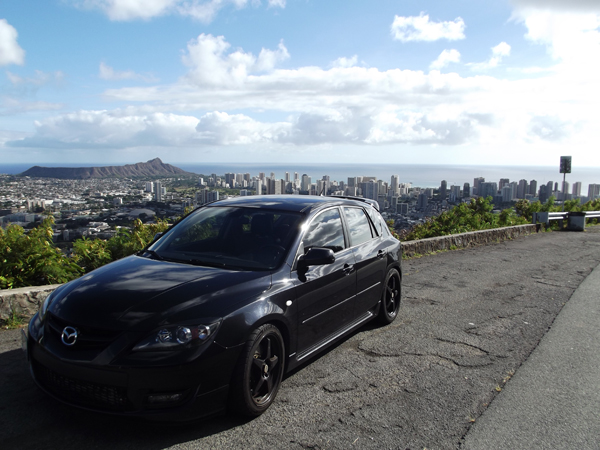 It was great to watch Evan build out his Mazdaspeed 3. Shortly after he got his license, he found himself always glancing back and Mazda 3's and knew he wanted to upgrade from his hand-me-down 1994 accord.
New to driving, he didn't know how to drive a manual so never considered a Mazdaspeed 3, but his brother kept telling him the speed was the way to go and the thought of a 300 WHP speed3 is a strong incentive to learn, so he picked up driving a manual and got his 2007 Mazdaspeed 3.
He had always been interested in cars because of his older brothers. He used to enjoy sitting around and watching them work on various cars with their friends until late into the night. He would always ask how he could help and how things worked, but his Mazdaspeed 3 was his first real experience modifying his own vehicle.
He started modifying his car with the best bang for the buck power modifications and added a Stage II CorkSport Short Ram Intake and a Turbo-Back Exhaust with exhaust hangers to keep that bad boy solidly in place as well an HKS VTA SSQV Blow Off Valve and a COBB Tuning Access Port to remap his fueling and timing to keep it on point.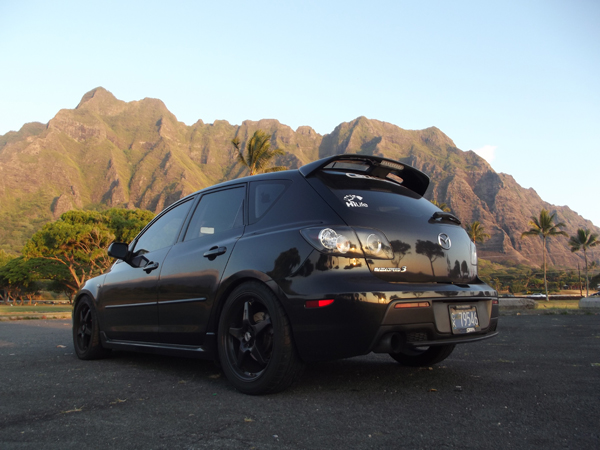 The next obvious modifications to add were handling modifications. He added CorkSport Lowering Springs to give his speed a more aggressive look and improved driver feel and rear motor mounts for improved shifting to help counter all the newly added power.
With improved handling and power came the need for improved braking so Evan added stainless brake lines. He also smartly added some protection for the undercarriage of his vehicle now that it was lowered by adding a skid tray.
Next he focused on some transmission upgrades with the CorkSport Short Shift Plate and Shifter Bushings. He then focused on more aesthetic items by adding eyelids, a license plate relocation kit, vinyl from his favorite Mazda Performance company and upgraded all of his interior lights to LED's along with his fog lights and added an LED underhood lighting kit.
A lot of people are happy to stop at this point, but Evan wanted more, so he took his build to the next level and added an aftermarket crankshaft pulley, a Front Mount Intercooler Kit to replace his Top Mount Intercooler, EBD GD Series Brake Rotors, Red Stuff Ceramic Brake Pads, and TWM Performance Full Replacement Short Shifter.
Watching Evans car come together the way it has and the smart decisions he has made along the way to balance his power, handling, braking, and styling is exactly what we like to see when we watch a build occur. He has put a lot of money into his build, but has done it gradually over time and thoughtfully.
And as Evan put it, "I love how no matter what is going on in my life, I can always get in my car and go for a drive, day or night, and during that drive nothing else matters but the road that lies ahead."
Cudos on a great build Evan and we look forward to your visit over the Christmas holiday. Hope your ready for some rain!
Gwynne-