At CorkSport we do so much testing in our R&D process that we sometimes forget that many others might not do the same. Over 6 years ago, we started producing a part that no one else offered. The stock turbo inlet pipe on the 2.3L DISI engine that goes from the intake to the turbo is a restrictive plastic pipe that snakes its way between the battery and the engine.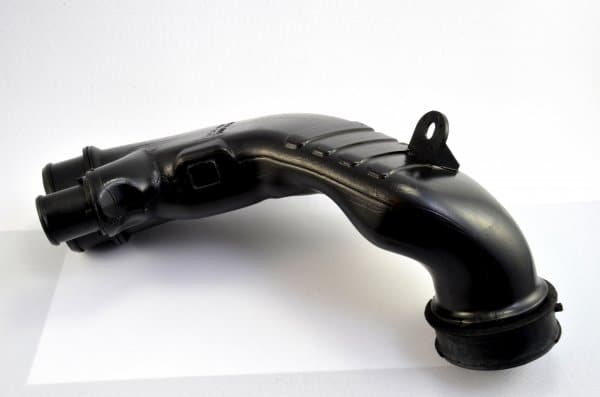 Our original design was to build a mandrel bent pipe version to give the air a good chance of flowing better than the factory part. After building and testing the piece we found out that we were right. The factory turbo inlet pipe flows 486.4CFM (cubic feet per minute) at 28″. Those numbers are not fantastic, but still good enough to get some decent power out of the stock engine. Upon testing our CorkSport Turbo Inlet Pipe, we found that it flowed significantly more; 557.5CFM to be exact. That is a 14.6% improvement in flow!!
After the release of our part, there were many debates about metal vs. silicone for this part and if you'll recall, we discussed it in a previous blog post Here and noticed no discernible differences between metal, silicone or plastic. What made the silicone attractive was that it was easier to make and you could make almost any shape you wanted. However, if you don't have tight control over the shape of silicone you can actually lose flow. With those thoughts in our head, we decided to conduct a test to make sure we were providing the best possible solution for our customers that we knew how to build.
With a silicone turbo inlet pipe in hand we tested it with the same methods, we assumed it would be better than the stock piece but what we didn't know was how much better. After running the Brand X on the test bench we came up with a flow of 509.3CFM. With the smashed design and fewer smooth surfaces, the silicone delivered only a 4.7% increase over the stock piece and 9.4% less than our metal design.
We have sold literally thousands of intakes for Mazdaspeeds, we know there are other brands using marketing similar to our "Power Series" but we have been innovating the Mazda intake market for years.
Just a few of the CorkSport firsts:
We were the first to recognize the importance of the turbo inlet pipe in intake design for the MZR DISI to the point of selling an intake that included this component. Our best selling MZR DISI Power Series intakes have been selling for nearly 6 years with the inlet pipe.
Our intakes have had color configurable filters, MAF's, and silicone for years. We were the first to offer this level of customization in the market.
We were the first to offer a convertible Short Ram/Cold Air intake.
We at CorkSport want to thank you for supporting our innovation, your support allows us to continue to create new products that will once again elevate the market.
Marketing is very important but we never want to stop there, at CorkSport, we design products we would want on our cars and know that once you see the difference you'll want them on yours as well. We won't be stopping with this design though, for those of you that really want to push the envelope we have some fun in store for you this year. We are committed to bringing more intake options this year, and even more CFM's for those of you that need or want it.