Introducing the CorkSport 13" Big Brake Kit for 2023+ Mazda CX-50 owners! This includes both the Turbo and non-Turbo models! The CS BBK improves braking performance with larger diameter rotors and 4-piston calipers. Also included in the kit are stainless steel braided brake lines and all the brackets and hardware needed for installation. It's an all-in-one package that makes it just as fun to stomp on the brakes as it does to hit that skinny pedal! Read on for more details.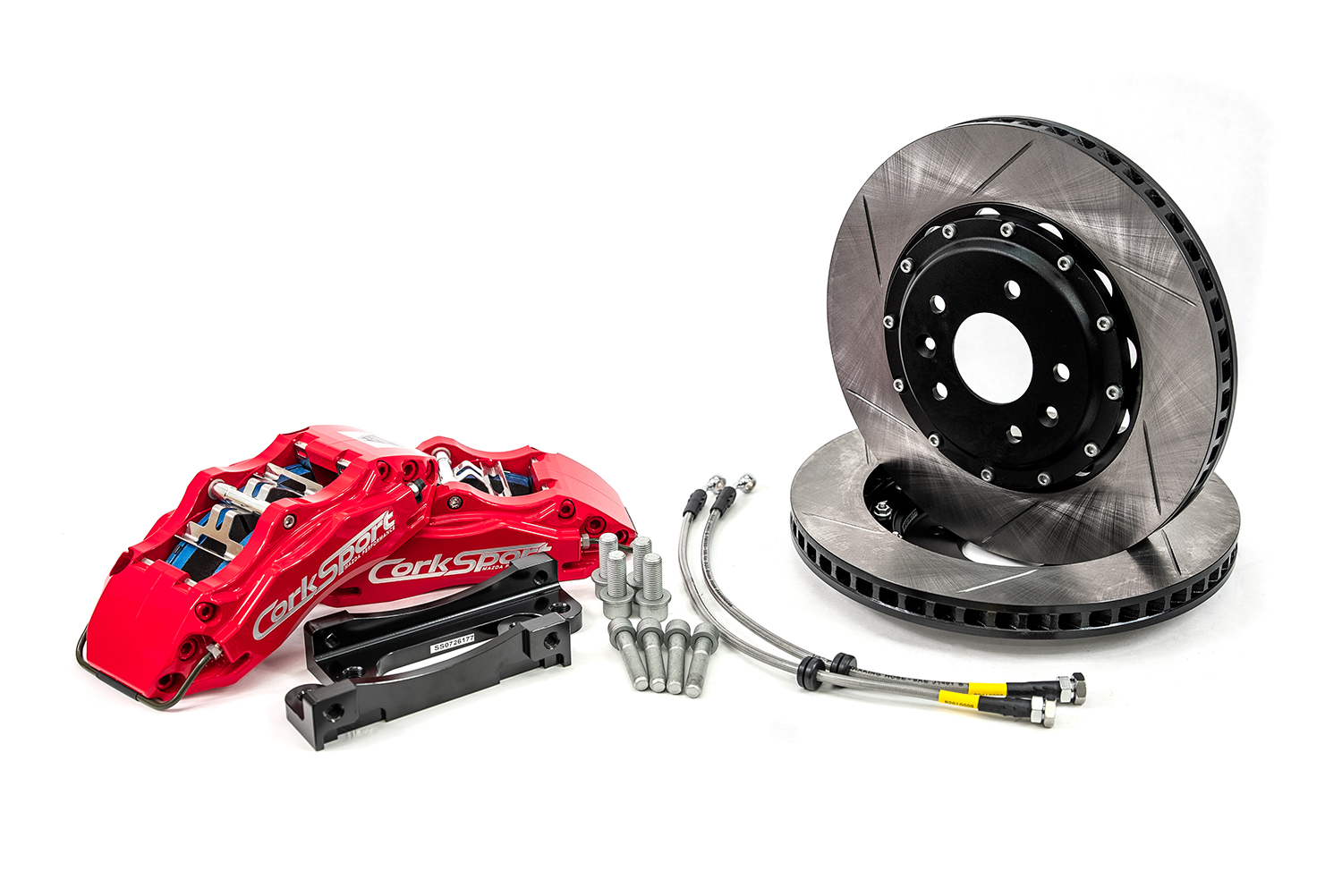 To start off, let's look at the CorkSport brake rotors. The CS rotors are 13" (330mm) in diameter and 1.20" (28mm) thick. The OEM Mazda CX50 turbo uses 12.79" (325mm) rotors and 0.98" (25mm) thick rotors. This change provides for more braking torque to be generated from the same amount of braking force. Think like how a longer wrench makes it easier to loosen a stuck bolt. The added thickness and diameter is also simply more mass for the brake system to reject heat into. This keeps your brakes from overheating for much longer than the OEM units.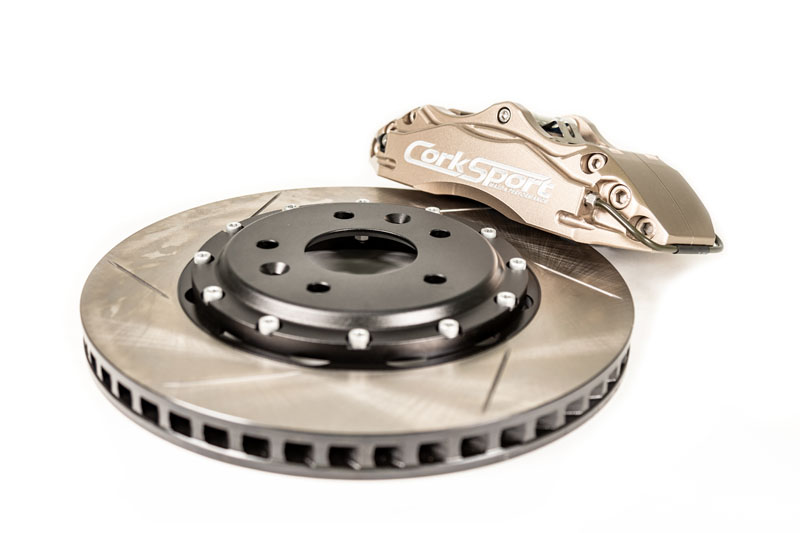 The CS rotors are not all about size however, they also have a decent amount of tech built in to further help your braking performance. Each rotor is made up of two pieces. A center "hat" is made from aluminum and an outer "ring" is made from a more typical rotor material: iron. The center hat uses aluminum for its light weight and rapid heat dissipation. The rotor ring uses iron for long lasting and reliable function. To further improve cooling efficiency the rotor has special "vanes" in between the inner and outer faces to further help with brake cooling. These vanes are directional and help to draw air through the rotor while the rotor is spinning. The rotor rings are also directionally slotted to help sweep away brake dust, gases, and any other debris that may affect your braking performance. The two piece design has the added benefit of cost savings as when it comes time to replace them. You can simply give us a call to purchase replacements of just the rotor rings instead of the entire rotor!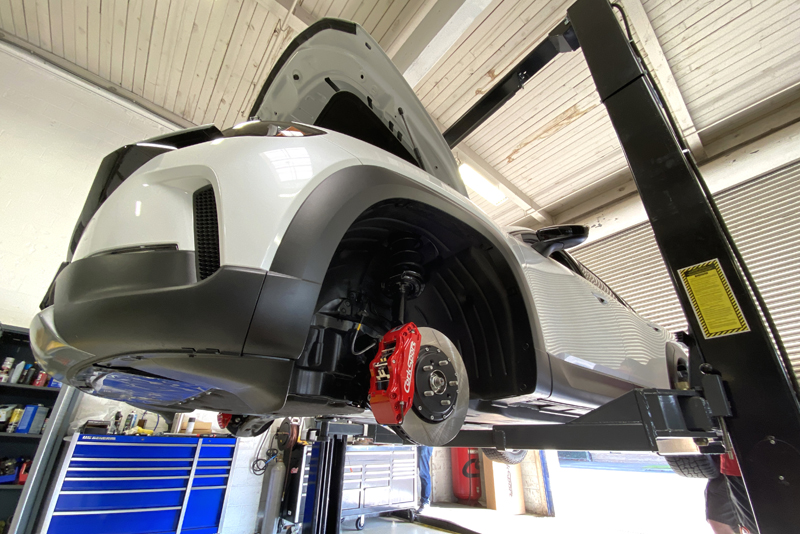 Moving onto the calipers, the CorkSport BBK uses 4-piston calipers made from forged aluminum. The use of forged aluminum is critical in reducing weight and maintaining rigidity. Typically, OEM calipers are a single piston sliding design due to its compactness and low cost to produce. This is fine until you start pushing the brakes harder. The sliding design tends to flex and move around when in use and can reduce the confidence in your brakes. With the more rigid and opposed piston design of the CorkSport Caliper, you can really push the brakes and hold them there with confidence. Great for the street and trail.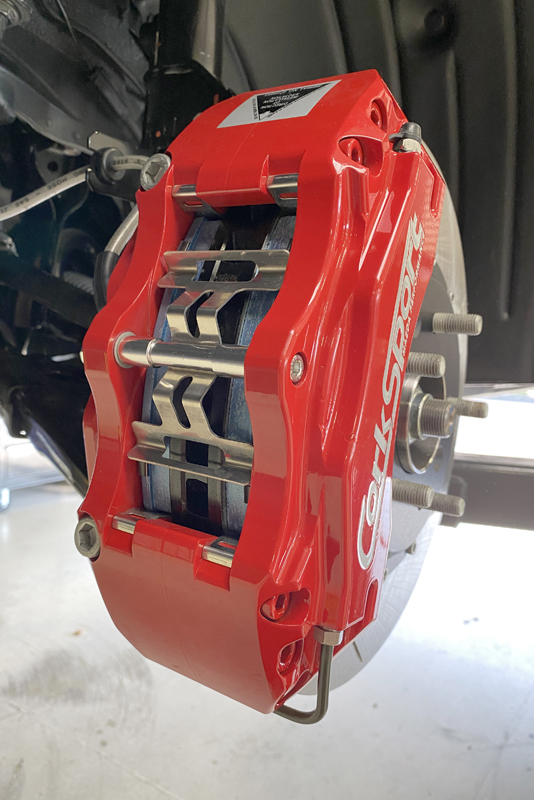 Having many small pistons in the calipers also allows for maximized brake pad area that will wear evenly. Brake pad wear is also evened out by having pistons pushing from both sides of the caliper instead of just one like OEM. We even stagger the pistons within the CS calipers, making the leading edge piston slightly smaller, to really ensure even and consistent pad wear. The result is a brake pad that has 32% more surface area in contact with the rotor.
Finally, each piston in the CS calipers is made from stainless steel. Stainless was chosen for its low coefficient of heat transfer. Compared to aluminum or regular steel, stainless will transfer heat slower, meaning your brake fluid stays cooler for longer so you can stay out on track longer.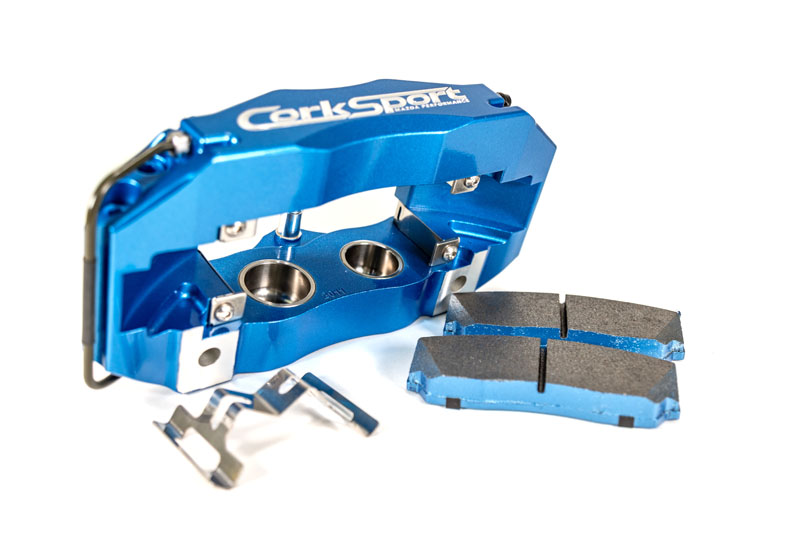 The CorkSport calipers come pre-loaded with upgraded brake pads that slot in fairly well between a street pad and a full on track pad. For the street, they offer low noise in most situations, with a squeak here and there when coming to a stop, and relatively low dust. On a backroad or track, they offer good performance when cold, and even better performance when warmed up a little. For extended track time, we do still recommend a full track pad, but for auto cross or a short hot lapping session, the default CS pads work well. Thankfully, the CS calipers use a standard brake pad shape, so you have plenty of options from the big name brake manufacturers.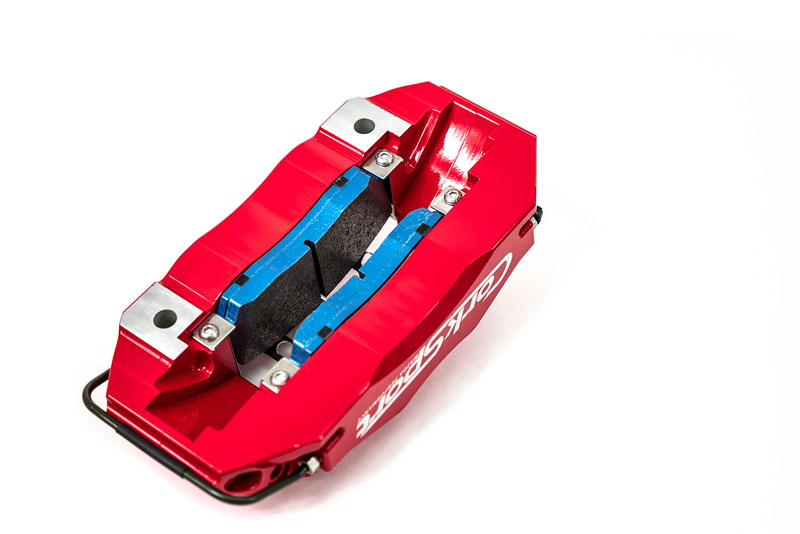 Each CorkSport BBK comes with all the brackets and hardware needed for installation. We use high strength billet caliper brackets for rigidity and consistent caliper placement. All the hardware that keeps your brakes attached is grade 12.9 with a corrosion resistant coating. We even include stainless steel braided brake lines with each kit. The brake lines offer a stiffer and more consistent pedal feel. Even with all the added complexity, the CorkSport BBK ends up drastically lighter weight than the OEM turbo brakes (approximately 6 lbs lighter on each side).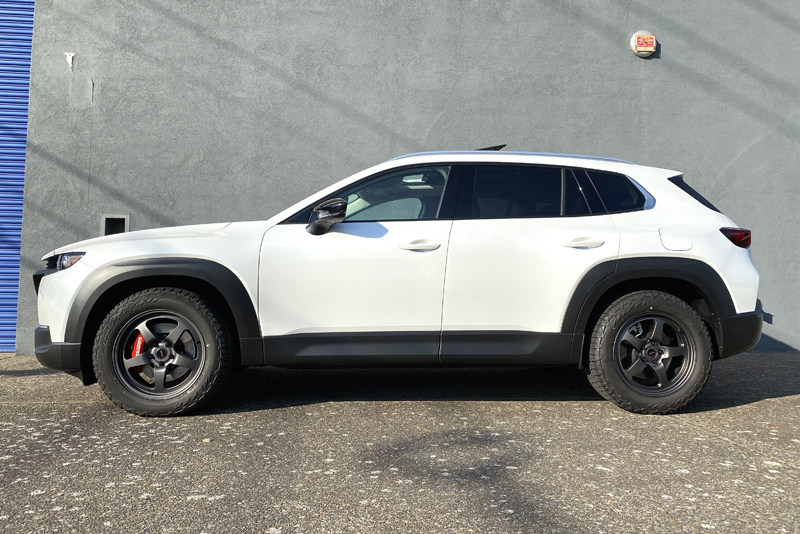 To fit the CorkSport BP Mazda 3 Big Brake Kit, it is much easier with 17" or larger aftermarket wheels. Typically an aftermarket wheel will have much more brake clearance than an OEM wheel. You can use the 18" OEM wheels; however, for enough clearance for the large calipers, we found that you need a 10mm spacer. With that much spacer, we strongly encourage purchasing extended wheel studs for safety. In either case, we have a template available that you can cutout to check clearance to your wheels. Click this link to download the wheel fitment template!
Wheels & Tires Shown: 255/55R18 Falken Wildpeak AT3W with 18×8.5+35 Momo Etna Wheels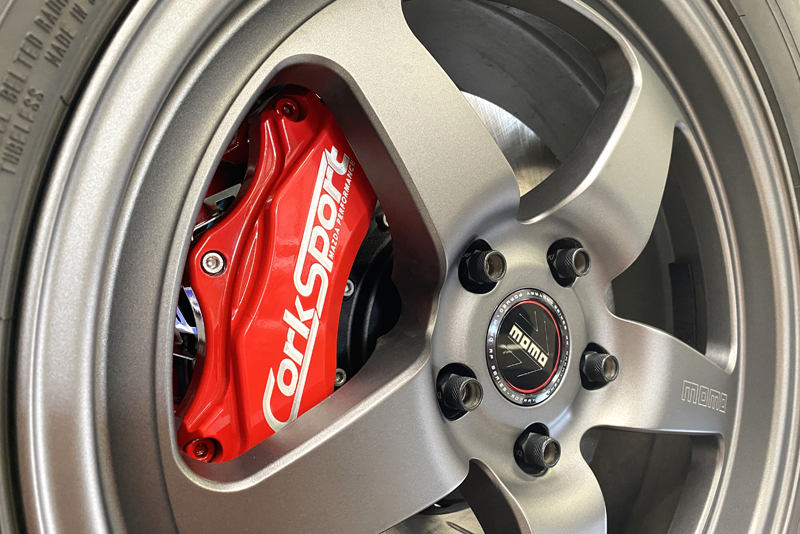 We can't wait for you all to experience the stopping power of the CorkSport Mazda CX-50 Big Brake Kit! Check out the product listing to purchase and for even more images. We have plenty of good stuff still to come for the CX-50s so stay tuned!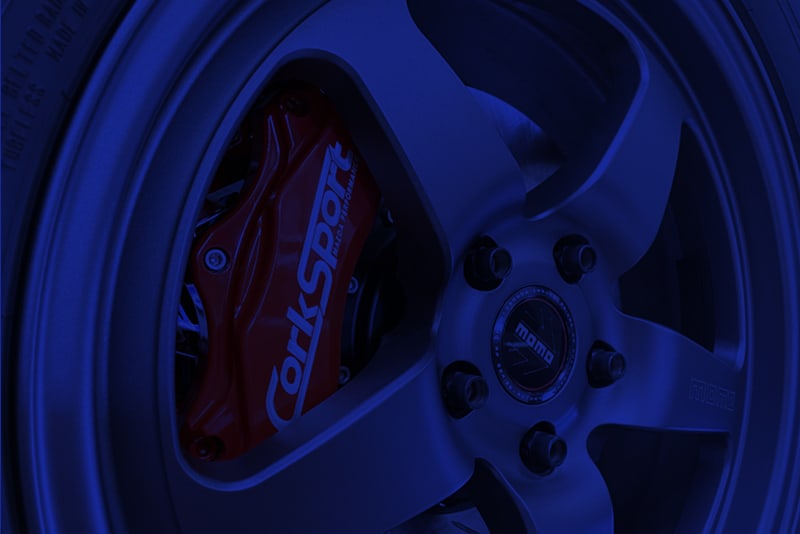 Get The Mazda CX-50 Big Brake Kit!
An exhibition about the different representations of the ocean throughout time, between the sixteenth and the twentieth century. Taking place in our Open Room in Floor 2.
Summary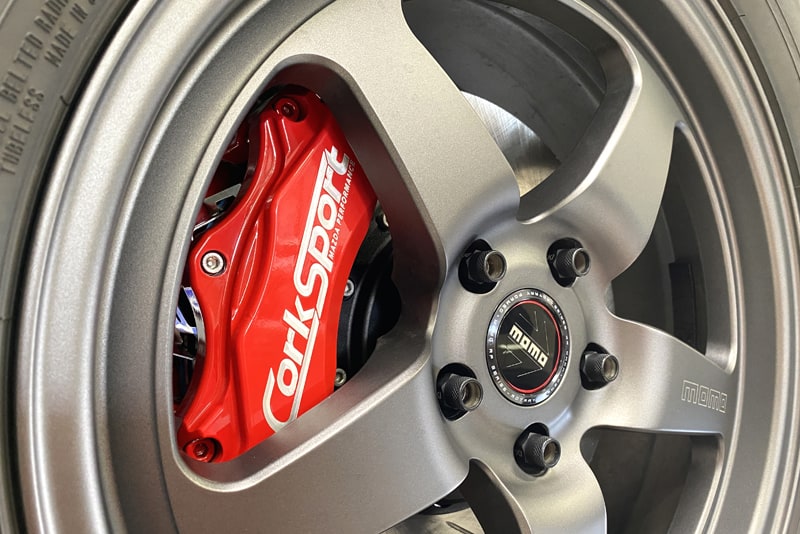 Article Name
Improve Your Braking with the All New Big Brake Kit for the GEN4 Mazda 3 CX-50
Description
he CS BBK improves braking performance with larger diameter rotors and 4-piston calipers. It's an all-in-one package that makes it just as fun to stomp on the brakes as it does to hit that skinny pedal! Read on for more details.
Author
Publisher Name
Publisher Logo