This question will be answered in a three part blog. In the first, we'll introduce you to Mazdaspeed of Japan. In the second, we'll introduce you to AutoExe of Japan. In the third, we'll discuss our mission statement and how it relates to what we've discussed about Mazdaspeed and Autoexe.
Part 1:
If you've not had the opportunity, you should check out Mazdaspeed of Japan (MOJ). This venerable Japanese brand has dished out top notch products for Mazda's for decades.

We dealt with MOJ directly when we started in 1998 until shortly after Mazda USA took the name to market performance parts in the US. We can only guess that this was in response to similar movements from Japanese performance divisions like TRD, Nismo, Ralliart, Mugen and Sti. From our position, Mazdaspeed USA (MUSA) didn't seem to have much connection to MOJ except in name. There were a few products available from MOJ, but most of the products were not made available in the USA. We continued to offer MOJ products while also ramping up sales of MUSA products. At some point, it became clear that MUSA did not want MOJ presence in this market. Understandable, considering our litigious society coupled with the vast difference between your average Japanese consumer and their American counterpart.
We still offer a few MOJ products, but it's been increasingly hard to get our hands on them. We've largely phased them out of our catalog. However, we still think it's worth your time as a Mazda enthusiast to get familiar with them, if you are not already. MOJ doesn't have its own website anymore. Mazdaspeed of Japan is more clearly a subsidiary of Mazda Japan now and the catalog is much smaller than it used to be.
A better representation of what Mazdaspeed used to be can be found here. We've scanned in a few pages of the last print catalogs we got. You'll notice there are lots more parts and that they are available for nearly every model Mazda (at the time). We have an old Mazdaspeed catalog here that is 176 pages!
Let's look at an example product that is still available in Japan: Mazdaspeed muffler for RX-8. This is a axle-back system that retails for Y86,100 or about $1076 at the current exchange rate not counting shipping cost.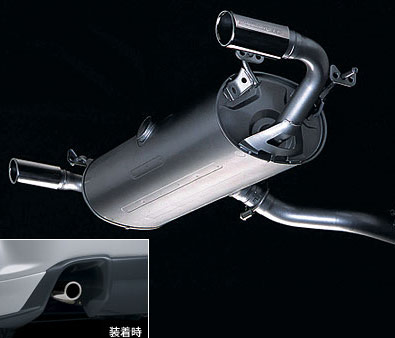 With stainless steel construction and Mazda quality engineering this is one of the nicest exhaust components available. In comparison, our cat-back exhaust is half the cost for a more complete exhaust system. To be fair, their exhaust is high quality, and exquisitely tuned. It comes down to personal preference and how much money someone is willing to spend for an exhaust system. In the US, most people would expect a full exhaust system, from engine to tail pipe for about the cost of the Mazdaspeed muffler. We are better positioned to deliver on that expectation.
Next week, we'll introduce you to AutoExe of Japan. Stay tuned! (HA HA. GET IT?)
– Rich