As the New Year rolls around, most people are looking for a change for the better in their lives.
At CorkSport we think one of the best changes you can make is more power for your Mazdaspeed. We have all the parts you need to liven up your Mazdaspeed3 or Mazdaspeed6 in the New Year.
Safety First
One of the first things to consider when modifying your Speed is the health of its engine. Performing maintenance is very important but it only gets you so far. When adding power, one of the first modifications on your list should be the CorkSport Max Flow Fuel Pump Internals.
These pump internals allow you to maximize your stock fuel system for optimum power capabilities and safer than OE A/R ratios. This means you can add the power you want and have peace of mind that your engine will get the fuel it needs.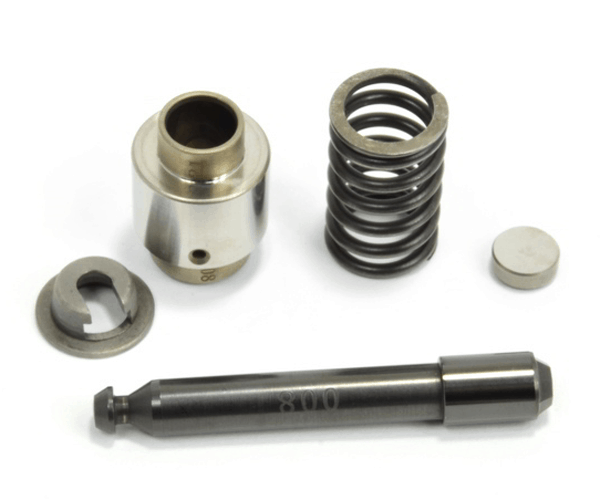 Put the Power Down
Like the CS fuel pump internals, the CorkSport Stage 2 RMM for Mazdaspeed 3 will not directly increase the power levels of your car; however, it helps you put all that hard-earned power down. By decreasing the amount the engine can rotate, the Rear Motor Mount allows for reduced wheel hop and torque steer while providing faster throttle response and crisper shift feel.
Even we are surprised how much this engine mount changes how a Mazdaspeed 3 feels. Don't worry Mazdaspeed 6 guys and gals, we have an RMM for you too.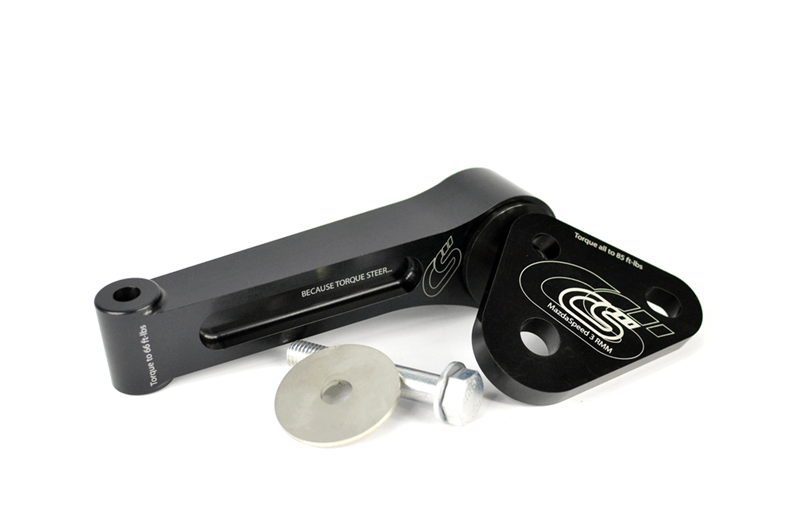 Improving Airflow
Engines in an extremely simple sense are air pumps; so the faster you can get air in and out of the system, the better. That being said, some of the simplest and easiest power gains you can get from your Mazdaspeed are from upgrading the intake and exhaust. We have seen peak gains of 25ft-lbs and 33WHP from only the

CorkSport Stage 2 Intake
and a
CorkSport Racepipe
.
Checkout the dyno sheet below.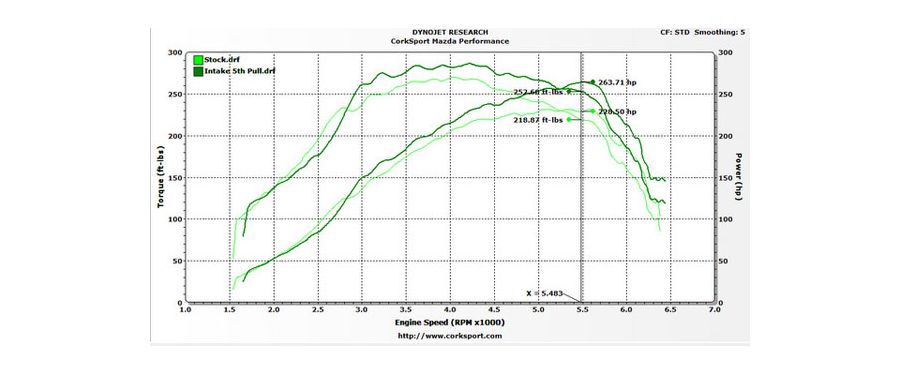 Power and torque levels will be further increased if you install a full CorkSport Turbo Back Exhaust instead of just the race pipe section.
The catback exhaust section has proven to gain up to 14WHP while the downpipe section alone has proven to gain up to 21WHP. In the dyno graph below, the downpipe car had a CorkSport Intake installed at the same time as the downpipe (hence the 50hp gain).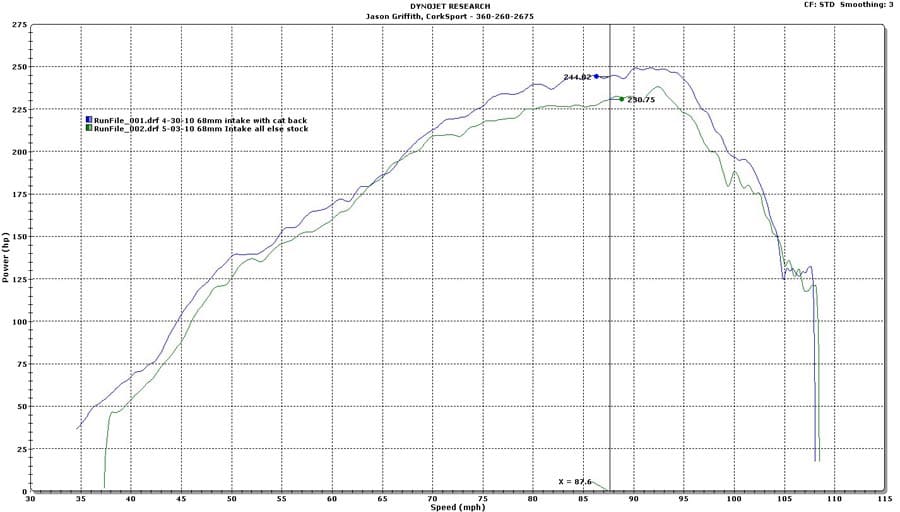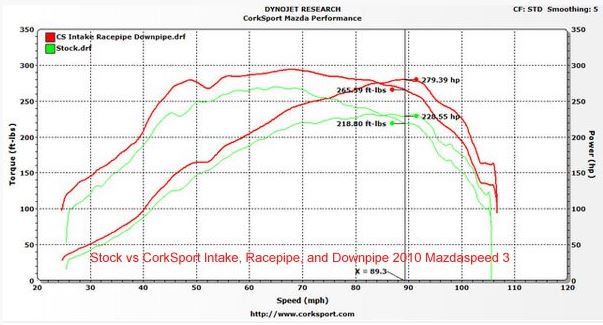 If that wasn't enough flow for you, we also offer 3" and 3.5" intakes for even more airflow into your turbo. Keep in mind though, once you get into those you will need to use a new tune to ensure your car runs optimally. But check out the extra flow you get!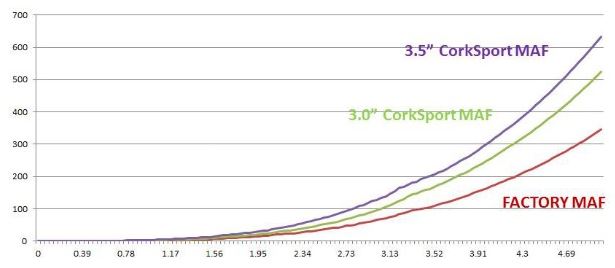 Turbo Upgrade
The
CorkSport Drop-In Turbo
is a fantastic upgrade to the stock K04 turbo that allows your car to make more power on an equivalent boost pressure. It will work with any mods you already had on your OE turbo as the CS turbo is truly a drop in upgrade. With supplemental tuning, fueling, and supporting parts, you can push your Speed to its limits.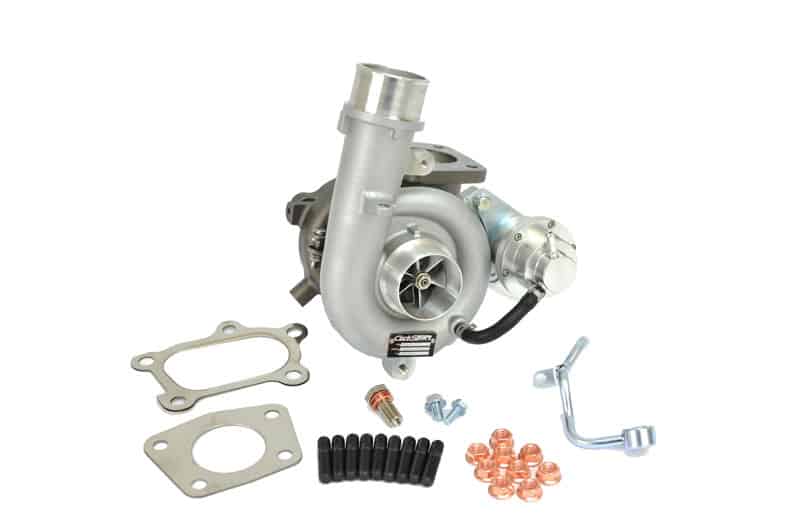 The Next Level
CorkSport also manufactures parts that can take your Speed beyond the parts discussed above. A short list of the parts with the best power gains can be seen below:
CorkSport Camshafts

: Replacement cams with extra lift to provide increased power and torque across the entire RPM range.
Bigger CorkSport Turbo? Yes, there is one in development. See this

blog post

for details.
No matter what your goals are for this year, CorkSport is here to help you achieve them. Whether you just picked up a Mazdaspeed and are unsure where to start, or have been driving one for years and want the excitement you once had back, CorkSport has a part for you.
Daniel
CorkSport Engineer
Summary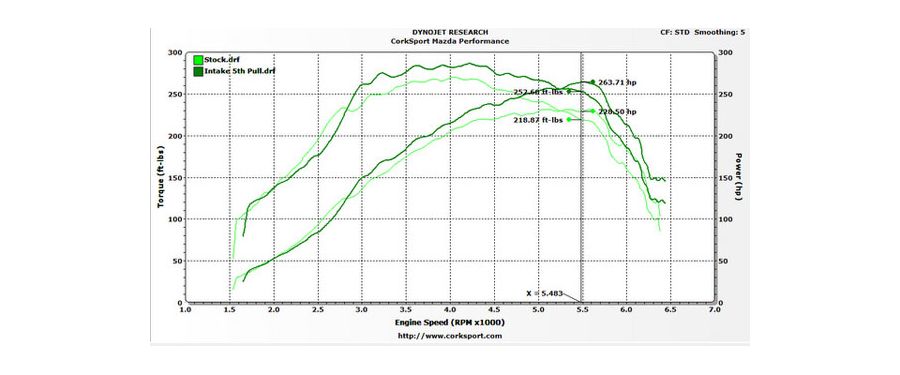 Article Name
Description
Why is power the best modification for your Speed 3? Who has the bast parts for modifying the Mazdaspeed 3? What are goals to shoot for on the Mazdaspeed platform for the new year? At CorkSport we think one of the best changes you can make is more power for your Mazdaspeed. We have all the parts you need to liven up your Mazdaspeed3 or Mazdaspeed6 this year. Whatever your power gains goals are, we can help those dreams come to reality.
Author
Publisher Name
Publisher Logo