Today, we are going to party like it's 1999. Why? Because race car.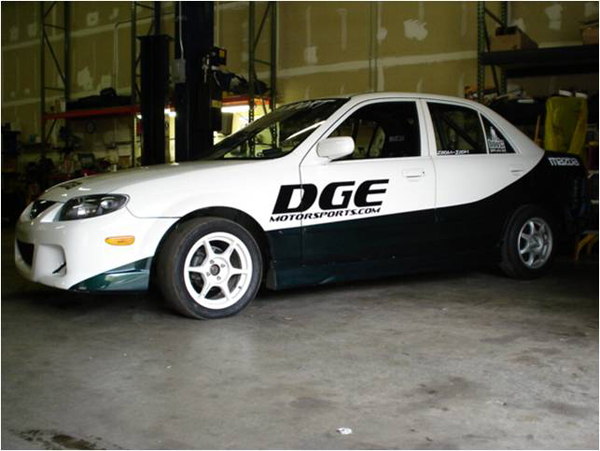 We had high hopes for our Protege when we started this project. The plan was to build a sub 10s Mazda piston powered drag car.
This car started with around a 20s ¼ mile time. We didn't expect too much from a 1.6L engine mated to an automatic transmission and we were not disappointed! Mazda didn't have much going for power plants back then. The rotary engine was in its US hibernation and there was not a single turbo-charged Mazda engine from the factory available here.
We turned to the BP turbo engine. It never made its way stateside but the engines were readily available out of Japan. With the GT-R variation of that engine, 300 WHP was pretty easy to obtain and much more available with a proper build-up.
During our many trips down to the Woodburn dragstrip we battled broken pistons, clutches, axles, motor mounts, and transmissions.

What started as a 13s car after the motor swap evolved down to a quickest time of 11.6s before we ran out of time, money, and motivation for the project. It took a custom intake/exhaust manifold, Precision SC63 turbocharger, Microtech EFI, twin-plate clutch to get approx 500 hp.
Long story short, we have stripped out 1999 Protégé and removed the engine. Now it is just a shell with custom paint and roll cage sans powertrain. We are not sure what to do with it. It seems a waste to crush it.
Any ideas on what we should we do with this old racer?
-Rich