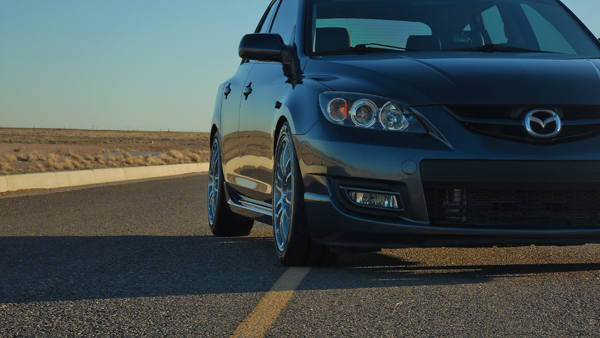 As Ray put it, "It is easy to buy a fast car, but it's much more fun and rewarding to make a car fast!" and Ray has done just that with his 2009 Mazdaspeed 3. This Albuquerque NM native has a laundry list of performance parts on his car and based on the number of votes for his ride to be CorkSport's June feature, a lot of friends within the Mazda community!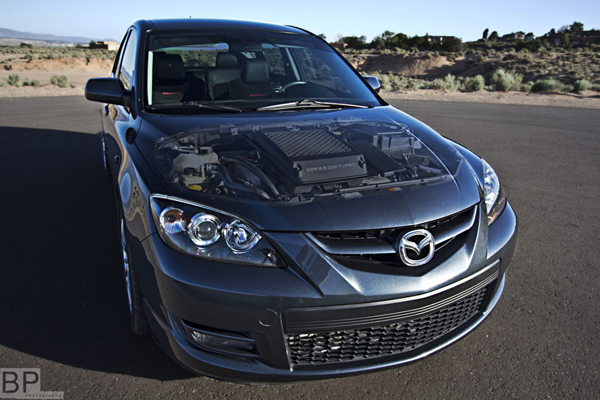 This occasional (drag) racer has a COBB SRI and Access Port with custom tune, CorkSport TMIC, CorkSport Downpipe, CorkSport Racepipe, and CorkSport Cat Back Exhaust, JBR Thermal Insulated Gasket and JBR Throttle Body Gasket, but the go fast parts don't stop there, he went big turbo with an ATP GTX 3076 26 PSI, added a big turbo inlet pipe and Devils Own Progressive Methanol Injection Kit 80/20 with D07 Nozzle. To support the many aftermarket parts, Ray has also upgraded his internals with KMD HPFP Internals.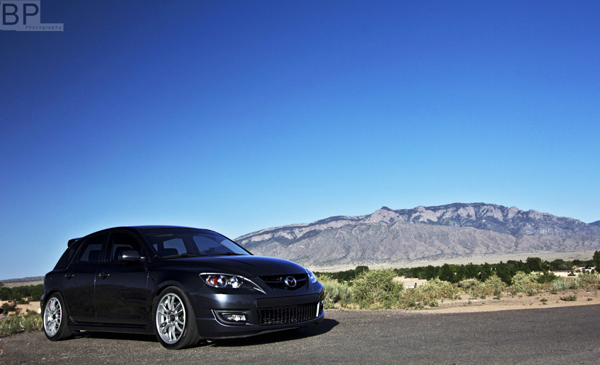 To enhance the handling, Ray had added a Short Shift Plate, H&R Springs, 18×8 Drag DR38 +47, Eibach 5mm Spacers, and 235/40 18 Nitto NT05 tires.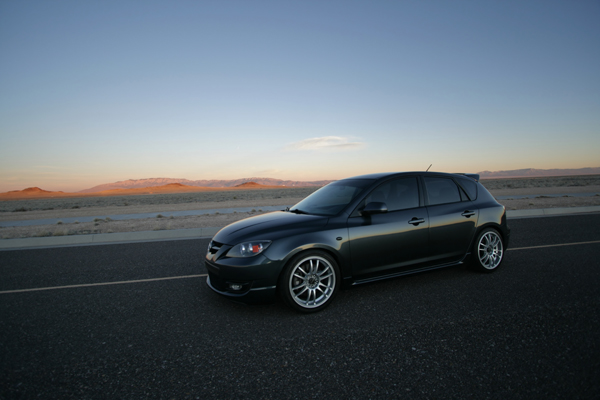 Next on the list for Ray is a fully built block, full suspension, and braces. He also has his eye on the upcoming CorkSport Mazdaspeed 3 Coilovers. Looks like July is going to be a good month for modifying your Mazdaspeed 3 Ray!
Gwynne-
Full List of Modifications:
Cobb Access Port (Custom Tune)
ATP GTX3076 26PSi
Cobb SRI
CorkSport TMIC
CorkSport Down Pipe
CorkSport Test Pipe
CorkSport Cat Back Exhaust
Oil Catch Can
JBR Thermal Insulated Gasket
JBR Throttle Body Gasket
JBE EGR Delete
JBR Throttle Body Coolant Bypass
CP-E Big Turbo Turbo Inlet Pipe
KMD HPFP Internals
Street Unit TurboSmart Dual Port BOV
CP-E Single Guage Pod
DashHawk
Prosport Boost Gauge
Devils Own Progressive Methanol Injection Kit 80/20 with D07 Nozzle
E85 Tune 50/50
Street Unit Rear Motor Mount
TRZ Tranny Mount
Short Shift Plate
H&R Springs
18×8 Drag DR38 +47
Eibach 5mm Spacers
235/40 18 Nitto NT05.