About a month ago we published some logo ideas in our blog, and on our Facebook page. We received some great feedback from both locations, and from lots of sources. I'm pleased to announce that we have decided on our new logo. We received several submissions of new logo ideas. One of them was sent to us by Ethan Wood, a local customer who drives a 2004 RX-8. We really like working with customers and Ethan had some exceptional ideas. We chose his design, and after some refinements, you can see our new logo below.
Ethan worked very quickly and we were able to get our Project Mazdaspeed 3 switched over to the new logo just in time for our photo shoot for S3 Magazine. Check out the black vinyl on the black mica! It really pops of the car when the light strikes it, but otherwise is a bit understated. Kind of like CorkSport!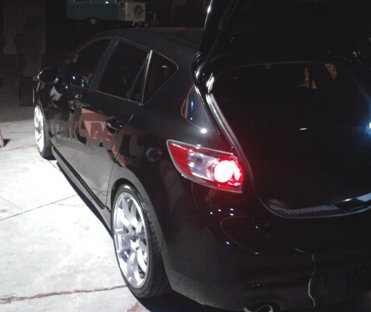 We'll officially launch the new logo and new website in a month, or two. There is a lot of work to do here, to make the transition. You'll continue to see our old logo for quite a while, as we have lots of boxes and parts with it on them. We want to thank everyone for there feedback, we really appreciate it.
– Rich