This is a message for Mazda North America; Why is the Mazda 2 not in North America?  Ford no longer has their hand in the cookie jar so what is the hold up?
I have various personal theories as to why; it will cut into Mazda 3 sales or perhaps production output for the 2 isn't high enough. The economy is in the tank so we know Mazda isn't at its max capacity. People are broke! We cannot afford the more expensive cars so a smaller car like the 2 makes sense. Its biggest competition would be the Fit, Yaris, and the soon to be offered Fiats. The Mazda 2 gets great gas mileage, and would argueably be car the best in class if Mazda sold the DI diesel model in the states.
Personally I want one because they are super light and prime for upgrading. I would try and fit a 2.3 DISI engine under the hood. Actually, I will fit a 2.3 DISI engine under the hood! A lightly modded 300hp DISI engine in a 2100lb car would produce an absolutely crazy-fun car to drive. Even in stock form the stock 1.6 liter is rated at 120 hp and torque.  If/when Mazda brings the car to the North America you can bet we will be getting more power out of that engine.
When I was in Tokyo last year I had the opportunity to ride in the AutoExe tuned Demio heading to a lunch meeting with them.  The car is just like a Mazda 3 in terms of fit and finish.  The interior was nice, not over the top.  Despite the 2 being small it was not uncomfortably small for 4 adult men.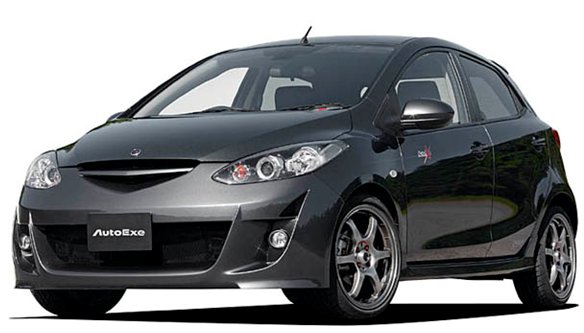 There are rumors we may actually get the Mazda 2 late this year but nothing is available to the dealers yet.  Cross your fingers!
– Derrick