My Name is Symon Powlison and this is my journey of how I got my Mazdaspeed3 and the Mazda community that became my family.
Let's head back in time a bit, I was a broke high school student and I had just bought a 1997 dodge avenger, while my friends had all dabbled with modifying their cars at the time, I had not, but I knew I wanted to. The avenger came with an exhaust that sounded ok and some wheels and that's about it.
When I showed my new car to my best friend Barett (yes Corksport Barett) and talked about build aspirations that never happened, we decided that we both wanted new stereo and subs, 2007-2008 was the time for loud music and lots of bass lol, "Darude Sandstorm" anyone?
I had a lot of fun with that car but long story short the car was towed away late in the night for having a flat tire in a parking lot. Now with little to no money and my little avenger was never to be seen again. All is not lost though because those early years with that car started me on a slow trek of building my own "Racecar" later in life it was the catalyst that started it all.
Fast forward to the year 2012, I'm a bit more established now and I'm getting ready to deploy at the first of the year for 10 months, when my Co-Worker decides to buy a BMW 335i, I made the brash decision to follow suit and I purchased a 2004 Audi S4, my wife was needing a new car anyway so I gave her the Kia Optima I had purchased a few months back.
Everybody was happy because I got my car and my wife got a brand new Kia! My Audi came with Tien lower springs, a nice fender roll job, and a Magna-flow exhaust. The roar of the V8 through the exhaust was great, it had quick get up and go and it looked amazing in the brilliant red paint. This was my first experience with a "quick" car and I was hooked, but with Audi's, I had no idea how to even begin to work on it if it had problems, and neither did anybody close to me. This is when I knew this wouldn't last but I thoroughly enjoyed it when I had it.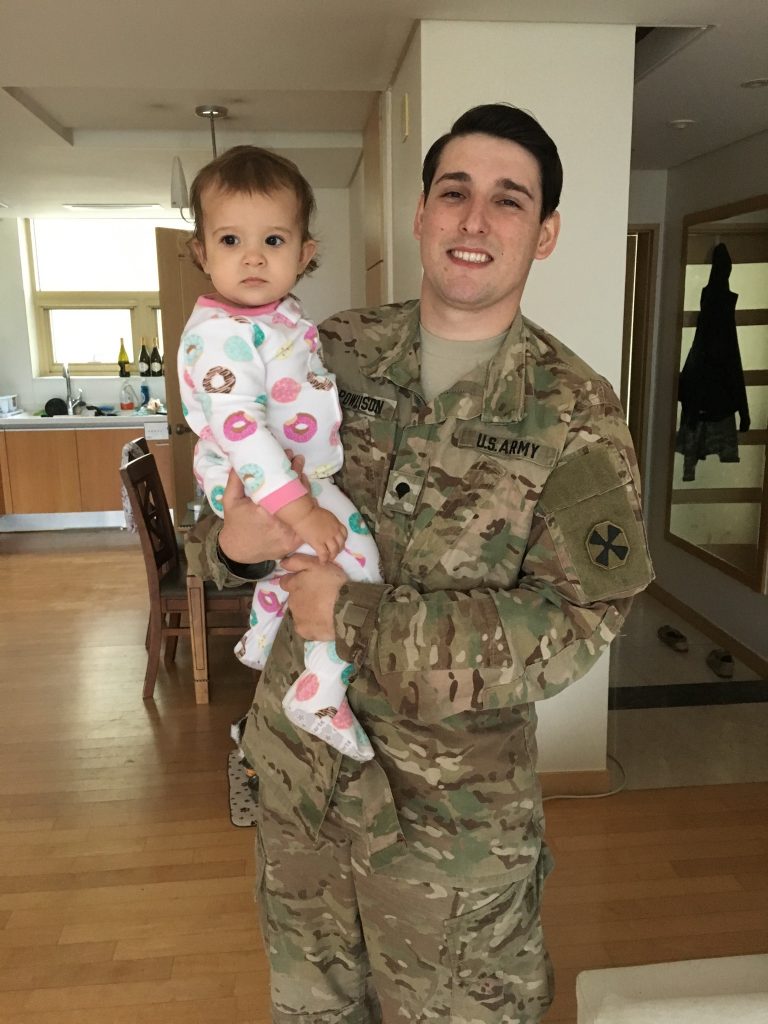 During deployment, I would leave my Audi in the hands of Barett, and return to resume driving bliss with the car, until I left again except this time it would be for nearly 3 years. My wife and I left for Korea in the middle of 2014. My car was out of my possession longer than in my possession and thus while my time away I grew apart from my Audi and wanted something new, different, I wanted a hatchback.
I always liked the way hatches look, the bodylines, the mildly flared fenders, the base stance of the hatchback drew me in. I spent countless hours looking at every model of hot hatches, tirelessly and sometimes redundantly, maybe I could afford this or maybe I should buy. I decided to call Barett from Korea and told him I was coming home and I wanted to sell the Audi and get something I truly desired.
He mentioned getting a Mazdaspeed3, I had seen some videos about them but I was rather set on an all-wheel-drive hatch to drive in the snow, but that was dumb because I hate driving in the snow lol. I decided to give the Speed a deep dive look and man I was impressed, not to mention I had an endless resource if I needed any help.
I was sold, the price was right, the whole car package was right, it checked all my boxes, I wanted a turbo 4cyl with good base stats, something reliable to a degree, and something that I could learn to modify and have help if anything breaks.
I arrived home in the spring of 2017, and scoured the interwebz and found the speed of my dreams, a velocity red 2013 tech package mazdaspeed3 with 69k on the dash. With what money I had left in savings, a small income, and an Audi for a deposit. I marched down to the dealership and literally, 6 hours later I walked out of there with my dream car.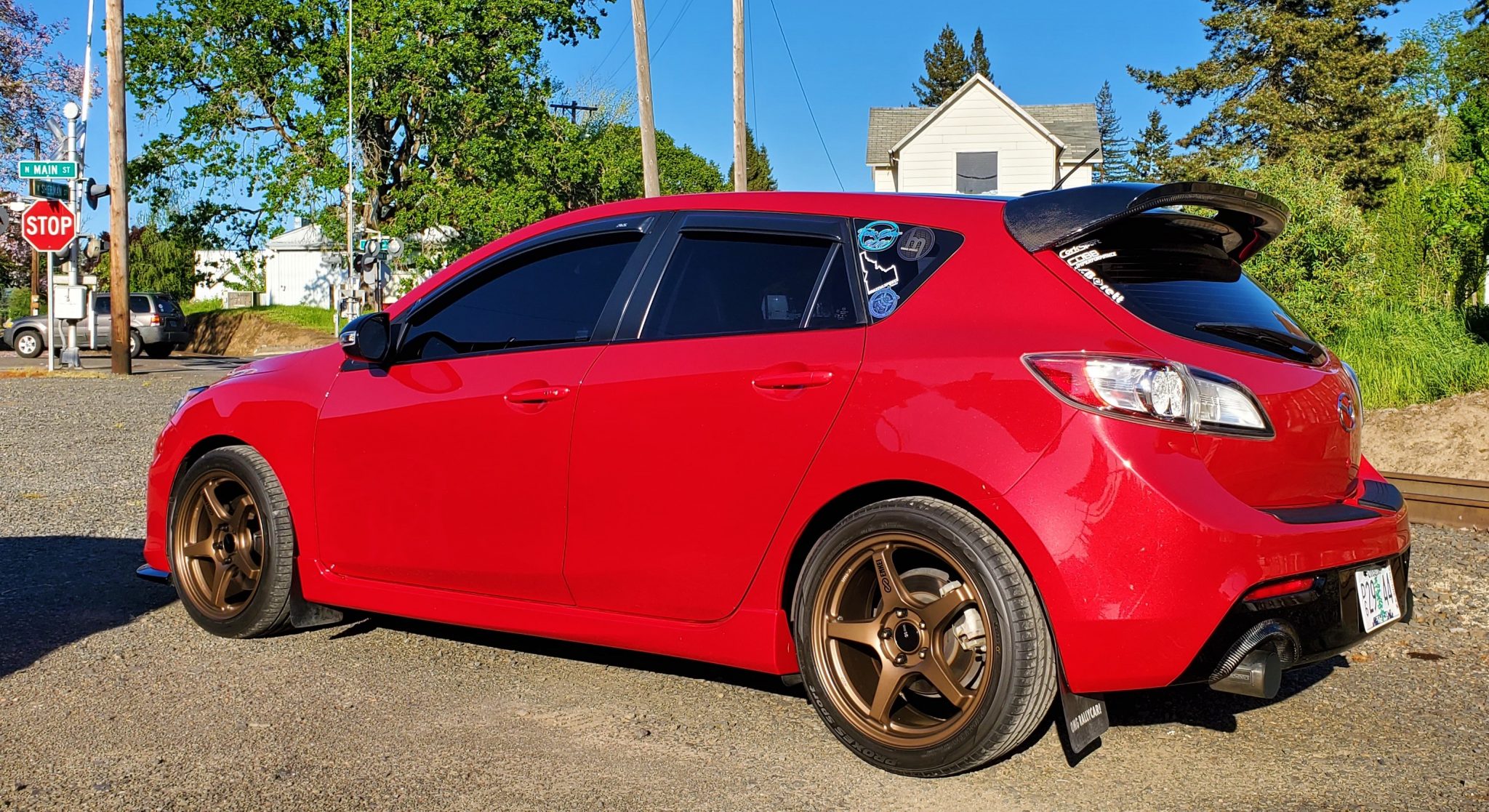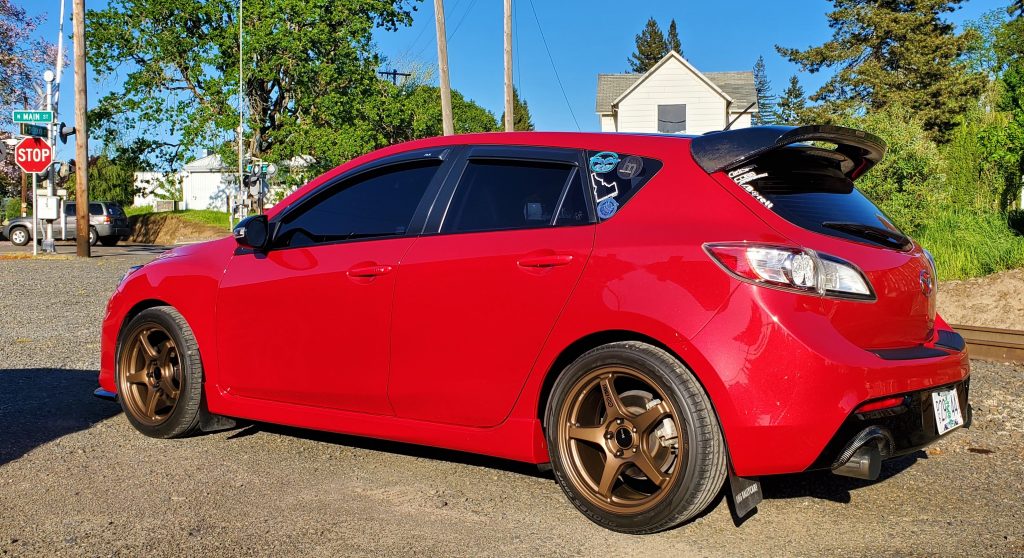 Funny side note here, when I took the MS3 for a test drive I was by myself, I never drove a 6-speed manual car before and didn't know how to put the car in reverse, so here I am sitting in somebody's driveway (huge facepalm) trying to figure out how to put the car in reverse when the homeowner comes out and asks if I need help. I tell him the story he laughs and gives me a push to send me on my way back to the dealer.
That test drive officially sold me on the car, I can still remember the first time starting that car and the first time I hit 15psi of boost, it was amazing and probably the coolest feeling ever while driving. I couldn't wait to show my wife, I ripped the speed all the way home, and it was nothing but smiles per gallon. I couldn't have been happier. I am honored to have such a loving wife who was just as excited for me to have a car I desired so much. This was my very first and only turbo car I've ever owned and every time the car plants my back to the seat I can help but grin from ear to ear.
I kept the car stock for a year on the dot before I started modifying it, if you're keeping track it's now April 2018. I purchased all the necessary supporting mods to keep it from going ZZB. I bought an Access port, HPFP Internals, intake, and pro tune and man did that little K04 come alive, a few other supporting mods like exhaust and rear sway bar brought the Mazdaspeed to a different level.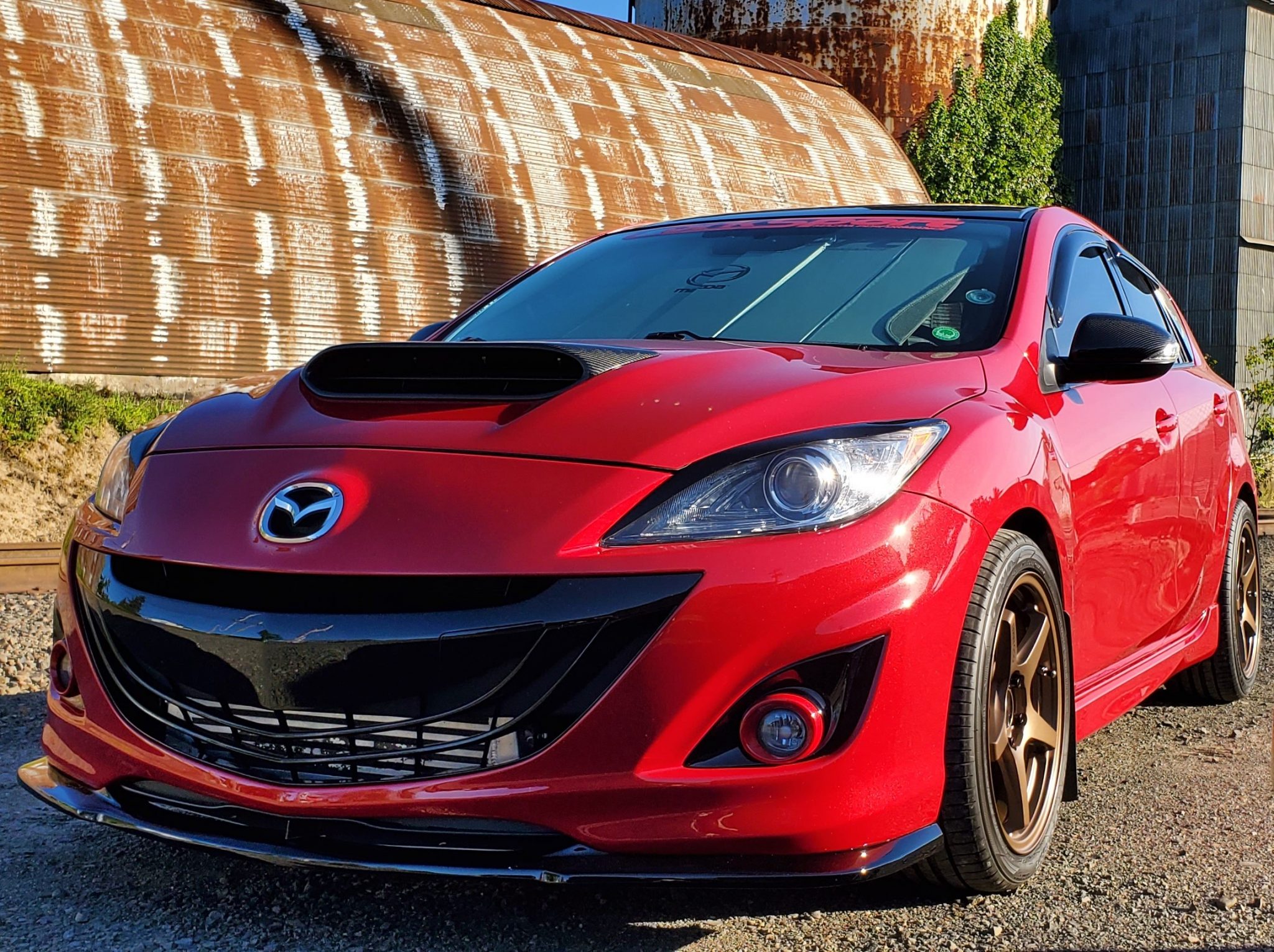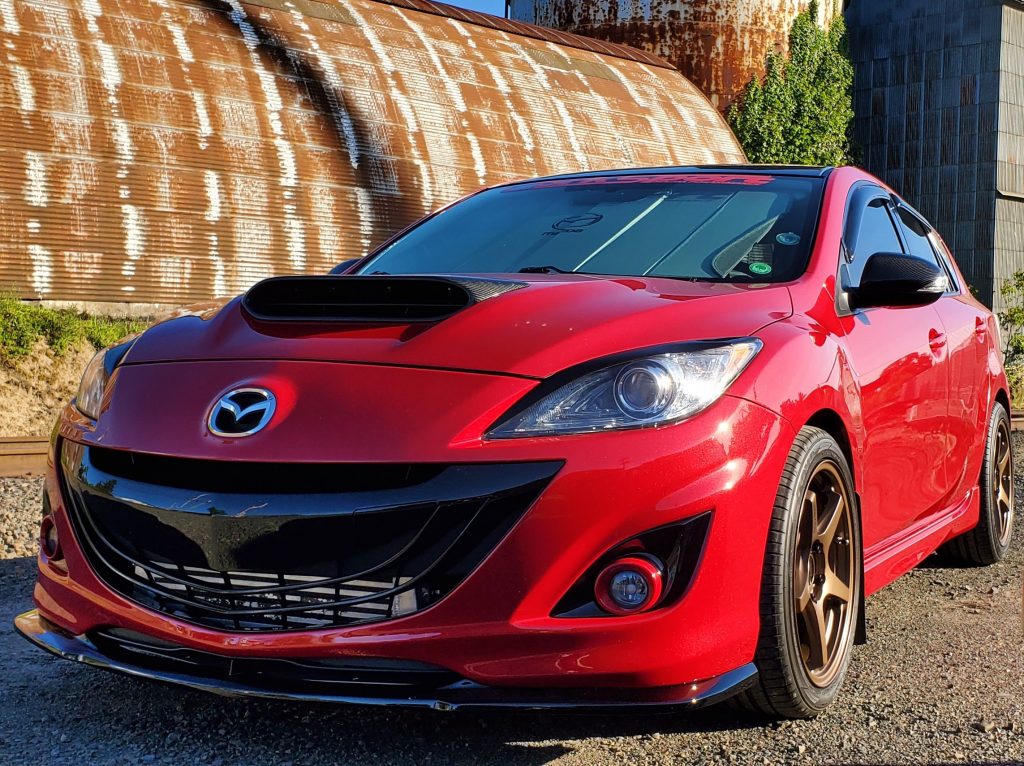 The Speed had no changes for another year or less (early spring 2019), finally, it was time for power mods, big turbo, big FMIC, lots of little bits like injector seals, short shifter, motor mounts, and getting a tune from Purple Drank. The car became a monster, smiles turned to white knuckles gripping the wheel from torque steer, turbo noises for days, and a singing bypass valve that subtly lets you know it's there on any occasion.
That kept me satisfied for another year till now, this plan is to do both manifolds, cams, and EWG. *Hurray for race car noises*. The transformation of my Speed over the last 3 years has been a rewarding experience, providing me with knowledge and experience and confidence to be able to tackle any problems or situations previously I would have avoided or paid an overpriced shop to fix.
This is the best part of the community I joined when I bought my speed, all the experiences and knowledge that has been shared with me have been nothing short of amazing and I'm truly grateful for the speed community. My wife and I don't take a lot of vacations, but the two events that come up in the year that you can't miss are Mazda events.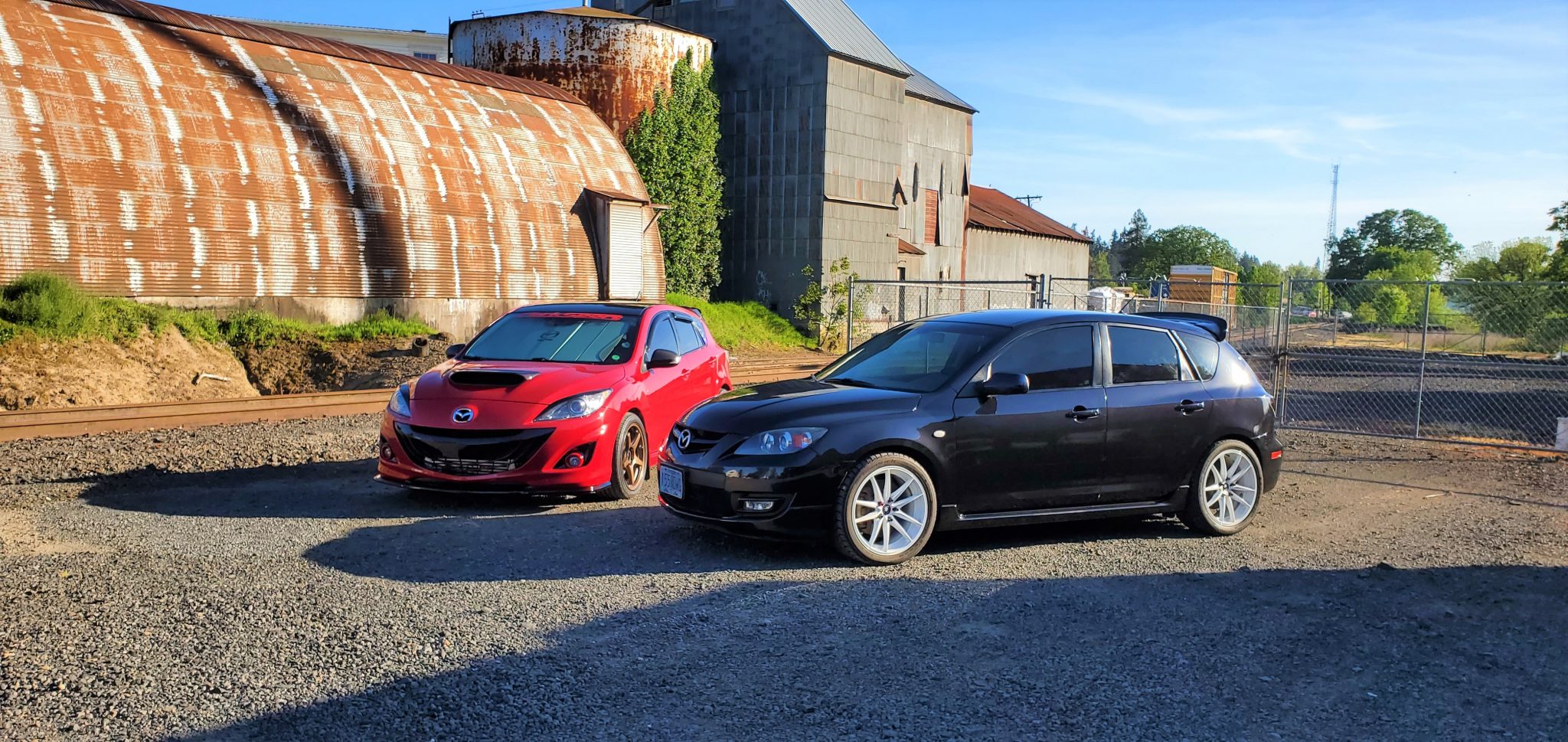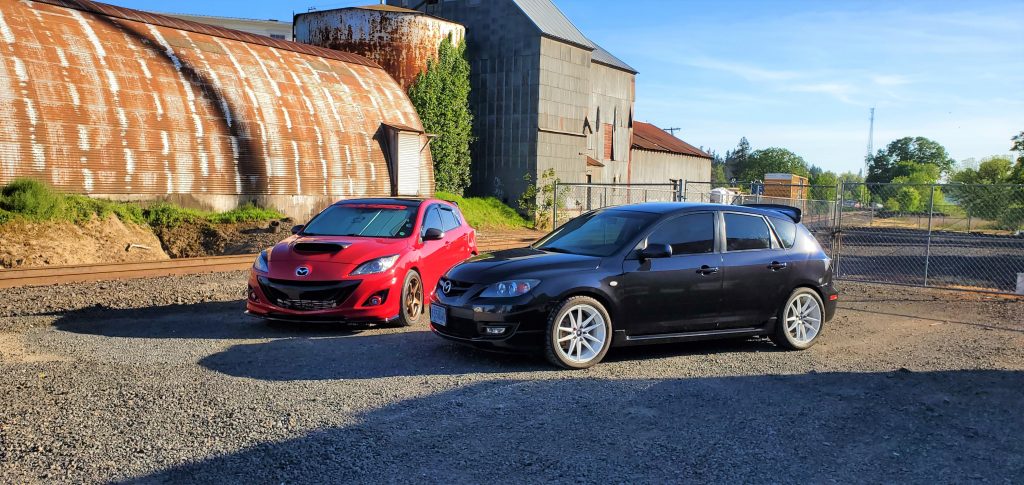 I didn't know that I could miss Idaho as much as I would when I have to leave Papa Keith's Mazda Takeover event in Boise after a 4-day party. The big bear puts on an amazing event yearly and when it wraps up the withdrawals of it kick in. Those pains are subsided though just two months later when we all get to catch up for CorkSport's Dyno Day's! The event that the CorkSport crew puts together is a blast, its high tempo 2-day event that brings our Mazda community together in the Pacific Northwest, I have seen people from British Columbia to Utah come all the way to Vancouver, WA for this event.
These two trips are something that flows into my DNA and I can't imagine my life without experiencing them or the people I've met along the way. My wife and I look forward to these weekends as I'm sure anyone who has gone to them at least once will, we love spending time with our extended Mazda family and I wouldn't change it for the world.
In closing, to say that a car would change my life would be an understatement, but it did and I wouldn't want it any other way, so if you see the Red Baron Speed of Newberg out and about, come up and say hi and chat for a minute. I hope to see you all at future events, keep hitting that Boost, and stay safe. See you all on the road.