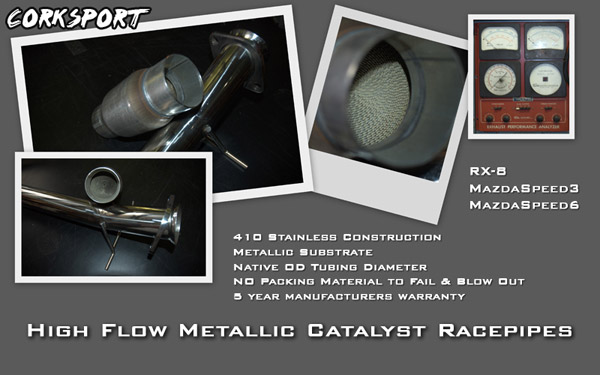 Now I know what you may be thinking – WHAT? We don't need no steenking catalysts. But ya see, that's the rub – those track days at the 'ring are lots of fun, but you're not fooling anyone when the people in the lunch line at Laguna Seca can smell your exhaust. I'll be the first to say that catalysts serve a great purpose and beyond the evils of over-restrictive cats on stock vehicles, can be a great addition to any performance vehicle.
At CorkSport we have been listening to you, our customers, and there seems to be an interest to have the performance of a racepipe without the foul, eye-scorching smell of fuel every time you cold start the vehicle. Well, you're in luck – we've recently found a source for high quality metallic substrate catalysts in a compact yet high flowing 410 stainless steel package and we plan on offering a range of products that provide these catalysts as a configurable option with our current line of racepipes.
Catalysts: How they work and their failure modes.
A catalytic converter is a device resembles a muffler or resonator – basically an enlarged section of your exhaust system that has a honeycomb structure held inside of it. The honeycomb is then coated with a substrate that creates a chemical reaction based on heat and any unburnt fuel in your exhaust system. Anyone who has used a propane space heater – the kind that glow and don't really give off any tangible flame – has seen a catalyst at work. Substrate and brick/insert design is relatively straightforward – the more surface area you have, the more efficient the catalyst is at burning unburnt fuel. In the search for more surface area, the density of the honeycomb increases – as does restriction of the system.
This honeycomb comes in two forms – a metallic stainless foil version and a ceramic version. Based on the manufacturing process, the ceramic version must be retained in the canister with a fiberglass or vermiculite packing material around the circumference of the ceramic 'brick'. In rotary and turbocharged applications, this material often deteriorates from excess heat and pressure allowing the ceramic substrate to rotate and/or crack.
Our catalysts
Our catalysts utilize a 200 cell metallic substrate design and have the honeycomb material all the way to the wall of the canister without any additional packing material that may deteriorate. The metallic spiral is held in place mechanically from either end to prevent movement. The canisters and tubing are made of 410 Stainless Steel and all carry a 5 year manufacturers warranty.
New products
To start with we will be offering the RX-8 Power Series Racepipe in a single resonator/single 65mm catalyst configuration (as well as a single or dual resonator configuration). We're in the process of doing the first production run on these and hope to have them out in the next two or three weeks.
The next product we will be working with is the Mazdaspeed3 Racepipe with 80mm high flow catalyst, this should be available in the next month in production quantities.
Finally, we are also working on Mazdaspeed6 Racepipe with 80mm high flow catalyst.
Drop me an email if you're interested in getting in on these products hot off the mandrel – we'll have a handful of pre-tested prototypes and then full production runs of all of these products within the coming months.
– Jason