It has been awhile since we provided an update on the shop Mazdaspeed 3. Because we are in a constant state of development for Mazdaspeed 3 parts, our shop car always has parts moving on and off it.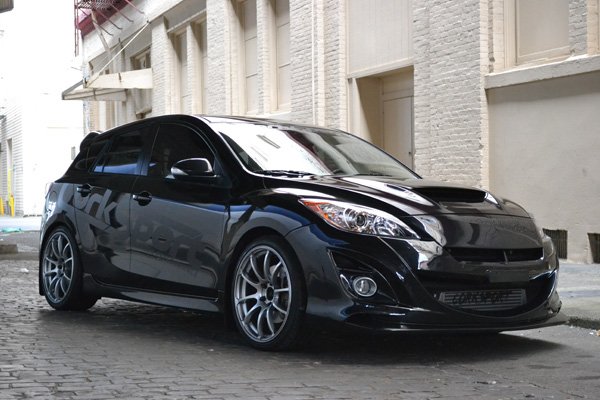 We recently took the speed3 back to stock in order to baseline it on our new dyno. We have been building the car back out again with bolt ons to determine what our max power is on the stock turbo. The car is efficient enough that it can only run 18psi at redline and makes slightly more power at less boost which is interesting see on the dyno. For the final tune, we are running 26psi tapering to 17psi by redline. The peak torque is up 100ft.lbs over stock and really comes on hard. Overall we have seen a 36% increase in peak power and 50% increase in peak torque.
The next thing to do is figure out where the factory injectors die off. With only bolt-ons we are at 85% duty cycle to keep the air/fuel ratio in the 11 to 1 range. Generally a good rule of thumb is to not go over 85% so I can see a huge need for aftermarket injectors or a secondary fuel system.
As for the suspension, not only does the car run our coilovers, camber arms, prototype toe arms, front and rear swaybars, front and rear endlinks, and a few other braces but also some upcoming suspension components that include motor mounts and some others we will be announcing in the coming months.
With the power up and the handling on point, we needed to address stopping. We are currently using our prototype brake pads on the Mazdaspeed 3 and our Mazda 2. We went with a compound that is made for the daily driver. They don't have to be heated up to work very well, will last longer, and stop better than the factory pads. They also dust less which is nice if you like keeping your wheels clean.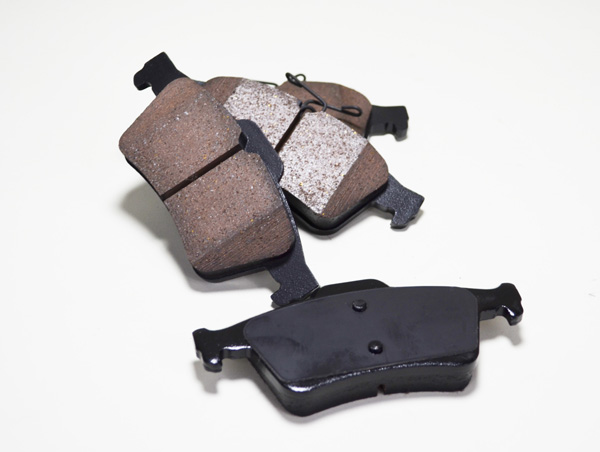 The interior is getting a prototype shift knob that should have come from the factory. How many times have you thought that the mazdaspeed3 or mazdaspeed6 shift knob just doesn't match the rest of the red and black interior? After running a few aftermarket knobs, my biggest complaint was that most of them are made from machined aluminum. Aluminum is not only lighter than the factory weighted knob which makes shifting harder but the first time you grab a metal shift knob on a hot summers day and your skin is on fire you will never forget it. Proper shift knobs should be wrapped and weighted which ours will be and made to compliment the interior styling of the vehicle. Other than that the interior has not much changed.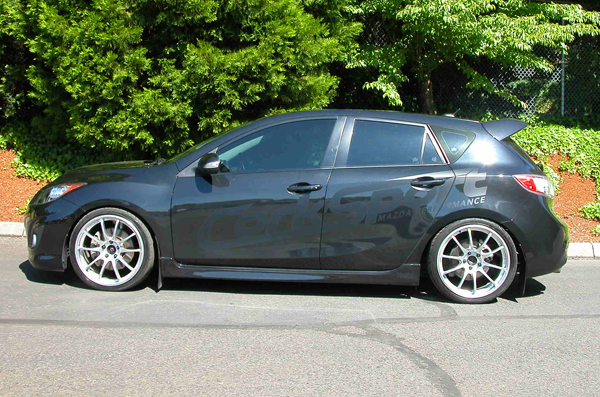 The exterior is back to having the AutoEXE front bumper and is about ½" lower than it was last year which really shows off the 19" Advan RZ wheels.
Current mods:
Engine and Drivetrain
CorkSport Stage II Short Ram Intake
CorkSport FMIC for SRI Kit
CorkSport Cat Back Exhaust
CorkSport Catted Downpipe
CorkSport Silicone Radiator Hose Set
CorkSport Aluminum Skidplate
CorkSport Oil Catch Can
Suspension
CorkSport Adjustable Rear Swaybar
CorkSport Front Swaybar
CorkSport Coilovers
CorkSport Lower Tie Bar
CorkSport Trunk brace set
CorkSport Shifter Base Bushings
CorkSport Front Adjustable End Links
CorkSport Rear Camber Adjusters
CorkSport Braided Brake Lines
CorkSport Rear Adjustable Endlinks
Interior/Exterior Styling
CorkSport LED Light Kit
CorkSport Stub Antenna
CorkSport License Plate Frame
CorkSport Mud Flaps
J-Spec LED Tail Lights
CorkSport License Plate Relocation Kit
AutoExe Front Bumper
Advan RZ 19×8.5 wheels
Yokohama S-drive 235/35/19 tires
In Prototype
CorkSport Transmission Motor Mount
CorkSport Rear Motor Mount
CorkSport Rear Toe Adjusters
CorkSport Aluminum Coolant Expansion Tank
CorkSport Front/Rear Brake Pads
Brydon-