Many of our Mazdaspeed 6 customers have been eagerly awaiting this announcement and today CorkSport would like to end the wait and announce the newest addition to our Front Mount Intercooler line with the CorkSport Front Mount Intercooler Kit for Short Ram Intake desigend specifically for the Mazdaspeed 6!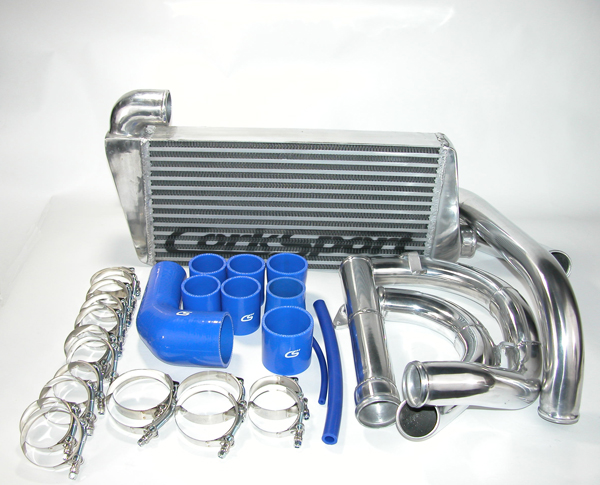 Designed to replace the restrictive top mount intercooler, the CorkSport front mounted kit has been developed for optimal placement in the path of the inflow ambient air, allowing for maximized heat dissipation and reduced heat soak, a common problem associated with the stock top mounted intercooler location.
The kit features a 21x10x3" bar and plate intercooler core, mandrel bent and TIG welded polished aluminum intercooler piping and custom reinforced silicone connectors made from multi-layer nylon braid to provide strength and a smooth internal transition for less turbulent air flow. The kit includes stainless steel T-bolt clamps to ensure an airtight seal all of the needed installation hardware and detailed installation instructions.
During extensive testing, the CorkSport Mazdaspeed 6 Front Mount Intercooler showed an average pressure drop of 1.5-2 psi and a 10 to 1 temperature drop, meaning for every ten degrees of inlet temperature, the outlet temperature of the intercooler only goes up one degree.
The kit has been designed to integrate seamlessly with our popular CorkSport Stage II Power Series Short Ram Intake and can be purchased as a standalone kit to compliment your current short ram intake or can be purchased with the CorkSport Power Series Short Ram Intake for additional savings and power gains.
CorkSport Mazdaspeed 6 Front Mount Intercooler for Short Ram Intake CorkSport Stage II Power Series Short Ram Intake