Feeling like your SkyActiv powered Mazda isn't getting the "shining" attention it deserves? Maybe you've already bought every CorkSport item you can, but just want more! I can't blame you really; it's a virus that all car fanatics fight.  So here's fuel for the fire! Introducing the aluminum crank pulley for 2.0L & 2.5L SkyActiv engines!

Manufactured from high-grade 6061-T6 aluminum, this precision machined crank pulley is sure to give you that extra level of detail you've been searching for. Plus it's 100% designed and manufactured right here in the Pacific NW, USA.

This crank pulley isn't just for looks folks, it's got bite too!  With a 68% weight reduction, compared to the OEM component, your engine is going to rev faster due to the lower moment of inertia of the rotating mass.  I can't guarantee your bum will feel the difference, but your 2.0L will.
You may also be wondering: "The OEM component is steel, will the aluminum be strong enough?" Absolutely! We've been testing the component on an employee car for 2 months (roughly 2000 miles) without a single issue. The accessory belts put a very small, almost insignificant, amount of force on the pulley.  The real concern is the bolt that holds the pulley on, but we got that covered also, see below.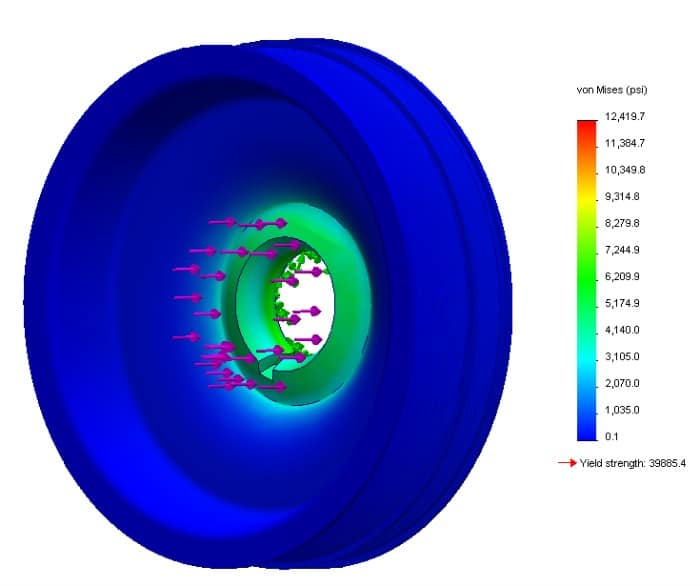 To be confident in the products we produce, we conduct FEA (Finite Element Analysis) on all applicable components.  In this case it is the bolt clamping force holding the pulley on the crank.  The crank pulley bolt is an M16x1.5 with a torque spec of 67-80 ft-lb.  For this analysis I used 79 ft-lb which creates a clamping force of 7557 lbf.  Looking at the color graph to the above, you can see that the maximum stress is ~12420 psi which is far below the material yield strength of ~40k psi.  So what does this mean to you? You can (but shouldn't) torque that bolt down to ~250 ft-lb without worrying about your beautiful new pulley being structurally damaged, but you will have to worry about getting that bolt out next time, that's your own problem.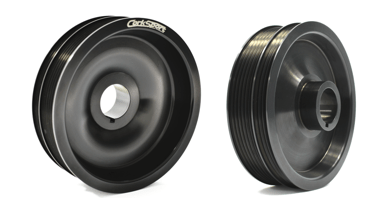 Add some shine to your engine bay and just a little more pep in your step.  Keep an eye out for the product release in the near future! Offered in anodized black.  Zoom – Zoom!
Barett – CS Engineering