We've talked a lot about external wastegates with our recent CST6 development but today we are happy to announce the standalone CorkSport External Wastegate Housings for the CST4 and CST5. Available right now as an update for your existing IWG CST4 or CST5, the CS EWG housings make it easy to get the best in boost control for your Mazdaspeed 3, Mazdaspeed 6, or Mazda CX-7 Turbo.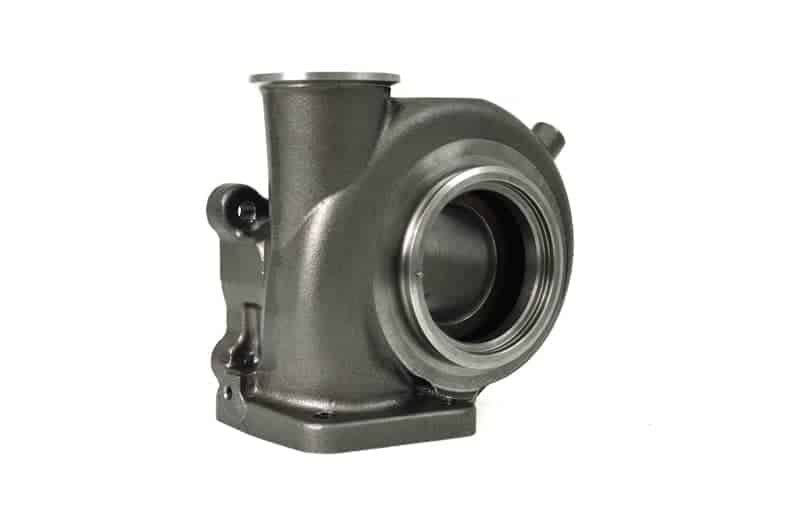 While the CST6 will only come with an EWG housing, the external wastegate (EWG for short) is a new concept for the CST4 and CST5. Both of these turbos originally hit the market with an internal wastegate (IWG) only option that has a small flapper valve on the inside of the turbine housing to let off excess exhaust gases. Instead, the CorkSport EWG housings use an offshoot from the turbine scroll that has a v-band flange on the end. This flange allows for the fitment of an external wastegate for improved boost control. To run an EWG on an original CST4 or CST5 previously, you needed an EWG capable exhaust manifold and some sort of block off for the IWG port.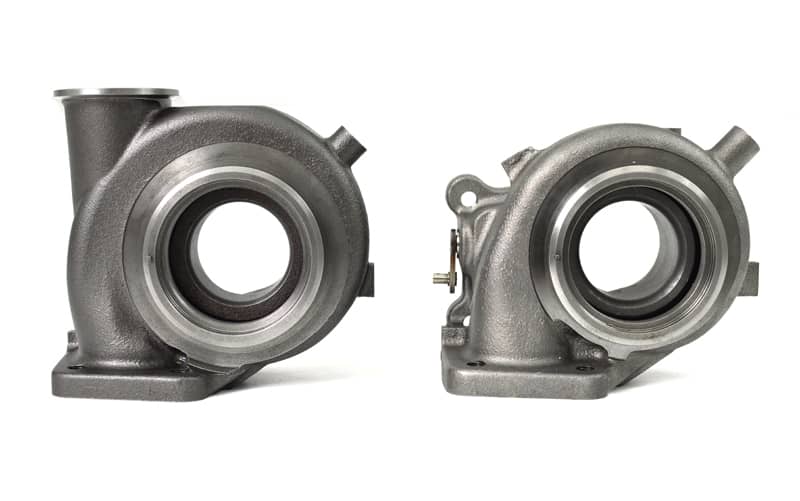 The new CS EWG housings make running an EWG on your Mazdaspeed3 easier than ever. Each housing comes with the elbow and clamp needed for great fitment. We even offer a dump tube/screamer pipe that works for both MS3 and MS6 as an add-on option. If you pick up the screamer pipe to go with your housing, all you need to supply is the EWG itself.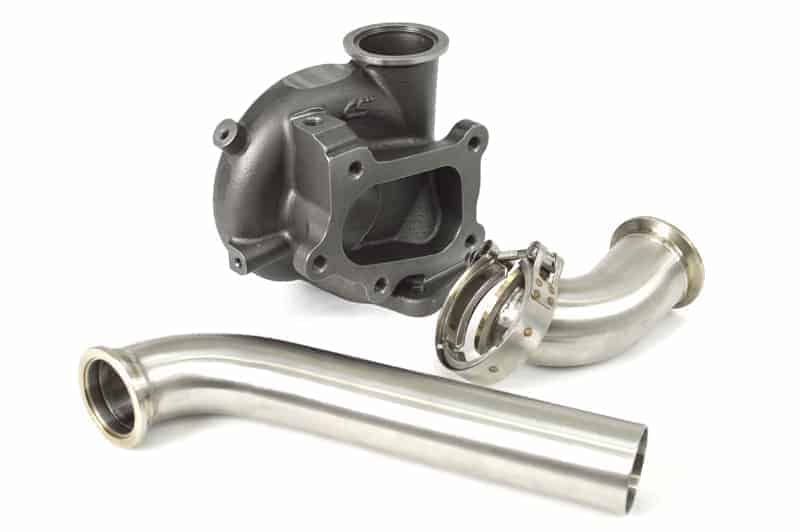 We strongly recommend a Tial MV-R 44mm wastegate as all design work and testing used this specific wastegate. Other wastegates may require modification for use. The 44mm size is a great fit for the Mazdaspeed engines, whether you are running an upgraded turbo on the stock block or fully built one that you intend to push to the limits.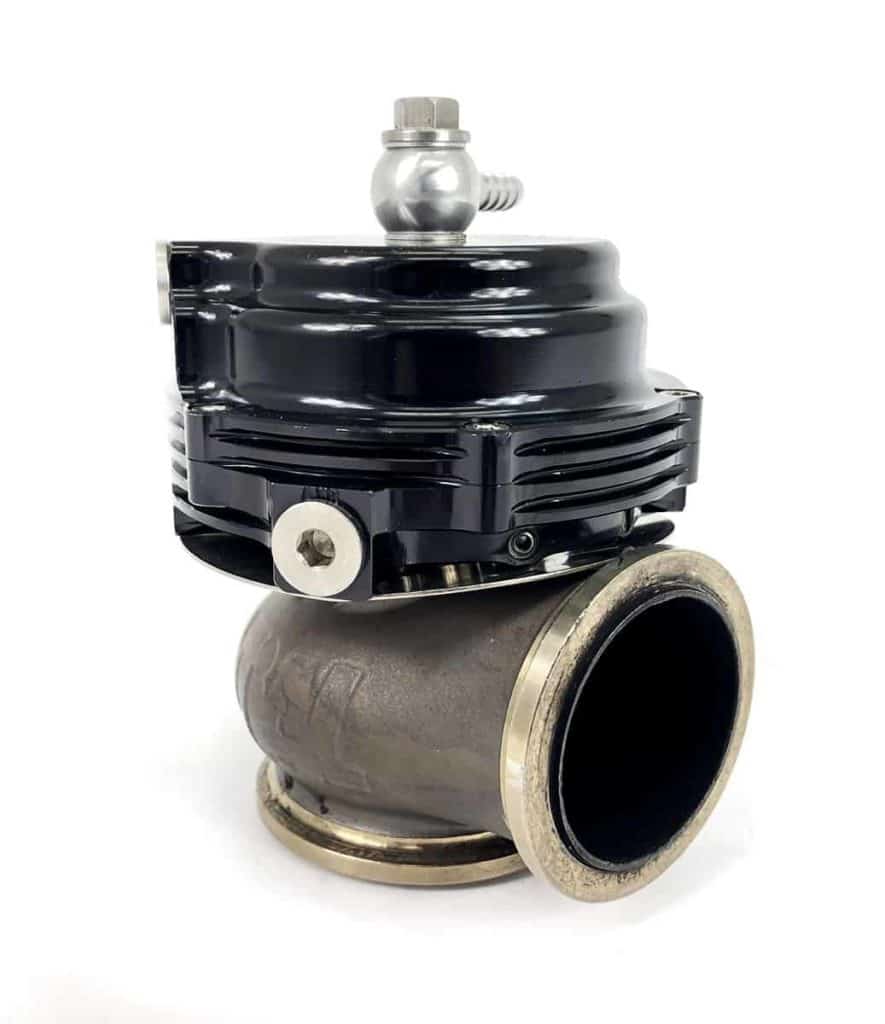 So why would you want an EWG? For starters, EWGs truly offer the best boost control setup for any turbocharged car. Because the wastegate is separate from the turbocharger itself, it is easier to place for optimum boost control, plus, the design of the actuator itself can be optimized. As a result you get a wastegate that hits boost targets more accurately and responds quicker to changes in boost. This means no more boost spikes right when the boost hits (a common problem with poor quality IWG setups), and a near-flat boost curve. The isolated actuator also makes for faster and easier spring changes should you need to service or change your wastegate preload. For more info on the design behind the CS EWG housing, check out the full blog HERE.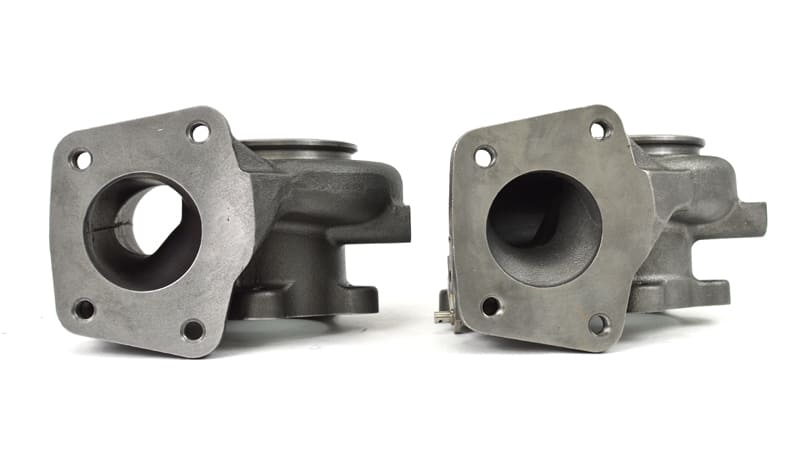 One of the best parts of EWG over IWG is the sounds that come with a screamer pipe! While only intended for off-road use, a screamer pipe dumps the exhaust from the EWG directly to the air. This allows for a fantastic noise during a WOT pull, that sounds truly unique. It's not all just noise though, by venting the EWG to the atmosphere instead of venting the IWG in your downpipe, you are decreasing exhaust turbulence right after the turbine wheel, reducing backpressure. On very high horsepower setups, this often generates some extra power as the turbine housing can be used more efficiently. Check out the product video below for some great EWG sounds from Barett's MS3.
There's one final benefit of the CS EWG housings: housing design itself. Without having the IWG in the way to worry about, we were able to do some optimizing on the scroll and A/R. For CST4 owners, this means an increase in A/R from 0.66 to 0.82. Typically an A/R change like this will cause a slight decrease in spool time but an increase in max power potential. CST5 owners have this 0.82 A/R even with the IWG setup but there's another benefit: greater swallowing capacity. This refers to the amount of volume in the turbine scroll. By increasing the swallowing capacity the turbine can ingest air more efficiently at the peak, which is especially important if you have an upgraded exhaust manifold or high flowing head. After all, an engine is an air pump – what good is shoving more air in if you can't get it out?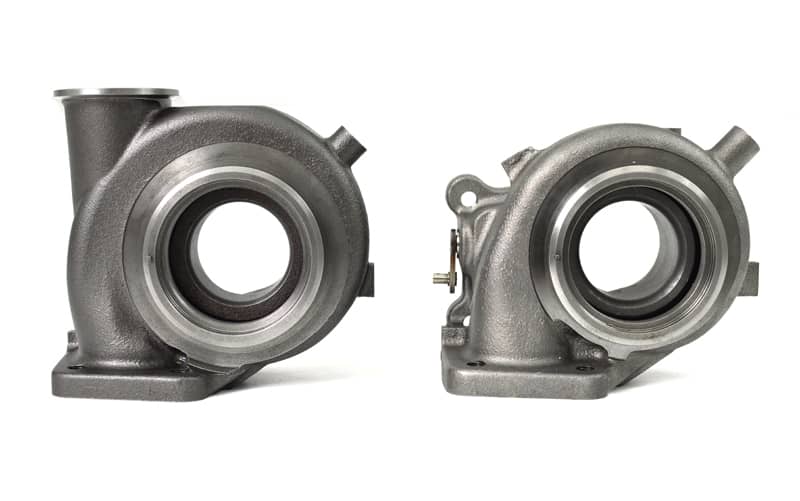 If you're in the market for a change on your Mazdaspeed, check out the CorkSport EWG housings for the CST4 and CST5 turbochargers. Better boost control, a more efficient housing, and best of all, a great new sound. Be sure to check out the listing for even more images and don't be shy to ask questions we'll be happy to help!