"Intake, test pipe, and a tune ONLY" was my mantra.  I'd just bought a shiny new '13 tech package VRM MazdaSpeed3 with the extended warranty, 3 miles on the odometer as it rolled off the lot for the test drive.  Via the web forums (back when MSF was still popular), I had performed my due diligence in terms of where I was headed with this ride. I knew what my mods would be, the results to expect, and even learned a bit about the tuning process, all with the intent to "stock out" in less than an hour in the event I broke something on the car.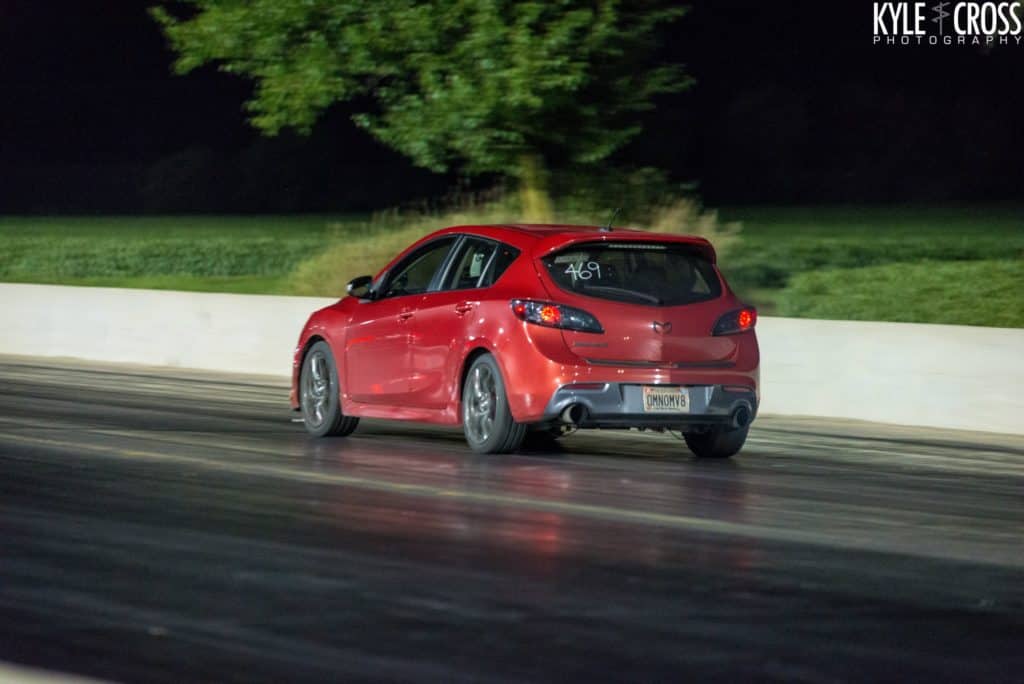 But… the local Nator chapter wrapped their slithering hentai tentacles around me, and those thoughts of a mildly tuned car with the manners fully intact started to erode.  The friends, the fun, and the performance results were an instant addiction.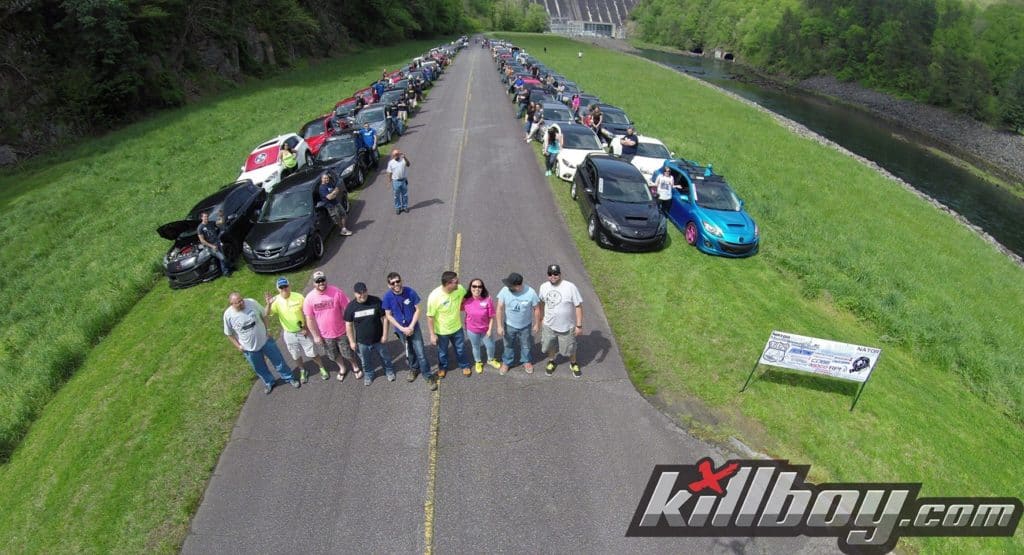 In just a few short months I had sold that warranty back and started down the rabbit hole.  Trips to Epic NATOR Meets were a terribly awesome influence, seeing cars on the bleeding edge of the DISI Mazdaspeed platform, and meeting several of the prominent people in the Mazda community that were so forthcoming with their knowledge.  The hook was set!
I found myself pursuing information, and if there wasn't any data to be had, I wanted to make it myself.  I tested and cataloged a variety of items, from NVH with motor mounts to compression test compendiums (yes Cylinder 3, you deserve that BAD rap!), meanwhile moving along the mod path to a medium turbo, front mount intercooler, and a methanol kit.  Once I purchased a spare long block, I knew I was getting in ball-joints deep.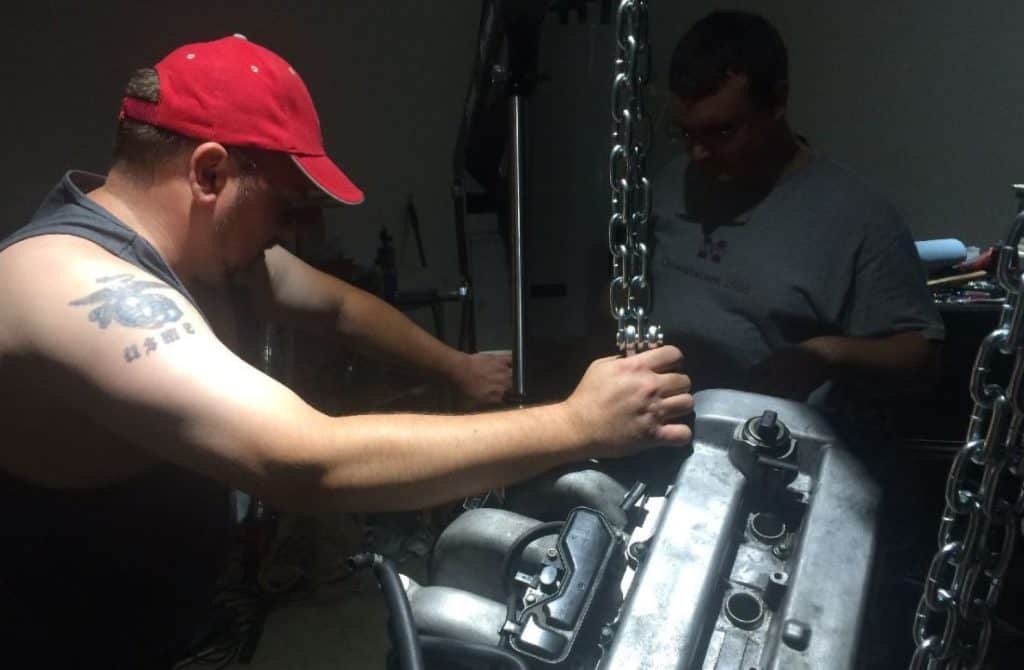 Fast forward to today.  I've been very fortunate to be chosen to test products for a handful of vendors!  With an aligned focus – direct fit or minimal fabrication parts – I've reached my (probably temporary) goal of 500 wheel horsepower! Where I've tested the limits of products/parts for many companies – whether they have asked me to or not. The
CorkSport 3.5 Bar Map Sensor
is a solid example of exceeding the envelope, as I did manage to over boost while playing with my EBCS configuration, and pegging it at 37.58 PSI. (At 900 ft. ASL)
 Corksport asked me to describe my modification journey and how their beta parts have impacted my build and decisions, so there is no slight intended to the multitude of other people involved in my project – that list is not short.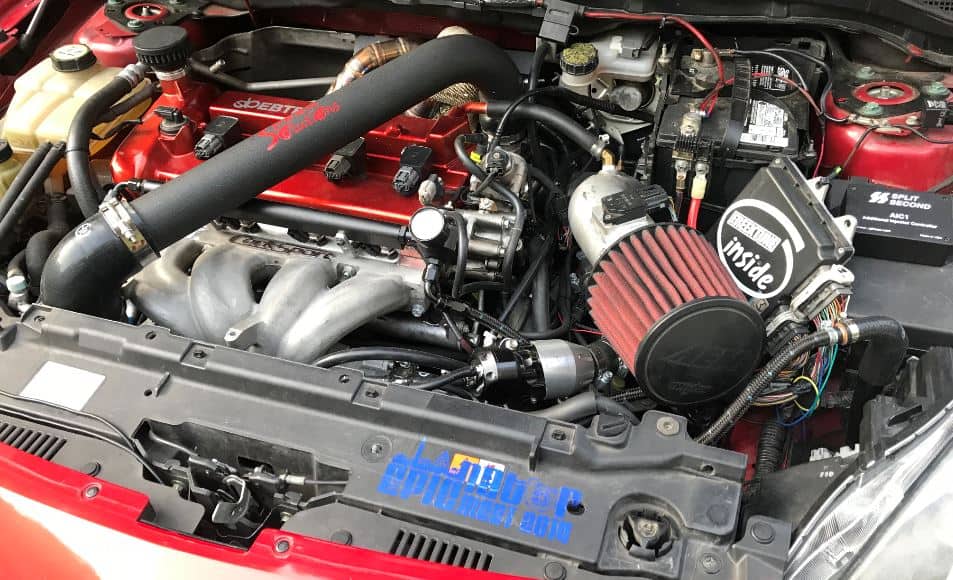 I've run the
Corksport intake manifold
for nearly 2 years and just prior to the big turbo transition.  
It gained 12 g/s flow on the identical tune and no other modifications, so I knew it was an immediate upgrade.
I've been hammering  30+psi through it for the majority of that time, and my built engine is approaching 25 thousand miles with that duress.  
The spark plugs have been pristine and uniform, indicating to me the flow is balanced in the runners.  
There is no better fitting upgrade intake manifold for the platform.  
The beta-testing portion of this journey has been pretty awesome. Constant emails and conversations back and forth with the CorkSport Engineering team, and support from installation, to checking in periodically afterward to see how the system is running and the part is performing for me and my particular set-up. I understand that I am not the only one to have been running this part as a beta-tester, which just shows how thorough this company is with it's beta-testing.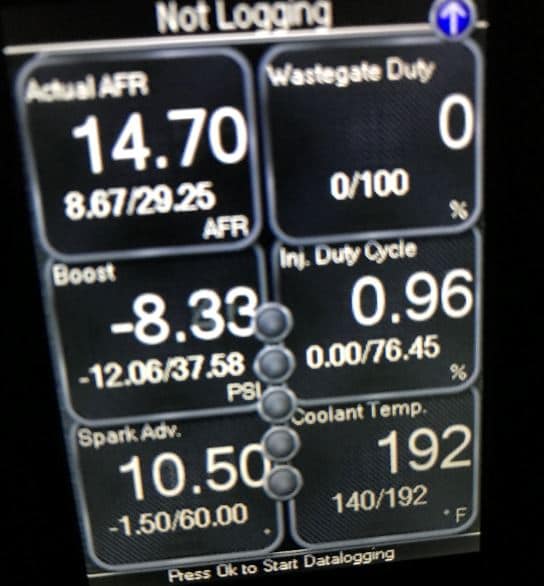 Barett, the CorkSport engineer, was probably annoyed with the 'data-whore' aspect of who I am, but man was it fun! Tracking my progress throughout, and sending info back and forth fed the logical performance driven sides of me for quite a while.

The manifold was recently combined with the
Corksport 72mm throttle body
, which takes advantage of the IM's oversized opening, which I feel will scale up with even more power should I get the itch for ludicrous speed.  There is zero loss of drivability with the TB mimicking the factory unit electronics and nothing for your tuner to battle with like the old days of trying to open up that choke point.
While it's usually about performance parts for me, I have to say that I run a few of the CorkSport "comfort" pieces and can genuinely say they are worth the investment. The

CorkSport Performance Steering Wheel
is just amazing! The contoured grips are a tremendous comfort for long drives, and the beefy upper section is awesome for the twisties in roads like the "Tail of the Dragon" in NC. It's also shown no signs of wear in the last 2 years, and I look forward to driving with it for many years to come.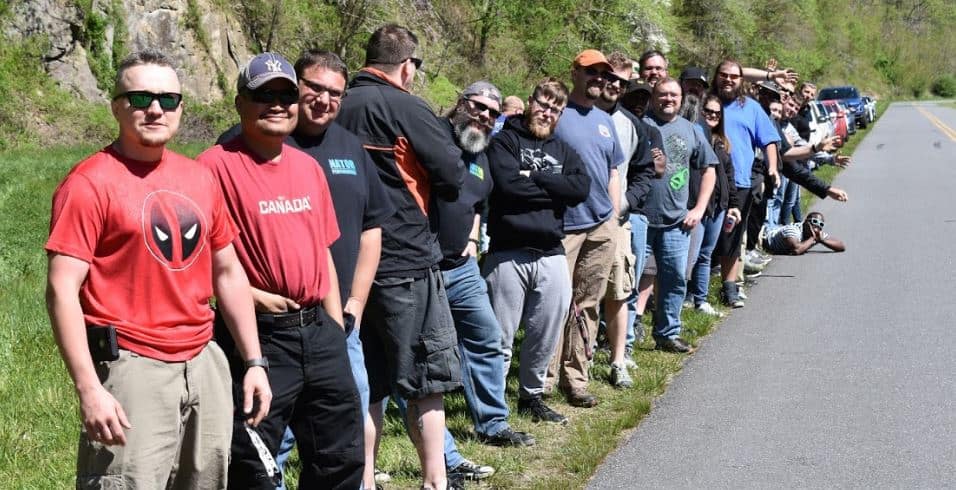 I was lucky enough to get the CorkSport Hood Strut kit when they were available, and now my hood opens significantly more than the prop rod and facilitates installing those go fast bits. (Hopefully, CorkSport gets wise and brings them back for sale again).
I would like to thank Corksport for giving me the opportunity to test their parts, in addition to many others, and YOU for taking the time to read my cool story, bro!
Spread the boost – there is no vaccine!
Jason