CorkSport is pleased to announce the re-release of the CorkSport Turbo Inlet Pipe for the Mazdaspeed 3, Mazdaspeed 6 and CX7. The newest version of our turbo inlet pipe has been redesigned to provide seamless fitment with OEM or other aftermarket intake systems by replicating the fitment of the factory TIP to the intake.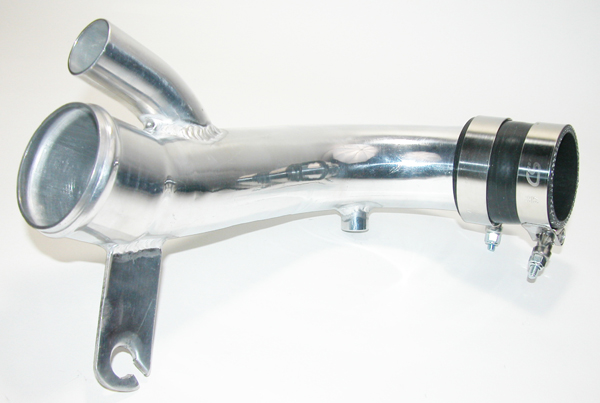 This popular product maintains its ability to provide improved responsiveness and power while now providing even better fitment for customers running stock or other another non-CorkSport brand aftermarket intake.
Unlike other turbo inlet pipes on the market, CorkSport's Turbo Inlet Pipe is constructed from mandrel bent aluminum making it a true high performance turbocharger inlet pipe. It has been designed with a downstream recirculation valve fitting to prevent turbulence backwash around the MAF sensor and avoid unnecessary check engine lights and stumbling.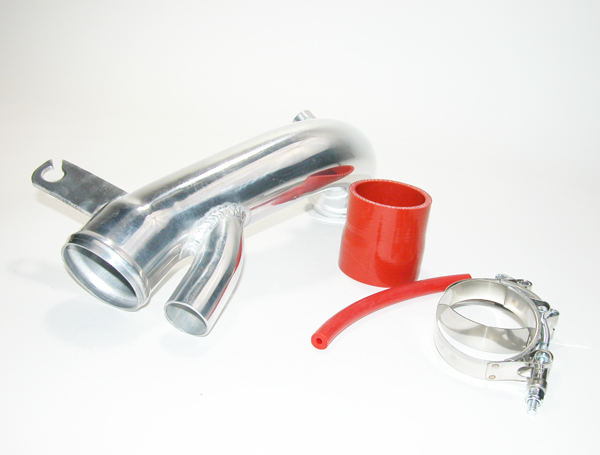 During extensive testing, the CorkSport Turbo Inlet Pipe showed a 14% improvement over the stock pipe and significantly decreased airflow turbulence by removing the restrictive nature of the stock pipe with the sweeping curves associated with the mandrel bent aluminum 60mm piping used in the CorkSport pipe.
CorkSport has designed the turbo inlet pipe to be purchased as a standalone piece to compliment your current stock or aftermarket intake set-up or can be purchased with the CorkSport Mazdaspeed 3 Short Ram Intake for the best value on the market.
When combined with the CorkSport Mazdaspeed 3 Short Ram Intake, flow test results showed a 54% improvement over the stock air box and turbo inlet pipe and netted max gains in dyno testing of +25lbs of torque and +33HP.
Sold separately the CorkSport Turbo Inlet Pipe can be purchased for $109.00 and can be customized to compliment the look of your engine bay with polished or powder coated black aluminum piping and your choice of red, black or blue silicone. Purchase the CorkSport Short Ram Intake along with the turbo inlet pipe for an additional $140.00 to get the most gains from this power modification.