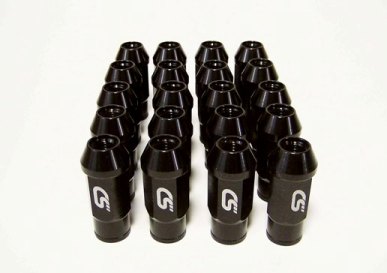 CorkSport Performance would like to announce the addition of the 20 piece Extended Lightweight Lug Nut Set to its line of high performance Mazda accessories.
Crafted from 7075T6 aluminum, aerospace quality alloy that boasts an impressive ultimate tensile strength of 74,000 – 78,000 psi and minimum yield strength of 63,000 – 69,000 psi., the CorkSport Extended Lightweight Lug Nuts are guaranteed to hold up even under the most demanding driving conditions and weigh-in at a mere .8 ounces each, 29% lighter than the Mazda OEM lug nuts, making this an easy way to enhance the look of your car while losing unsprung weight.
Each lug nut is meticulously crafted from an extruded aluminum billet and CorkSport utilizes CNC machinery to ensure the highest grade of precision quality during production. The CorkSport Extended Lug Nuts come in black with CS laser etched logo for a long lasting, durable finish.
"Many of CorkSport's customers spend good money on their wheels and want a good looking lug nut to compliment them", said Rich Harris, President of CorkSport, "The CorkSport lug nuts are not only lighter-weight than traditional lug nuts but help to enhance the overall look of the vehicle, making this a styling upgrade that possesses performance benefits as well."
The CorkSport Extended Lug Nuts have been developed specifically for Mazda and Mazdaspeed vehicles with 12mm x 1.5 pitch thread for exacting fitment and require a standard 19mm socket for installation. They are available for purchase at https://www.corksport.com/corksport-lightweight-lug-nut-set.html for $99.00.