Mazda has supported more road racers over the past decade than any other automaker and is now stepping up the support to include extended TV coverage on the new Velocity network.

Velocity is the cable network created by Discovery communications that provides high-octane programming for its viewers with programming geared toward events, with live auctions and world rally championships and real-life adrenaline-pumping shows.
The Mazda Motorsports Hour will be hosted by award-winning motorsports broadcaster, Rick Benjamin and will include 24 shows that be broadcast from April through November with content that will include feature races from the Star Mazda Championship presented by Goodyear and Cooper Tires USF2000 Championship – two tiers of the Mazda Road to Indy Ladder – and SCCA Pro Racing's Playboy MX-5 Cup. Joining Benjamin in the booth will be racers Randy Pobst for the MX 5 Cup, and James Hinchcliffe for Star Mazda and USF2000. Todd Lewis will be the pit reporter.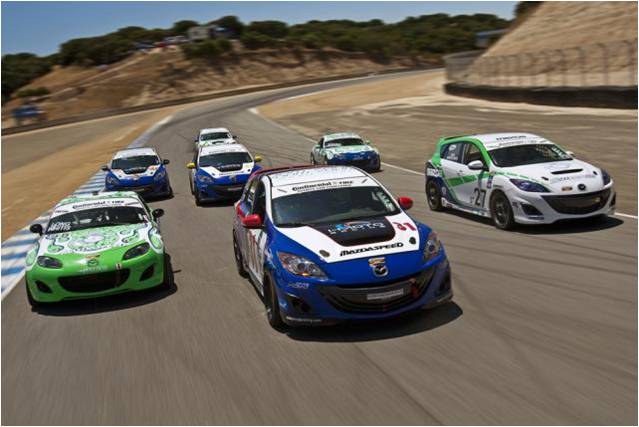 A competitive field of more than 30 cars are expected at each of this year's 11 SCCA Pro Racing Playboy Mazda MX-5 Cup races. The spec series based on the popular auto platform has served as a launching pad for young drivers as well as a place where veteran racers can find intense competition at a good value.
Drivers who show promise and success on the track in any of these series throughout the season qualify for additional chances to learn additional skills at being a professional driver and earn "MAZDASPEED Motorsports Scholarships" that include off-track developmental competitions and feature the creation of business plans and sponsor development processes upon which the driver moves to the next step in their racing career.
"Hardcore fans know that some of the most intense action can be found in the Playboy MX-5 Cup, Star Mazda and Cooper Tires USF2000 Championship. But if you weren't at the race, you are left to take our word for it. Now, thanks to a partnership with Velocity, and Carolinas Production Group, fans can enjoy the action on a regular basis from their living room," noted Jim Jordan, Alternative Marketing Manager, Mazda North America. Retrieved from Mazda Media, https://www.mazdausamedia.com/content/mazda-teams-velocity-2012-us-tv-broadcasts.
To find Velocity on your local cable system, go to Velocity.com.
Gwynne-