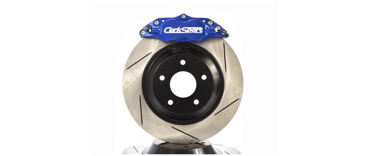 So you've installed your brand new big brake kit, and you're thinking, "These really should keep me under control." And maybe you're even dreaming about being the latest, late-braking braker of all time in your run group. Well, before you start celebrating your newfound glory, there are three things you should consider.
Brakes generate heat
…and a lot of it at track speeds. Don't believe me? Check out the picture below. It's our big brake kit in the corner after putting the product through testing on the back straight of the Portland International Raceway. We wanted to demonstrate that we could take our brakes to the limit, and three laps in to an event can be quite fast.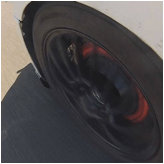 Brakes need fluid
Our 2015 Mazda 3 is a road racecar, so we already had RBF600 brake fluid installed in the system. We also bled out the system with fresh fluid just in case we had any moisture. Moisture in the system could make the brake fluid overheat and boil, causing the brakes to feel spongy instead of the nice crisp pedal feel the car is known for having while driving around the paddock.
The first session out we discovered that the temperatures of the brakes were exceeding the capacity of the brake fluid. I was boiling the brakes.
This was on a non-turbo Mazda 3, weighing roughly 2900 pounds with a driver. Imagine the extra heat that would be generated from a faster and heavier car like a Mazdaspeed3 or a Mazdaspeed6. I won't lie; it's rather exciting hitting the brake pedal when you need to slow down from 130 mph to enter a set of corners and the peddle goes to the floor in the Mazda 3. With a Mazdaspeed3, you could be approaching 145 mph at the same point.

Brakes crave air
Our solution to the problem of overheating brakes ended up being pretty simple: air. Brakes crave cool air and lots of it, so we plumbed in a pair of 3-inch brake ducts (one on each side) from the OEM fog light holes on the front of the car. Almost immediately we noticed that we were no longer boiling the brakes. (This setup also worked well on the OEM brake that our Mazda 3 is required to run in its racing class.)
To sum it up: Get good brake fluid and plenty of air. Big brake kit or not, it will make your track weekend more enjoyable.
-Derrick