Mazda has already made the announcement that they intend to begin offering the Mazda SkyActiv-D (diesel engine) on the CX-5 in the US market in 2013 and as a leader in the motorsports arena, it should come as no surprise that the latest announcement surrounding their new SkyActiv diesel technology comes on the racetrack.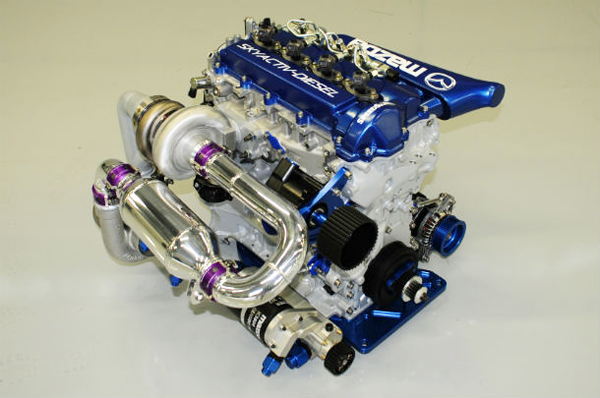 Mazda announced that they will be supplying SkyActiv-D engines to the GRAND-AM series GX class. Set to debut in 2013, the rules for the GX class are still being developed, but are expected to showcase the exploration of clean diesels, alternative fuels and even hybrid powertrains.
In press release distributed by Mazda Motorsports, Jay Amestoy, Vice President of Mazda Motorsports, Mazda North American Operations (MNAO) was quoted saying, "This opens a new chapter in racing for us. We've won with rotary technology, and now we're looking to again put our customers in the winner's circle with what we believe will be the most advanced and cleanest production-based powerplant the sport has ever seen."
The engine is being jointly developed by Mazda Motor Corporation, Mazda North American Operations, and Speedsource Engineering and will be featuring a 14:1 low compression ratio, new two-stage turbocharger, a 5,200 rpm redline and compared to Mazda's current-production 2.2L MZR-CD diesel engine, up to 20% reduction in fuel consumption, 20% reduction in internal engine friction and 10% reduction in weight.
On track testing will begin later this year. The actual Mazda model the SkyActiv racing engine will be installed on will be announced after the conclusion of the 2012 Grand-Am racing season. My guess is that we will see it debut on a Mazda 3, but only time will tell.
Gwynne-