Product Release – The Mazdaspeed 3 Transmission Mount
The CorkSport Mazdaspeed 3 transmission mount is for those of you that want to reduce the torque steer and wheel slop on your 2007 – 2013 Mazdaspeed 3.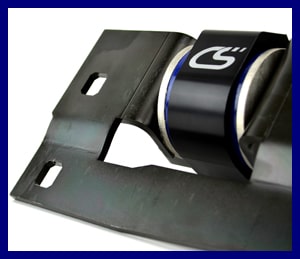 As you are upgrading your Mazdaspeed 3 you start to notice the sharper pulls and unpredictable weight shifting of the engine.
The CorkSport Mazdaspeed 3 Transmission mount will help decrease this movement and give you smoother shifts on the streets or on track use.
Built with black zinc oxide plated steel for a strong frame and a reinforced gusset to extend the life of the bushing.
The CorkSport Mazdaspeed 3 Transmission Mount is CAD designed and machined with precision. Perfect fitment and extremely rigid to handle the stress from the torque from your engine.
Order yours for only $209
The Rear Motor Mount and the Passenger Side Motor Mount are also great additions to firming up the power plant on your Mazdaspeed 3. With less wheel hop and a less torque steer this trio of mounts will greatly reduce engine movement allowing you to enjoy the Zoom Zoom of your Mazdaspeed 3.