CorkSport is happy to announce the release of our long awaited 2014+ Mazda 6 Axle Back Exhaust System. Designed by our engineers to be a simple, bolt on upgrade for the Skyactiv powered 2014+ Mazda 6. The dual tips with the CorkSport logo plates gives the Mazda 6 the missing piece to really make it stand out among the crowd. The exhaust note gives a pleasant tone which is not common with some exhausts on the market which are buzzy sounding. The exhaust features 65mm piping and dual resonators ending with 80mm double walled exhaust tips constructed from 304 Stainless Steel.
A review from Jerod a customer who tested out the exhaust raves "The exhaust is awesome! The tone is great and it really brings the car to life.  The sound is a nice growl at startup and turns into a snarling monster at full throttle.  At no moment does the sound become "obnoxious" like other lesser quality brand exhaust systems… The exhaust is a beautiful sight to behold.  It truly transforms the rear end of an already good looking car into an aggressive yet elegant cruiser!  All 10's from me "
As with all of our CorkSport exhausts, the Mazda 6 axle back features mandrel bent, polished stainless steel T304 construction for corrosion resistance and a clean stylish look. It has a distinctive performance sound that is mild but noticeable at cruise and idle and a distinctive growl at wide open throttle and free rev.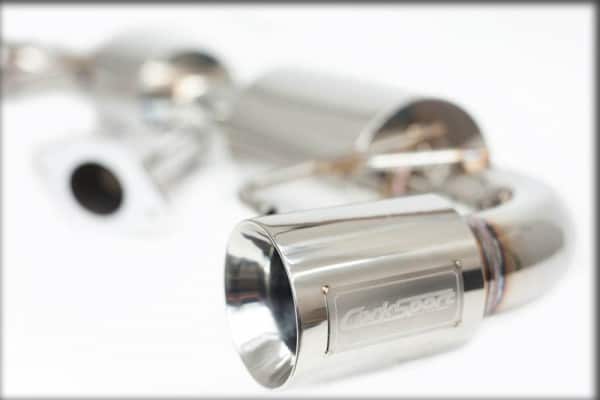 Want to hear how it sounds? Check out our video clip below:
The CorkSport 2014+ Mazda 6 Axle Back Exhaust is available now for $499.99. For more information please visit our product listing page at https://www.corksport.com/corksport-2014-mazda-6-axle-back-exhaust.html