Mazfest returned once again this year to the Auto Club Speedway in Fontana CA. Sponsored by Mazda Owners Club of California, Mazdas247, and the Southern California RX Club, this years event featured autocross, an HPDE track day (high performance Driver Education), and of course the car show. On the day of the event, CorkSport was there in full force and the weather gave us sunny skies and a decent breeze and of course we were greeted with the usual smog from the east end of LA.

Mazfest showcases one of the widest varieties of Mazdas of any event CorkSport attends each year and the cars being shown this year ranged from a beautiful R100 to a brand new 2011 Mazdaspeed 3 and everything in between.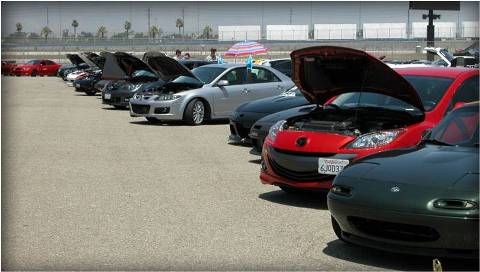 CorkSport recruited two of our California Mazdaspeed 3 customers to showcase their rides in our booth. One had the complete package of CorkSport power series products installed including the Downpipe, 80mm Racepipe, 80mm Cat Back Exhaust, and a CorkSport Ram-Air FMIC kit.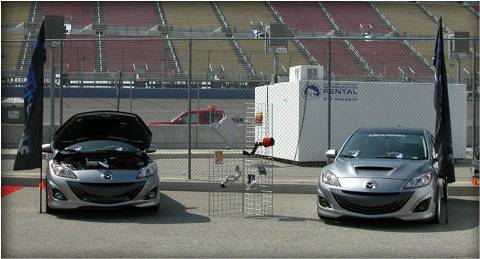 The other Mazdaspeed 3 had the CorkSport TMIC installed along with a host of other performance parts and was also the featured ride of the month on the Mazdas247 forum in July.
There were run groups out on the track all day with their owners putting their cars through their paces. Cars on the track ranged from stock to full on race cars including a turbocharged road race Rx8. There were a few mishaps on the HPDE event that you could find when walking around the garages.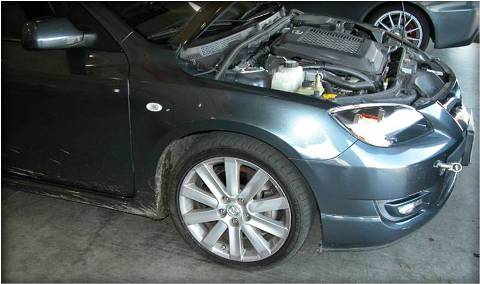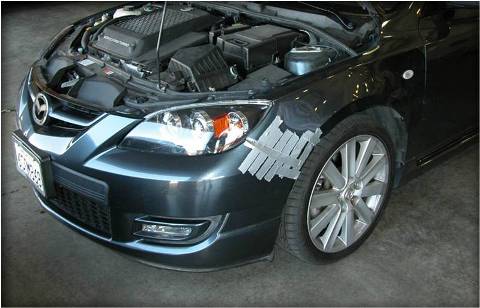 The worst example I saw was a blow out suffered on the track by a Porsche. It took out the rear bumper, damaged the paint, and looks to have hit the radiator too.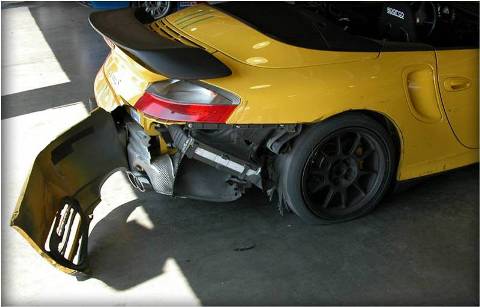 All in all, it was a great day and we got to connect with many of our CorkSport customers and enjoy the show. I recommend attending next year if you are able to.
-Derrick