A few weeks ago CorkSport did a two day Facebook Fan Promotion. We asked our fans to provide us with feedback on their shopping experience on CorkSport.com and in exchange, we would randomly select one fan to receive a CorkSport gift certificate worth up to $300.00 in value. The amount of the gift certificate began at $50.00 and increased by $1.00 for each additional respondent over the first 25 that answered the survey. We had 242 fans respond to our post and we gave one lucky Facebook fan a gift certificate to CorkSport.com worth $267.00! Our lucky winner, Jeff Hoetzler, has already purchased a CorkSport Short Ram Intake with his winnings and we hope he is enjoying the increase in power on his Mazda 6!
Not only did we have some fun and get to giveaway free stuff to our loyal fans, but CorkSport also benefitted from this promotion by being able to gather some critical data from our customers and use that feedback to improve the shopping experience at CorkSport.com. Though most of the feedback was positive and we were pleased to see that the overall quality of the online experience for our users is good, we were able to identify some areas for improvement and, as is the CorkSport way, take immediate action to improve upon our website.
We received several suggestions requesting that we maintain the presence of the navigation bar on the left side of the website for the entire website experience, no matter where in the product catalog you were. Done! Now, navigating through our site is even simpler and moving back and forth through the various categories is a breeze!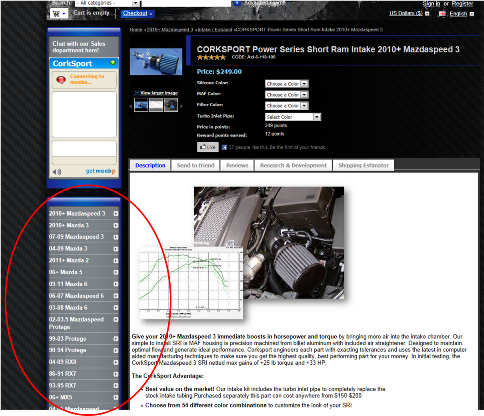 We also received some comments on navigation issues that were faced when customers entered the knowledgebase so we have improved upon that as well. Now when you click on the knowledgebase, you will be taken directly to a categorized landing page, allowing you to easily navigate to the information that is most relevant to your year and model vehicle. This will give you easier access to a database of useful information, from answers to common pre-sales questions, complete installation instructions and installation videos to customer comments and other useful articles about our products.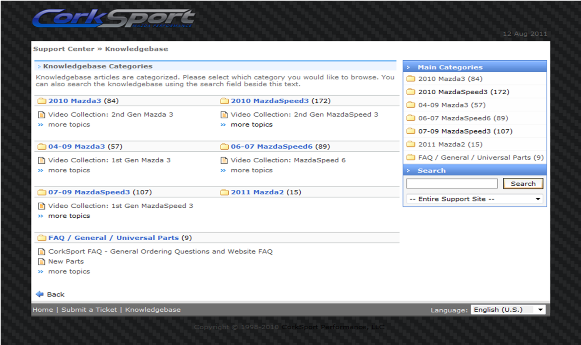 There were several requests for a photo gallery, which is in the works and should be coming to a CorkSport.com near you in the coming weeks along with new updates on our project cars, so keep a look out for more improvements to come and let us know if you have any more suggestions you would like to see incorporated into our website. We're always on the look out for ways to make your shopping experience, shipping experience, customer service experience and above all, the products you purchase top of the line.
Gwynne –