Recently, we've been posting a lot of blogs on clubs and connection in the community, and I'm sure you're wondering what that's all about. We're hoping to help people get connected in their local areas and start throwing more meets!
What way to better understand how to get a HUGE group of MAZDA ENTHUSIASTS together than ask a Mazda Meet Organizer?
Keith Eggert has been an influential event planner for a lot of West Coast Mazda clubs. Below, he walks us through how it was for him setting up the first couple Mazda Takeover events. We hope it inspires you to start the process of creating your own!
---
KEITH:
Let me start off by saying that I am by no means a professional at getting a large gathering of people together, nor am I very organized. However, I love the Mazda community and enjoy connecting with fellow Mazda enthusiasts.
A unique opportunity was laid out before me: Get as many people with Mazdaspeeds together here in my area. (For those of you who don't know where I'm from, I currently reside in the greater Boise, Idaho area.) 
Dale Owen, head honcho of the Mazdaspeed Idaho group on Facebook, who also runs Gem Tuning (yes, he tuned my car), approached me with a yearly meet idea.
He explained how it'd be a huge help if I lent a hand in helping organize our yearly Mazdaspeed group meet, since I live in the epicenter of the majority of the Idaho members.  Of course I said "Yes", and just minutes after I told him yes, I had an idea:  "Let's do it big!", I said to Dale:
"Let's make this thing huge, not just a simple one-day hangout, let's put this party on the map!"
He reluctantly agreed to that, and since that day over two years ago, I took the reins and ran with it.  I figured I had to give it a name, but more importantly, I had to figure out what we were going to do for two whole days. It had to be exciting, it had to fill empty time, it had to connect Mazda Groups from all surrounding areas.  Most importantly, it needed to be fun.  I decided to call it the Mazda Takeover because that's how I envisioned it; Mazda after Mazda after Mazda, driving down the road to locations in the valley where events were set up. It was a beautiful thing to see.
I invited anyone in the Mazda Community willing to make the drive from as far as Utah to come up.  I invested about three months into getting known, talking to people, and helping members with their questions on the Utah Mazda Enthusiasts Facebook group.  It paid off. As luck would have it Cody Allington is kind of the go-to guy down in Utah, and with his help he generated interest, and brought up 7 cars with him in the first year, which blew me away given that the planning span of 3 months was all the time I gave him to gather a group willing to drive up.
Friday through Sunday. That was the game plan, come to find out, clearly waaaay too short of a time frame.
Between the Friday evening's Line the Streets meet, Saturday mornings dyno day, Saturday nights drag racing, and Sunday's farewell, I think everyone managed to get about 3 hours of sleep each night. That needed to change. We absolutely needed an extra day; that way people wouldn't feel burned out, and would have time to relax and just talk to people. So, for Year Two, we did just that.
Mazda Takeover's second year was much more organized, spanning from Thursday night through Sunday.
Three days to dyno, race, and have a scenic cruise.  It was perfect, and even had people making the trip in the late evening on Saturday just to make two passes down the drag strip before the lights went out and everyone went home. We now have a perfect amount of days, but there was still quite a bit of downtime that we attempted to fill with a garage day, which was way too stressful given that it was hours before we all left to go drag racing. That won't be happening in Year Three.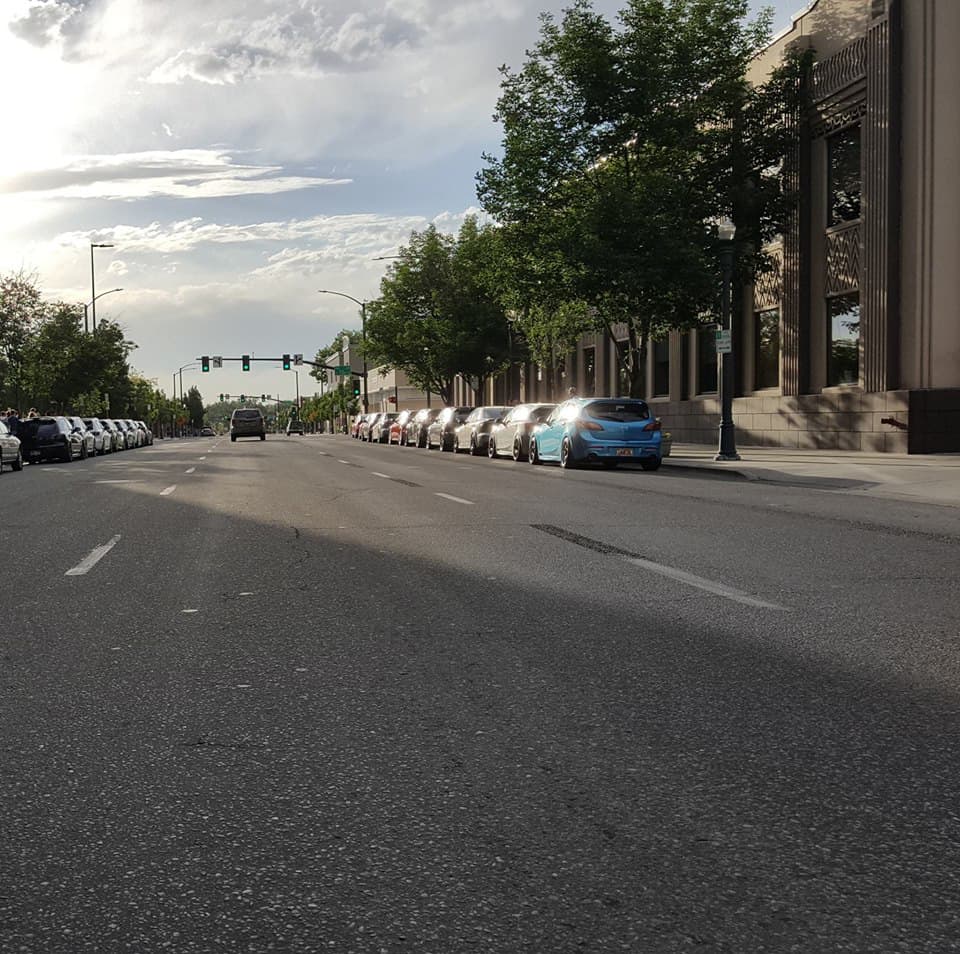 So what did I learn in all of this?
Two successful years, triple the amount of attendance from people outside of Idaho, states I never contacted via Social Media wondering about the event and contacting me directly…  I think I have a recipe to keep this thing going.
Here is just a little bit of wisdom should you find yourself wanting to have a huge meet.
First things first: PLAN PLAN PLAN.  Do not fill a day with too much.  Two events per day spaced out is perfect.  Dyno in the morning from 9-2, then have everyone meet for a BBQ from 4-7.  However, you wish to fill the day, keep in mind: the key to a successful meet is to utilize the reason you are there.  If you get Mazda people together, do Mazda stuff.  Go for a cruise, schedule time for how long that drive will take, and any pit stops needed for photo shoots, fuel, etc.
Second. When doing two events during a meet, NEVER UNDER ANY CIRCUMSTANCES DO TWO CAR RELATED EVENTS IN THE SAME DAY. Meaning, don't schedule a dyno day and an evening of drag racing in the same day.  Can you? Sure you can.  Should you? Probably not.  Cars are like people, too much stress and they break.  Don't need to go breaking any cars; this is supposed to be fun.  And if you do, know your groups of attendees. Scheduling an Autocross event and a drag event on the same day is far more acceptable, since autocross drivers are less susceptible to drag racing, and a drag car sure as hell won't ever see an autocross course.
Third. Keep in mind, you are doing this for a group so that everyone can have fun, yourself included.  Call ahead, give businesses a heads up that a group is coming on a certain day, that way it alleviates stress on the business and on you as the administrator. The less stress, the more fun everyone has.

With those three key ingredients, you can build the foundation for a successful meet.  
Keep in mind, if you are planning on doing a multi-day meet, the more notice the better.  Also, keep in mind that not everyone can make it, even with six months of notice.  Life happens fast, and things change quickly.
I think the biggest thing I learned is to not fear failure.  
The first year of the Mazda Takeover, THE DAY OF the start of the meet, I had doubt, fear that no one would show, a sinking feeling that three months of phone calls and planning was all for nothing.  Push that aside, people will come.  Hype up your meet, make it sound like the best weekend people near you with a Mazda could ever have. I did just that for two years worth of events.  Last year Corksport sent Luke McCarvel and Barett Strecker to the event.  This year I got Luke and Barett, and Brett White got the chance to join them.
Evolutionary Performance out of Salt Lake even shut it's doors for the weekend to relax and have a good time.
So that just goes to show: If you never settle for OK, and constantly push to have bigger and better meets, performance shops will come to your meet, retailers can come to your meets, tuners can come to your meets, but most importantly, people will have a good time.
Lastly, a shameless plug for the Mazda Takeover 2018. – 

June 7th-11th in Boise, Idaho.

Dyno, Drag, Karting, BBQ, Scenic Cruise. Whether you drive a Mazdaspeed, Miata, Protege, or just regular Mazda that you're proud of, you won't want to miss this year's event.  We hope to see you there. Camping is encouraged!!!

Cheers,

– Keith Eggert

Check out the Mazda Takeover Event Page on Facebook!

If you're looking for an excuse to connect with your local Nator Club, Mazdaspeed Group, or Mazda community, Keith has shown you how to stick with it and come up with a great event. However, if you don't want to plan your own, stay tuned as we'll be working with clubs all over the US to promote events and meetups throughout 2018.

If you're a club and you have an event page, email kim@corksport.com so we can be sure to get you on the calendar!