CorkSport in pleased to announce the addition of the CorkSport 2007+ Mazdaspeed 3 Lowering Springs to its line of Mazdaspeed 3 products!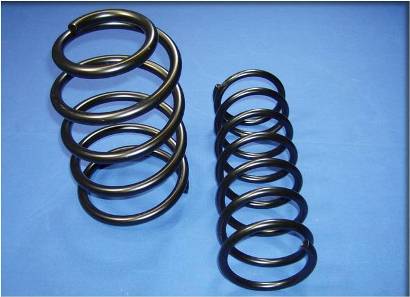 By replacing the stock springs with the CorkSport Lowering Springs, the center of gravity is reduced on the Mazdaspeed 3 providing a quicker turning response and overall crisper road feel. It also has the added benefit of creating less wheel gap which gives the car a performance appearance and edge over the stock springs.
The CorkSport Lowering Springs reduce ride height by approximately 1.2" in the front and 1.0" in the rear resulting in improved handling and a more aggressive stance. The linear spring rate creates a consistent and predicable driving experience, all while maintaining excellent ride quality for your Mazdaspeed 3.
"I really like the way my ride handles with the new sport springs. I have better road feel and increased handling on corners," said CorkSport customer Illiad Boyce about the new lowering springs, "Even my girlfriend commented on the way the car rode. They are stiff like they should be, but not too stiff to be jarring."
Crafted from high tensile strength spring steel with an OEM finish to ensure long lasting quality and performance, this lowering spring kit is durable enough to offer quality performance for ages to come and priced at just $209.00 to offer CorkSport customers a cost effective way of improving the handling and look of their Mazdaspeed 3's.
For more information or to purchase the CorkSport Mazdaspeed 3 Lowering Springs, please visit our product page at https://www.corksport.com/corksport-mazdaspeed-3-lowering-spring-set.html