The Transportation Department published a press release yesterday (July 14, 2011) granting in full the Mazda Motor Corporate petition for an exemption of the CX-5 vehicle line from the Theft Prevention Standard and determined that the "antitheft device to be on the line as standard equipment was likely to be as effective in reducing and deterring motor vehicle theft as compliance with the parts marking requirements of the Theft Prevention Standard…"
Why do we care, you might ask? This is a key indicator that Mazda is readying the Mazda CX-5 for release in the US and based on the pattern we have seen from past models that have made an entrance into the US market, it is likely that we will see the 2013 CX-5 for sale in the US by summer of 2012.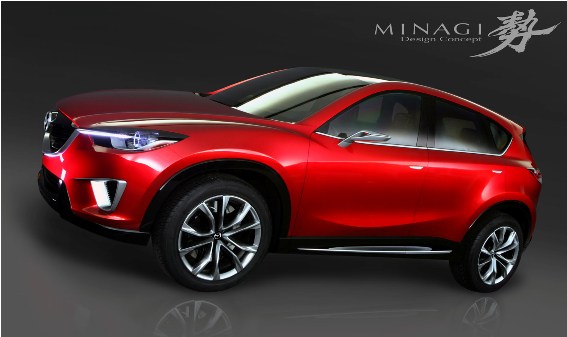 The Mazda CX-5 will be the third model in the CX line-up, next to the CX-7 and CX-9, and will appropriately be the smallest one. Mazda said in a press release about the CX-5 that "(It) will be the first production vehicle to incorporate Mazda's new design theme, 'KODO – Soul of Motion' as debuted on the Mazda SHINARI concept car, as well as the full range of breakthrough SKYACTIV technologies, including engines, transmissions, body and chassis. The CX-5 will join Mazda's global line-up in 2012"
According to autocar, the CX-5 will be available with diesel and a six-speed manual (though the diesel is not likely to be made available in the US) and are also proposed with a double body variant 3 and 5 doors, all of which should ensure that the compact crossover not only looks good but is also fun to drive and fuel efficient.
Look out for the debut of this car at the 2011 Frankfurt Auto Show this September.
Gwynne-