The 2019+ 4th generation Mazda 3 is a car that certainly divided opinions when it came out. From its divisive looks to the new torsion beam suspension, even we weren't quite sure what to make of it at first. However, we have since fallen in love with our shop 4th GEN, a big part of it is what we are releasing today: the CorkSport Performance Lowering Springs for 2019+ Mazda 3 (Sedan & Hatchback for both AWD & FWD). Give your new Mazda 3 an aggressive look that is sure to turn heads while improving the handling for those twisty backroads!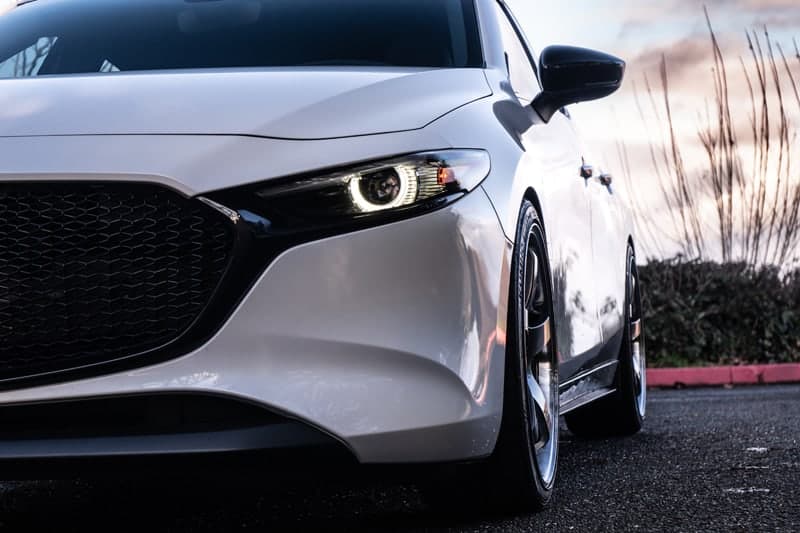 Stay Up-to-date with CorkSport
---
Let's start off with the elephant in the room: ride height. When we developed these springs, it was somewhat difficult as we had to account for different body styles, transmission options, and now even driveline options. With all things taken into account, we found the right range of ride height that looks great on the lightest, heaviest, and all options in between.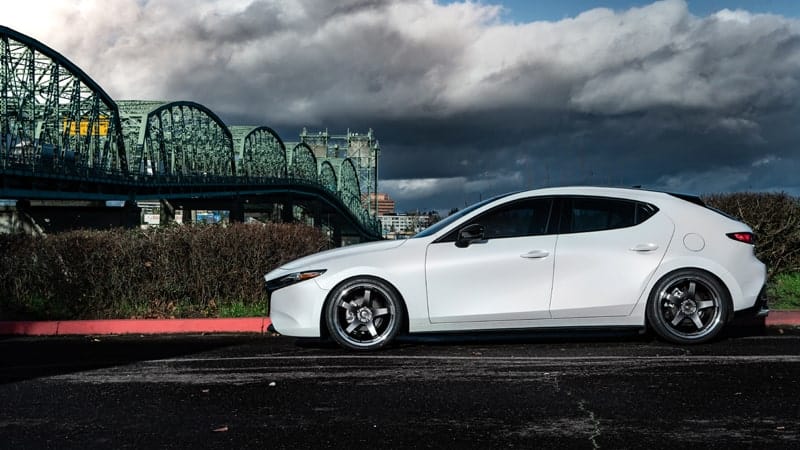 On the lightest GEN4: hatchback, front-wheel drive, manual trans, the CS Mazdsa 3 lowering springs offer 1.5" front and 1.8" rear ride height drop. On the heaviest GEN4: sedan, all-wheel drive, auto trans, the CS lowering springs offer 1.6" front and 2.2" rear ride height drop. Depending on your vehicle's options, you will end up at or between these extremes. Don't worry though, your ride ends up sitting level no matter what combination of options you have. The images below show the lightest (upper) and heaviest (lower) Mazda 3.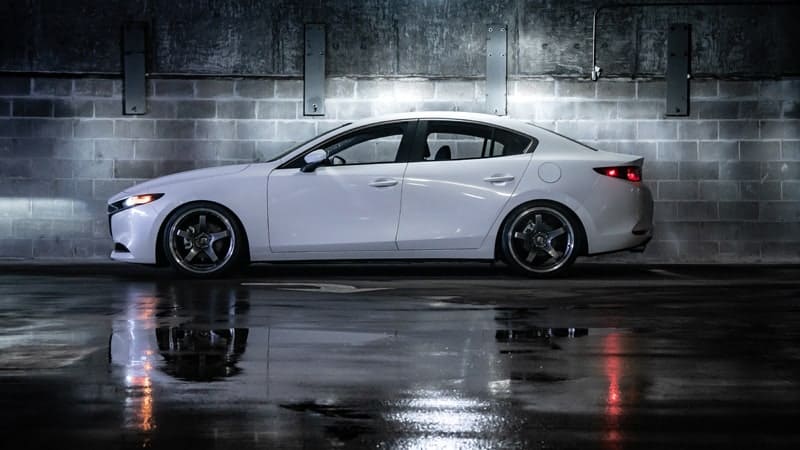 We also focused heavily on improving the handling with the CS GEN4 MZ3 lowering springs. A lower ride height means a lower center of gravity which when combined with a stiffer spring rate, means less body roll. This improves handling feel and driver confidence when attacking a backroad. We even increased the rear spring rate more than the front to reduce understeer and help with turn-in.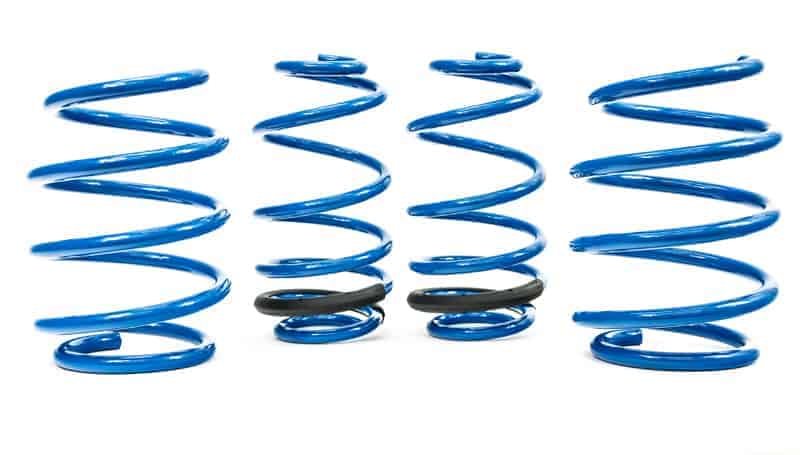 The CorkSport 2019+ Mazdaa3 springs went through a few different iterations of spring rate and ride height before we found the best balance of ride quality, handling, and appearance. The final spring rates are 3.4K front and 5.9K rear. Compared to the OEM rates of 2.23K front, 4.20K rear, we made a decent jump in rate; however, the new springs are well within the OEM damping rates. The ride is obviously stiffer than OEM yet is not bouncy and you can still comfortably daily drive on the springs.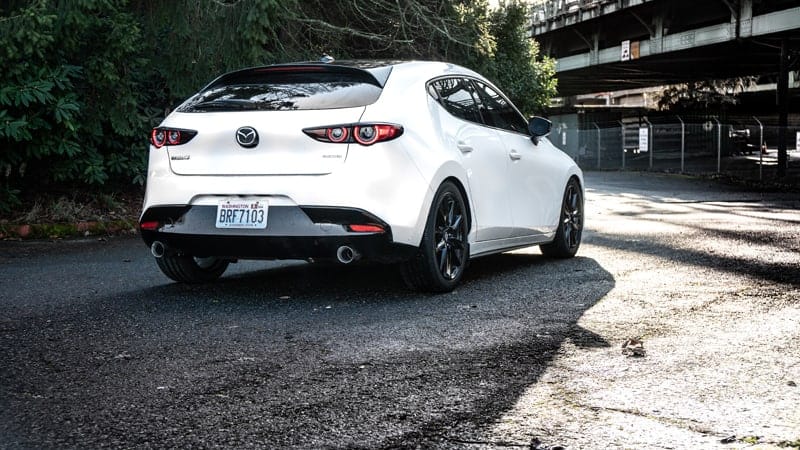 During development, we even tested for the natural frequency changes in the suspension from installing lowering springs. Essentially, the natural frequency is a good way to compare how "stiff" one car feels compared to another, even if their suspensions are different (for more background info on natural frequency, check out this blog). We went from an OEM of ~1.6Hz front and rear to 1.75Hz front and 1.8Hz rear on the CS lowering springs. This increase is enough to feel "sporty" but not enough that it will ruin your drive to work.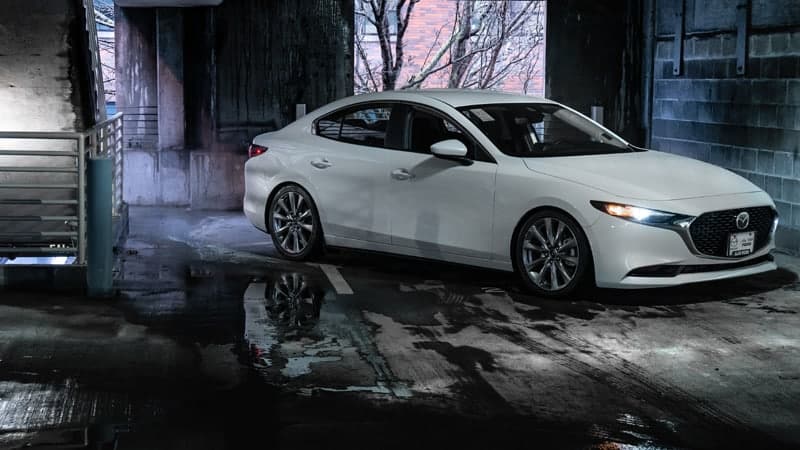 As with all CS lowering springs, they are a direct fit install that can completely change your car in only a few hours. The only permanent modifications are trimming the OEM bump stops to account for the lower ride height. To ensure they will last as long as your car, each spring is made out of high tensile strength spring steel, which is then powder-coated blue for corrosion resistance and a great look. The rear springs even include spring silencers to prevent any added noise from the lowering springs.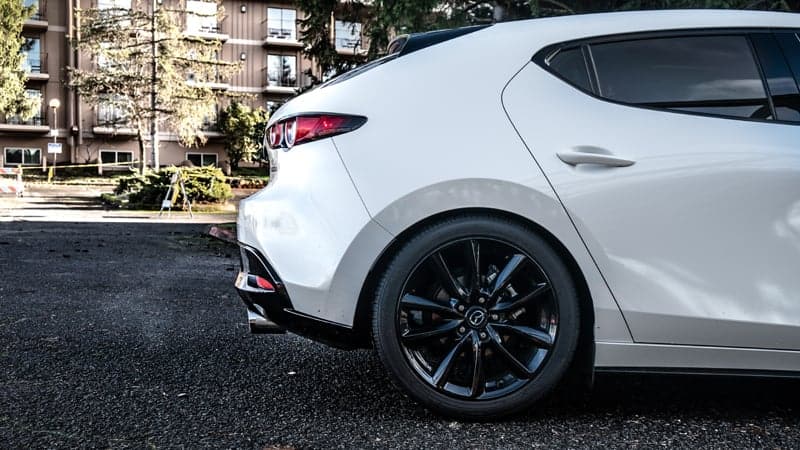 The CorkSport GEN4 Mazda 3 Lowering Springs have really changed our opinion on the new body style. With the right set of wheels, our CS shop car turns heads all day long and would fit right in at any car show. If you're ready to upgrade your 3's handling and give it an aggressive look, we are happy to help! Give us a call if you have any questions, and be sure to check out the product video on the web listing!
You may also like
Summary
Article Name
2019-2021 Mazda 3 Lowering Springs
Description
The 2019+ 4th generation Mazda 3 is a car that certainly divided opinions when it came out. From its divisive looks to the new torsion beam suspension, even we weren't quite sure what to make of it at first. However, we have since fallen in love with our shop 4th GEN, a big part of it is what we are releasing today: the CorkSport Performance Lowering Springs for 2019+ Mazda 3 (Sedan & Hatchback for both AWD & FWD)
Author
Publisher Name
Publisher Logo