We know you've been eyeing the CorkSport Axle Back Exhaust System for your 2016+ Mazda ND Miata, so let this catch your attention even further! CorkSport is proud to announce the release of the Cat Back Exhaust System for the 2016+ Miata!
Every great exhaust system begins with two main ingredients:
1. High quality materials
2. Exceptional manufacturing
Here at CorkSport, we realize that without these two key factors, no matter the design, a great product is just not attainable. Every CorkSport exhaust system is manufactured from T304 Stainless Steel and precision bent using CNC mandrel tube benders. The mandrel benders maintain a consistent diameter throughout the many bends that exhaust systems may have. Then, all necessary welds are performed with TIG welding to insure a long-lasting and rust free connection.
The fun doesn't stop there! The exhaust system needs to sound and look great also. The CorkSport Cat Back Exhaust System features two high-flow resonators to reduce and eliminate unwanted drone without restricting the exhaust flow. Speaking of flow, the exhaust system is constructed from 60.5mm diameter tubing vs the OEM 54mm to further improve flow and provide a deeper exhaust note.
If you're concerned that the full cat back exhaust system may be a bit too loud for your liking, don't worry. The CorkSport exhaust system is available as the full cat back exhaust or just the axle back exhaust.
Check out the two video sound clips below to figure out the best exhaust note for your Miata.
And for the "cherry on top," the CorkSport exhaust system features dual double wall exhaust tips to maintain the OEM look, but with a higher level of style. Wake up your Miata today with the CorkSport Performance Exhaust System!
Summary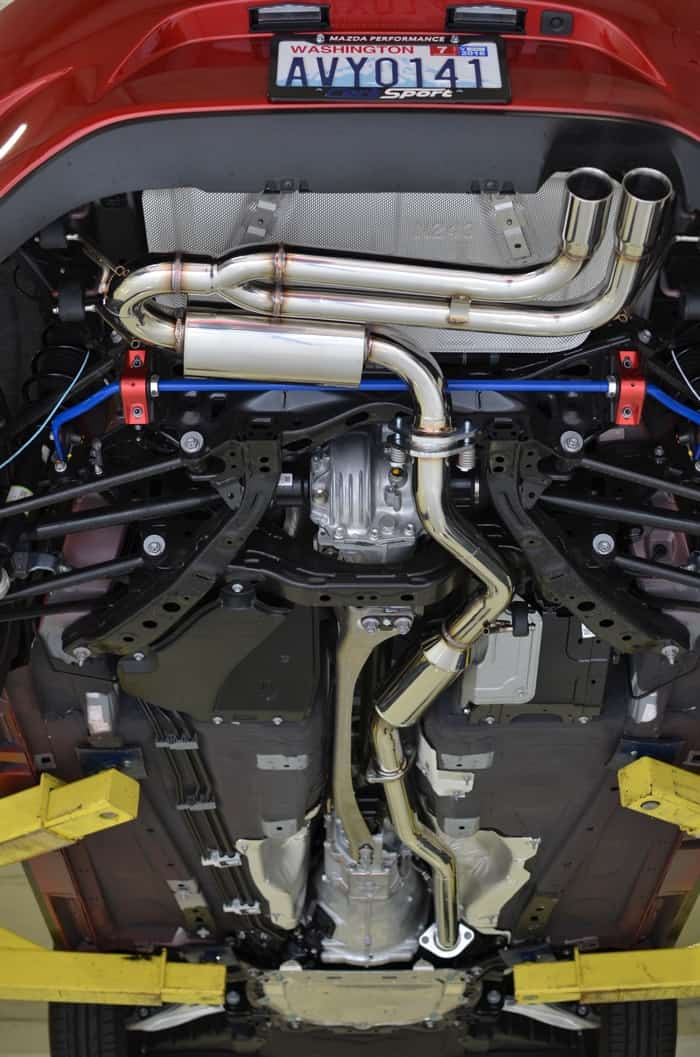 Article Name
Give your 2016+ MX5 Miata the power it needs with our cat back exhaust system.
Description
Quality Miata exhaust in the form of a cat back and axle back exhaust that fits the 2016, 2017, and 2018 ND Mx5 is now offered. 304 Stainless steel construction along with a great sound and easy installation is available from CorkSport.
Author
Publisher Name
Publisher Logo