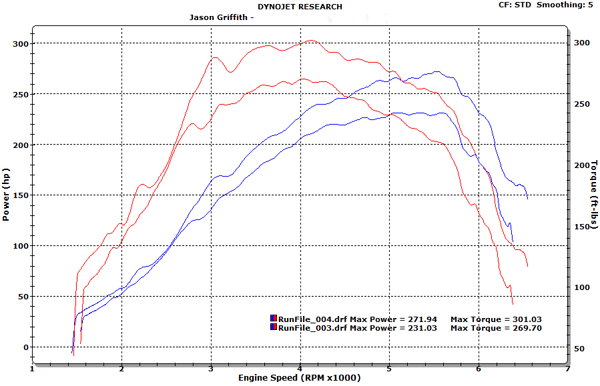 Just got got the 2010 Mazdaspeed3 off the dyno after doing some installs and have some results to share.
The Dyno run went great for the 2010 MS3. It's bone stock with three mods – CorkSport Power Series Racepipe (80mm with factory 65mm outlet) and CS Power Series Intake w/ Turbo Inlet and a set of CorkSport Motor Mount Inserts. Each of these products will be released shortly for the 2010 MS3 including some revised design considerations for the new 2010.
The stock baseline numbers for the 2010 were 231hp 269tq (73.8F/45%Humidity). With the two mods, it hammered down 272hp and 301tq (78.7F/43%Humidity).
41hp gain, 32ft lb of torque. Boost went from factory 16.4psi to 18.6. $388! Can't wait to see what it picks up with the downpipe.
If you have a Speed3 without any exhaust modifications or haven't added an intake or a turbo inlet pipe, hit me up…there's power on the table right in front of you.
– Jason