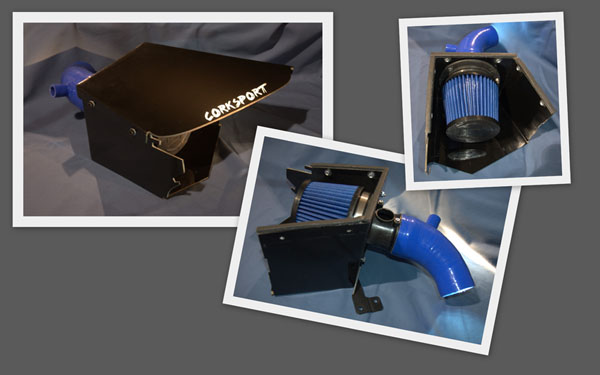 CorkSport is proud to announce that we are expanding our Cold Air Induction Box product line to include an Air Box for the COBB SF Intake system as well as our current development of cold air boxes for the 2010 Mazdaspeed3 and 2010 Mazda3.
In our testing of this product we wanted to define:
Where the cold and hot air fronts exist in the engine compartment and what differential can be expected between these areas.
Where high and low pressure areas exist which direct requirements for sealing off areas to ensure the coldest air temperatures into the filter.
To achieve these results, we determined that extensive pressure drop testing under dynamic conditions was not possible while delivering a box that retails under $100. A well planned design of experiment which measured temperatures in the engine compartment, airbox and surrounding areas would give us not only the hard numbers we needed to show results, but also some intuition as to where the various pressure zones exist and how that effects movement of hot and cold air in the vicinity of the filter. What we found is that the various pressure zones in the engine compartment can create barriers preventing the intake from drawing hot air.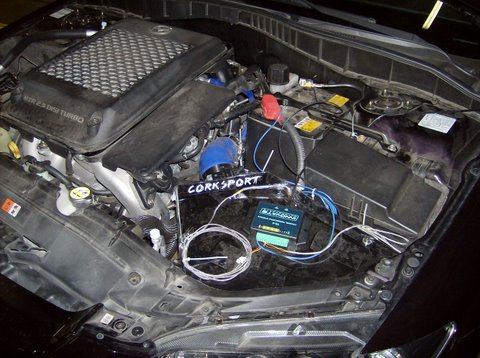 Our testing utilized a MSD DashHawk OBD2 Datalogging system and an Innovate TC-4 Four Channel Thermocouple Logger to measure Inlet Air Temperatures, Boost Air Temperatures, Ambient Air Temperature and two channels of thermocouple inside the box and directly outside the box in the hot engine compartment. The ambient air temperature on this day was about 64F. Earlier in the day we tested the short ram intake without our box and found intake air temps were 2-8 degrees lower than the engine compartment temperature.
Testing these variables on our cold air box design we saw a huge benefit – over 30 degree difference between the engine compartment and the interior of the box. By time of this testing, the engine compartment had a chance to heat soak and the hot air in the engine compartment 10-15 degrees higher. Despite this increase in temperature, our average temperature differential was now in the 25-28 degree range and inlet air temperatures were down 8-12 degrees dependent on volume of airflow past the sensor – obviously in traffic you're going to get some level of heatsoak in the inlet system, MAF Housing, etc. – but that cools off quickly when 64 degree ambient air temperatures blast past at the rate of an office cubicle of volume per minute.
Some may ask, why is your box not enclosed or better sealed within the engine compartment? In the course of our testing seal off surfaces, we found areas – such as the gap under the box – are either a source of cool air or have a pressure effect that prevents hot air from entering into them. Some of these, such as the seams on the box, were beneficial to seal off, some provide relatively cool air, but others were completely inconclusive. Bottom line, there are a number of areas which may appear to allow hot air into the box, but testing proved otherwise.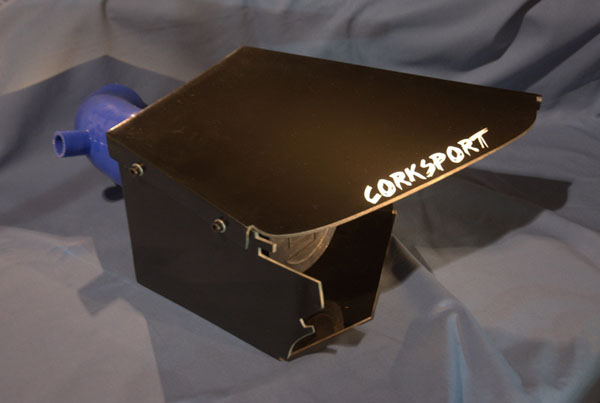 The end result is a series of boxes which use a overhanging lid with seal strip along the mating surface, silicone seal at the filter port and contoured front edges which align with the headlight assembly. These systems promote filter temperatures roughly equivalent to ambient air temperature and 8-12 degree inlet air temperatures drops compared to similar intake systems without the box. Note: As we did not test at all possible outside air temperatures, extremely hot or extremely cold ambient temperatures may show some variation from these results, but the effects should be minimal.
If you have any questions or suggestions of further tests or concerns you may have with the CorkSport Power Series Intake System or CorkSport Cold Air Induction Systems, feel free to post comments to this blog so we may update the details and content.
– Jason