I had the opportunity to head out to the MazdasNW.com Wednesday Night meet at Jasmine Grill in Federal Way, WA last Wednesday and I really had a great time. Roughly 70 enthusiasts turned out with 48 Mazdas and a handful of other cars.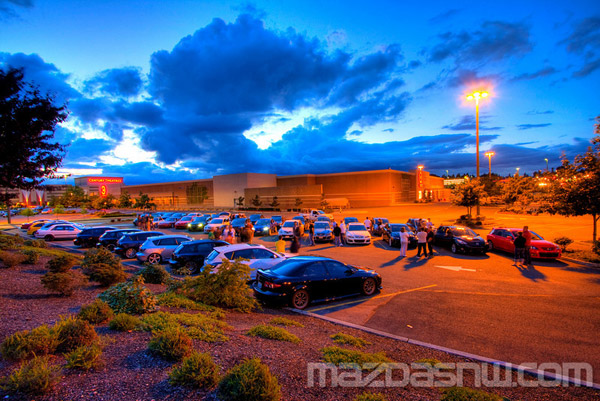 Photos of the event by E. Reyes
Organized by MazdasNW.com, a forum for Northwest Mazda Owners and Enthusiasts, the weeknight meets appear to be just the tip of the iceberg as meets go for this group of enthusiasts of a really wide demographic.
It was great to be out among Mazda enthusiasts and like minded gearheads. The best part was seeing a lot of the custom work people had put into their cars – from custom fabricated dash pods to harness bars. Bringing along the CorkSport 2010 Mazdaspeed3 had some surprising results – mixed opinions abound whenever discussing the 2010 – but one thing was certain, the new Mazdaspeed3 gets attention wherever it goes.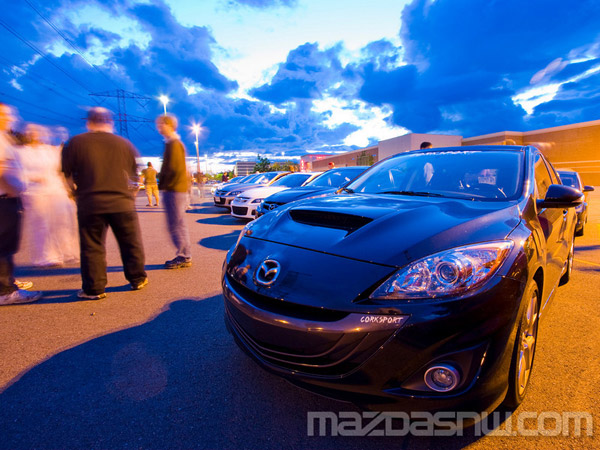 Photos of the event by E. Reyes
Here are a few photos from the meet. If you're in the Pacific Northwest, take a look at MazdasNW.com and head out to one of the next meets. The meets are on the second Wednesday of every month, even numbered months at the Southcenter Mall in Tukwilla and odd numbered months at the Northgate Mall in North Seattle. Hope to see you in North Seattle on the 9th of September – go to www.MazdasNW.com for more info.
Click here to see some more photos of the event by E. Reyes
– Jason