If you're looking for big power (500+whp) potential for your Mazdaspeed 3 and don't want to be held back by your intake system then look no further!
Benefits of a huge intake with the easy fitment of a smaller intake
Introducing the CorkSport 4" Intake system for '07-'13 MS3 (Gen1 and Gen2). Featuring mandrel bent piping, a billet MAF housing, and a large aFe dry flow filter; you can get the benefits of a huge 4" intake with the easy fitment of a smaller intake. We went back to the drawing board for this intake to optimize both fitment and performance. Read on for details!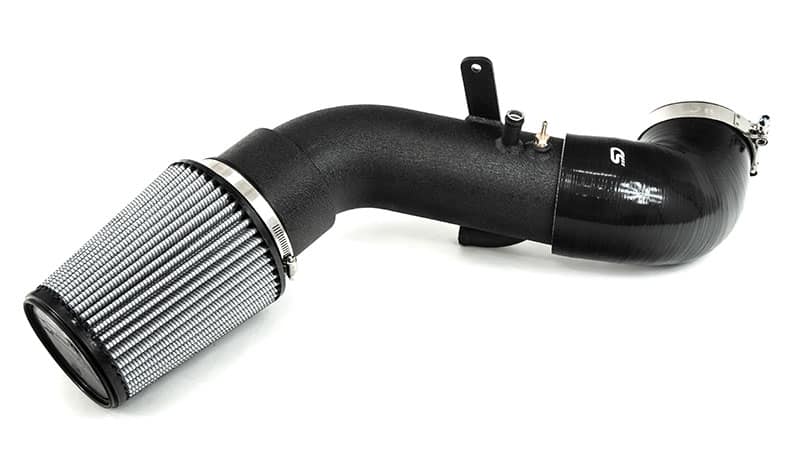 We truly started from scratch to ensure the best fitment for this intake. The main change is the way the silicone couplers attach to the turbo inlet pipe. To get the pipe as close to the engine as possible for easy fitment, we use a custom-designed coupler off the compressor of the turbo. The 4" intake pipe fits straight into this, making install just that little bit easier. The biggest change though came at the MAF housing connection.
Stay Up-to-date with CorkSport
---
Takes up less room than some 3.5″ intakes
Instead of using a silicone coupler between the turbo inlet pipe and the MAF housing, the billet MAF housing is TIG welded directly onto the turbo intake pipe. This further helps fitment and helped us maximize filter size (more on that later). What this means is that you end up with a four-inch intake that takes up less room than some 3.5" intakes on the market while retaining the OEM mounting points and OEM BPV, PCV, and boost vent ports. It even fits with our 51R battery box!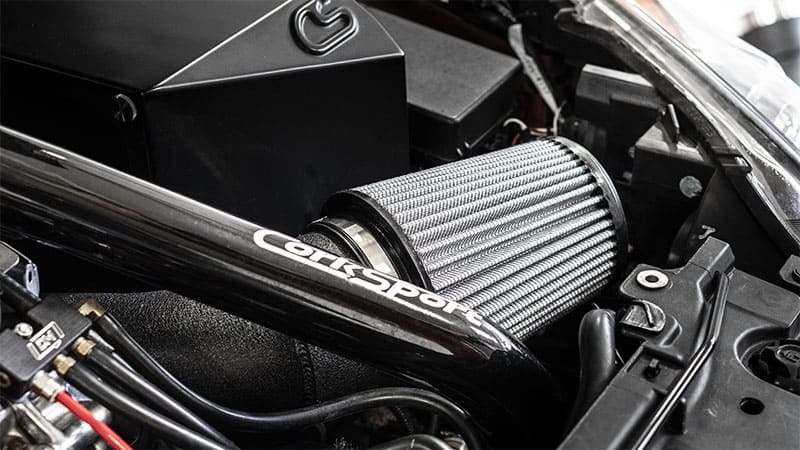 The benefit of a 4" intake system is in the flow capacity. Moving up in intake size, even from a 3.5" to 4" offers an increase in maximum flow capacity. A bigger intake equals the potential for a larger volume of air ingested by the engine, which equals bigger power potential. You also increase the maximum airflow that can be read by the MAF sensor before it peaks, but you must get a tune to scale the MAF sensor.
So what does this mean for power gains?
Typically, a lower horsepower car will not see a power bump but, big power MS3's can see an increase in power, just by reducing the airflow restriction before the turbo. While you may not quite be at a 3.5" intake's limit at 600WHP, moving to a 4" intake will increase the efficiency of your build and reduce the strain on your turbo, with a chance at some extra ponies along the way!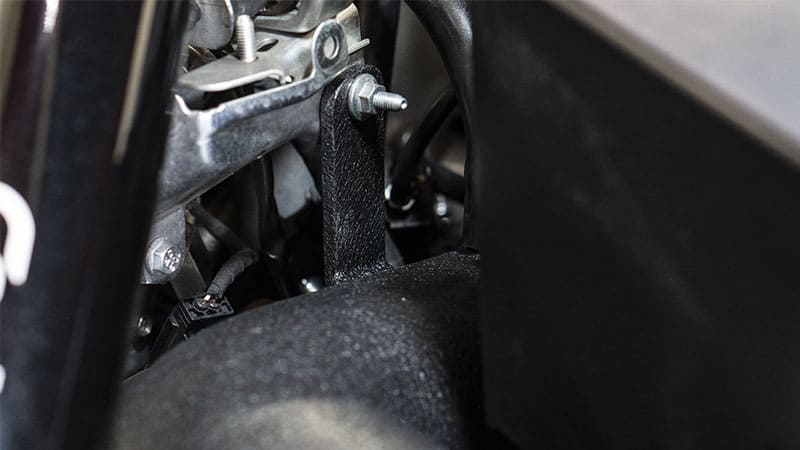 Increasing piping diameter only does so much if you have a highly restrictive filter. We focused heavily on fitting the biggest filter we could to minimize restrictions coming from the filter. We chose aFe's Pro Dry S material for great filtration and flow, without having to worry about an oiled filter dirtying the MAF sensor. Check out the image below comparing the new 4" intake filter to the filter used on our 3.5" intakes. The new filter's media is larger than the entire old filter!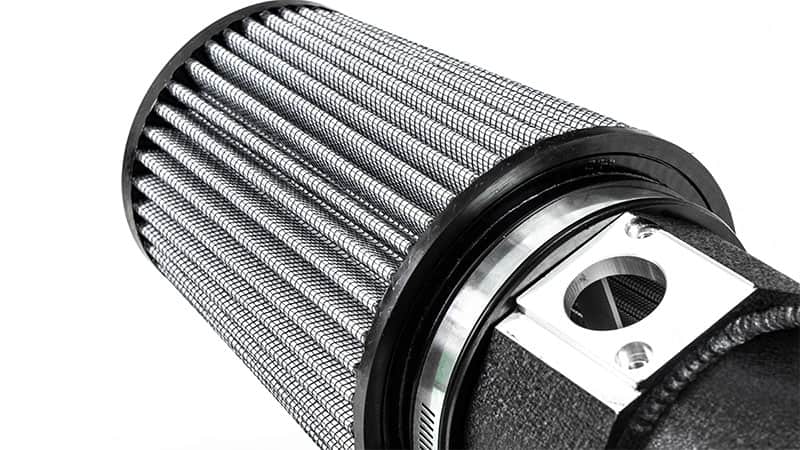 While the new CorkSport 4" Intake may be a bit different from our normal intakes, we kept the same billet MAF housing design. A billet machined MAF housing ensures accurate and consistent diameter around the MAF sensor itself vs just using a pipe or plastic MAF housing while also letting us have a TRUE 4-inch inner diameter. This ensures that once calibrated, your MAF sensor will read stable and accurately. To be extra sure MAF readings are great, we pre-install air straighteners to ensure your MAF is getting clean and straight air.
Daily drive your Speed with this 4-inch intake system
With the consistent CNC machine inner diameter at a true 4 inches and the integrated air straighteners, you can daily drive your Speed with this 4-inch intake system and have MAF sensor range over 900whp.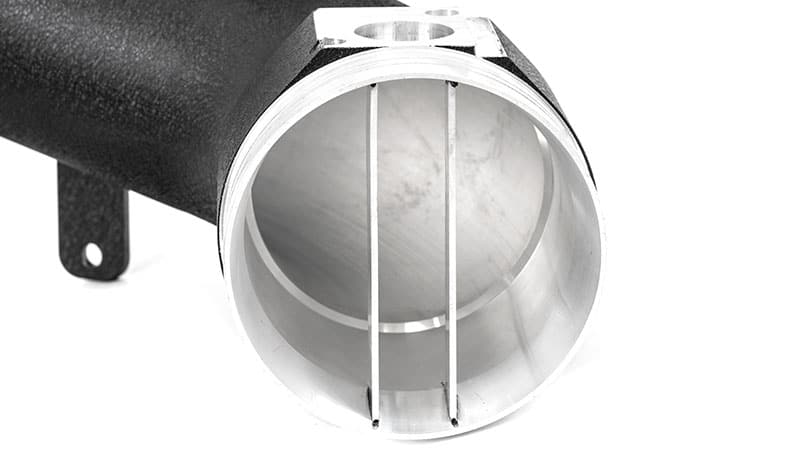 Each CorkSport 4" Intake System is made from mandrel bent 4" 6061 aluminum tubing for smooth airflow directly into your turbo. The billet aluminum MAF housing is TIG welded into position, as are all ports and brackets to ensure long-lasting strength. Each intake is finished off in a wrinkle black powder coat for a clean look that will match just about any engine bay. We also include your choice of 4-ply reinforced silicone coupler for the turbo inlet. We have 4", 3", and OEM diameter silicones so you can be sure your turbo with work great with the CS 4" intake. To finish it off, we include stainless steel T-bolt clamps for the connections, to prevent any vacuum leaks.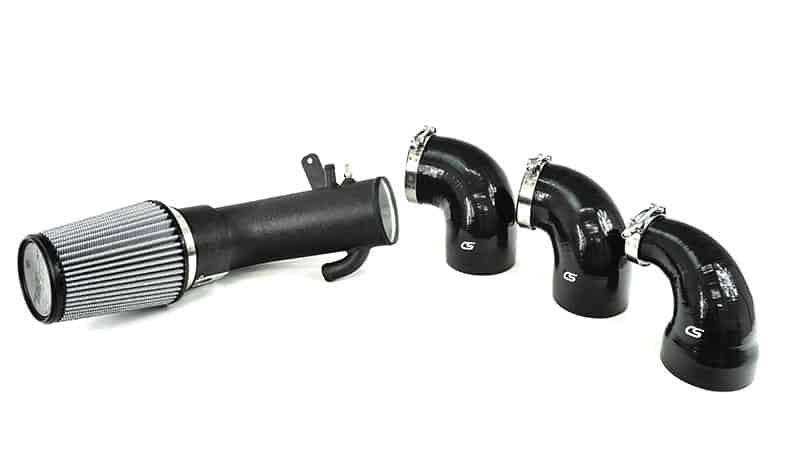 The CorkSport 4 Inch Intake System is a complete package that can help you make big power on your Speed 3. Increase flow capacity and filter size to help that turbo breathe better so you can make more power for longer. Check out the product listing for more images and don't hesitate to give us a call if you have any questions! Zoom-Zoom!