I attended my first research and development meeting at CorkSport a couple weeks ago and spent the morning and well into the afternoon reviewing product submissions and discussing the viability and potential demand for each of the ideas that were submitted to us.
We reviewed over forty-five product submissions and ranked them on feasibility, development time, demand, and the value it would provide to our customers. Coming out of that meeting, I think customers will be pleased with some of the fantastic products coming to market over the next six months and though we are keeping our cards close to our chest on some of the exciting products we have in store for all you Mazda performance enthusiasts, I will divulge some the new products you can expect to see released in the coming weeks.

Lug Nuts – As early as next week, you can expect to see new CorkSport Extended Lightweight Lug Nuts added to our list of performance accessories. Thanks to the feedback from our Facebook Fans, we will be offering them in black as the overwhelming color of choice. More to come on this product soon!
Shifter Bushings – Coming up before months end will be the CorkSport Shifter Bushings. Removing unwanted play in your car's shifter mechanism, our bushing kit will greatly improve the feel of shifting in your vehicle.
Gen 1 Mazdaspeed 3 FMIC kit for SRI – Expanding on the success of our recent Gen 2 Mazdaspeed 3 release of a FMIC kit for SRI, CorkSport will be releasing a version for Gen 1 Mazdaspeed 3 drivers by the end of the month! Like our Gen 2 version, the FMIC kit for SRI will provide solid power gains without the lag commonly seen in larger FMIC kit's that require removal of the crash bar.
Mazdaspeed 6 Rear Sway Bar – Currently on a fall release schedule, the CorkSport Mazdaspeed 6 Rear Sway Bar will greatly improve handling by tightening up the rear suspension. The Rear Sway bar can be purchased stand alone or can be used to compliment the CorkSport Mazdaspeed 6 Front Strut Bar.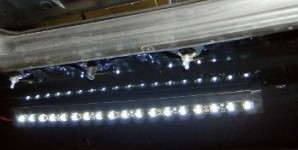 CorkSport LED Under Hood Lights – Also on the fall release schedule is a kit that will illuminate your entire engine compartment. The CorkSport LED Under Hood Lights are a low power draw kit that will attach to your battery, includes an automatic on/off switch and will cast a cool blue/white luminescence on your engine bay.
These represent just some of the products you can expect to see in CorkSport's fall line-up. More will be introduced as the development and testing process winds-up.
Interested in submitting a product idea? Fill out a product idea form for consideration at our next development meeting, https://www.corksport.com/product-ideas.html
Gwynne-