CorkSport is pleased to announce the release the new CorkSport 2001-2003 Mazda/Mazdaspeed Protégé Skid Tray.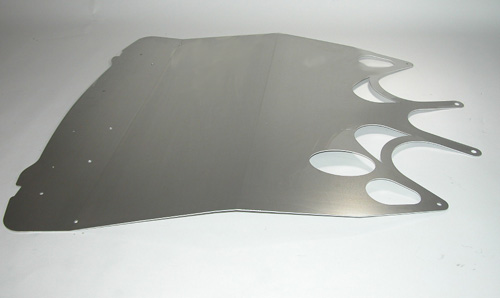 The CorkSport Mazda/Mazdaspeed Protégé Skid Tray will provide solid protection against rocks and road debris and is designed to prevent damage to key components of the 2001-2003 Protégé undercarriage.
Made from 0.090" precision machined aluminum, the CorkSport Skid Plate will provide maximum protection while adding minimal weight to the body of the vehicle. This one-piece precision bent skid plate is angled for a tight fit and structural rigidity and offers a more complete seal to handle harsh conditions and provide smoother airflow under the front side of the car.
"There are a few companies in recent years that have jumped on the bandwagon to develop products for the Mazdaspeed 3 and other newer Mazda vehicles." said Rich Harris President of CorkSport Performance, "CorkSport is one of the few Mazda Performance Companies that is in the business of supporting the full line-up of Mazda vehicles. We are happy to deliver this top of the line product to add to our catalog for the Protégé and continue to support our Protege customers needs."
The CorkSport 1999-2003 Mazda/Mazdaspeed Protégé Skid Plate is is available for purchase at CorkSport.com for $249.00 and and comes with a two year warranty, full color installation instructions, all of the needed installation hardware, and knowledgeable telephone installation support.